"Do things for people not because of who they are or what they do in return, but because of who you are."
At a time when the world is fighting COVID-19 crisis, and other natural calamities like floods, wildfires, and earthquakes, this saying by Harold S. Kushner holds truer than every other truth we have known.
To encourage humans to save humanity during these exceptionally tough times, NGOs have come forward and played an instrumental role in bridging the divide between community needs and the overburdened healthcare infrastructure.
A recent Razorpay report titled 'Bridging the Missing Middle: How our MSMEs grew in last 15 months' found that over 30 non-profits in India were able to collect over INR 63 crores in donations, within a month of rolling out Razorpay payment pages for NGOs to enable them to collect donations easily and quickly.
Donatekart, co-founded by Anil Kumar Reddy in 2016, is one such NGO that ramped up its scale with the help of Razorpay payment pages during the second Covid-19 wave.
What is Donatekart all about?
Donatekart started in 2016 with the primary goal to encourage more people to donate to NGOs in India. One of the major challenges faced around donations was the lack of trust and transparency in NGOs. That is the problem Donatekart addresses with a mix of donation plus eCommerce.
When a donor visits the website, they can see multiple verified NGOs on the platform, who have created a wishlist of their own, specifying what their niche and need is. The donor chooses the items and NGO they want to donate to and Donatekart converts their donations into goods and makes them available for the respective NGO(s).
How did Donatekart scale using Razorpay payment pages?
Some of the challenges Donatekart was facing before switching to Razorpay payment pages included lesser choices for preferred payment methods and lack of trust in the system from the donor's perspective.
On the management side, they were looking for better customer service to help manage crisis better, especially during the ones like the second COVID-19 wave.
"We experienced a lot of drop-offs among donors earlier, but the problem was sorted after going live on Razorpay and using the payment pages. For instance, during the second wave, on April 30th, we saw INR 2.6 crores donation in a day, while on April 20th, this was INR 20 lakhs a day," recalls Anil Kumar Reddy, explaining how the challenge of lesser choices for preferred payment methods was solved by Razorpay payment pages.
"The scale was huge, and the payments system worked seamlessly. Around 50% of people used UPI as a mode of payment but when it was larger donations, they used net banking." 
To overcome the challenge of building trust with the donors, Donatekart enabled the option for refunds, which were "easy and seamless with Razorpay", says Anil.
The shift in donors' behaviour towards donations
Donatekart observed that the highest number of donations have come in for hunger as a cause in the last few months. In the months of April and May during the second wave, they saw a donation worth INR 38 crores coming in for medical supplies like oxygen cylinders and concentrators.
"People normally donate during disasters but a positive trend during this crisis is that people are continuing to give; post second wave we are getting INR 10 lakhs a day as donations," iterates Anil.
"People who started donating during March and April this year have continued to donate and there has been a continuous increase in the trend. On average a user has donated 1.6 times on a platform which shows the increased trust through the approach," he adds.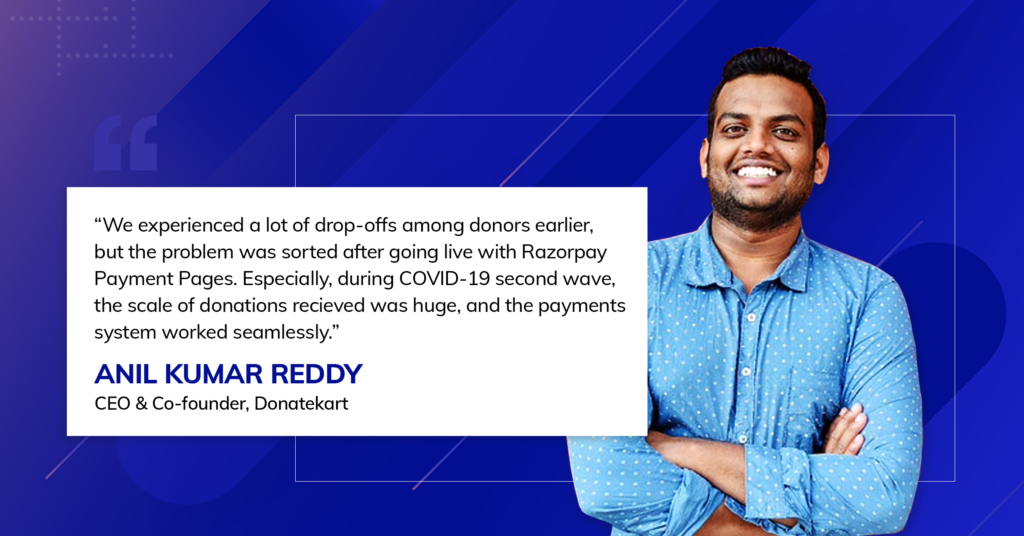 Being kind goes a long way. If you are thinking about how to start donating and where to begin, visit the Donatekart website. It is an easy to understand system coupled with a seamless digital payments process.
And if you are a non-profit organisation looking to start your digital payments journey, Razorpay payment pages are just one of the many solutions you can try out to start with.