The online gaming industry has seen a rapid expansion in recent years. It owes its growth to many attributes like increased smartphone penetration, accessible data, affordable tech, and the rise of the digital payments user base. 
Lately, we've seen the upsurge of several popular online games like PUBG, Fortnite, and more, successfully stirring up the interest of the youth of India. With more and more gamers joining the bandwagon, the demand for online games has increased. 
This has resulted in the outset of many online gaming companies in India.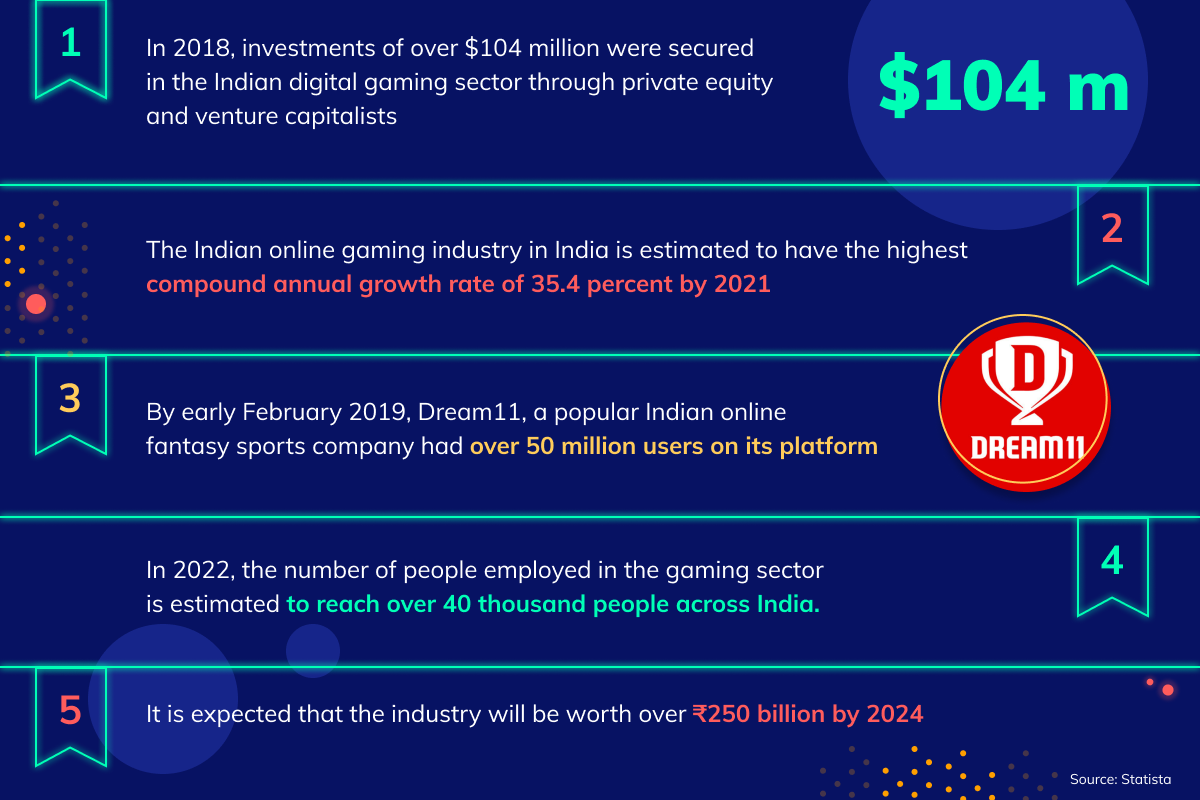 The many forms of online gaming
"Online gaming" has multiple interpretations today. With so many different modes of gameplay, genres, channels, and player formats, the categories of online gaming are diversified.
However, among the most popular categories are freemium games and online real money games.
Freemium games
The word freemium is a fusion of free and premium. Freemium games are free to play, but compel the gamer to unlock features and customisations by paying the company. These types of games have mostly been sought after in recent times.
Online real money games
Online games that gamers play to win real money, which can be transferred to their digital wallets or bank accounts are called online real money games. These games are in high demand and are increasingly getting noticed by gamers. 
Online gaming and digital payments
Online games offer a ton of advanced features to be unlocked by gamers. And, Razorpay has already powered digital payments to several online gaming companies. 
Freemium games with in-app purchases are usually powered by Razorpay Payment Gateway, and the games that require month on month payments to unlock special features, typically use Razorpay Subscriptions. 
Let's see how Razorpay powers online real money gaming companies.
There are two segments of online real money games. 
Pay to play

– where the gamer pays the company before playing

Play to win

– where the gamer wins money after playing
Play to win games are all the rage right now. Backed by well known VCs like Sequoia, RummyCulture, Dream11, MPL, Howzat, and more are very famous for their play to win games. 
In both these segments, instant gratification carries a lot of weight for these games to be as successful as they are. And that is simply because of the nature of these games. 
A gamer can collect their winnings after completing a game against an opponent. This means, it is not a continuous, cumulative victory, but a timed one. The gamer does not have to accumulate a certain number of points to collect their winnings. This means they might as well collect their winnings after the conclusion of each and every game. 
So, let's talk about how these online real money gaming companies pay their winners. 
Essentially, rewarding the winner is considered a payout, a customer payout in particular. And, most of the time, there are many problems associated with making payouts traditionally.
Gaming companies need to make sure that the payouts are processed within banking hours so that the gamers get their money as early as possible

They have to wait out the cooling period after adding each one of the bank account details

UPI and IMPS-based payouts have a cap on the total number
This is exactly why online gaming companies need a better solution so they can make timely payouts and ensure that gamers get their winnings instantly.
RazorpayX Payouts
Payouts helps automate the process of making payments to the winners, getting rid of manual intervention. 
The winners can be paid instantly via IMPS, UPI, without having to worry about bank hours

There is no cooling period, companies can make payouts to accounts immediately after adding them

No cap on the number of transactions
Want to take Payouts for quick a test drive before you sign up? Check out the Payouts demo and learn to make a payout in 4 simple steps!
Most online gaming companies do not require the gamer's bank account details while setting up a gamer profile. So, how can they make sure the winners are awarded?
Again, RazorpayX has a solution.
RazorpayX Payout Links
Payout Links is the easiest and fastest way online gaming companies can disburse funds into the winner's preferred bank account via IMPS or UPI. 
A Payout Link can be created on the RazorpayX dashboard. If there is a need for multiple Payout Links, APIs can be used. 
Upon sending the Payout Link to the winner, all they have to do is verify themselves via OTP and enter their preferred bank account or UPI ID. On successful entry of their account details, they receive their refund almost immediately. They will also be notified if there is an error with the account details they have provided, so they can re-enter the details or try with a different account.
The verdict – RazorpayX for online gaming
With RazorpayX, gaming companies need not make the winners wait for 5 to 7 business days to collect their winnings.