What better day to appreciate the evolution & future of banking other than today, the International Day of Banks.
Banking as we know it has come a long way. The existence of the earliest banking systems dates back to 8000 BC. Back then, banks only existed to provide loans to the public. 
Today's banking services are based on the fundamentals of modern banks in the 17th & 19th century protecting depositors' money. While this underlying principle remains the same, banks are no more just a safehouse for money. Banks are now the central point of every financial process, for an individual or a business.
Today, we stand at the forefront of banking with technological advances that have led to the emergence of neobanking, Banking-as-a-Service, open banking, and more.
Financial technology has revolutionised banking
Over the last decade, the banking segment that has witnessed the most innovation is digital payments. 
In India, one of the most important breakthroughs in fintech innovation is Reserve Bank of India-regulated Unified Payments Interface (UPI). It enabled users to transfer money literally in just a click between two bank accounts with a mobile phone. 
It's exciting to see that fintech not only disrupted the traditional payment infrastructure but the entire banking ecosystem. And the foundation of all the advancements in the banking sector are closely related to Banking-as-a-Service (BaaS). 
BaaS is a business model that works on the principle of open banking. It exposes banking APIs and processes to third-party developers & in turn, empowers them to build innovative financial products. 
This state of the art technology is what gave birth to neobanks. 
With neobanks becoming the trailblazers of the fintech industry, anyone who follows the financial ecosystem on close heels knows how they are simplifying both retail & business banking.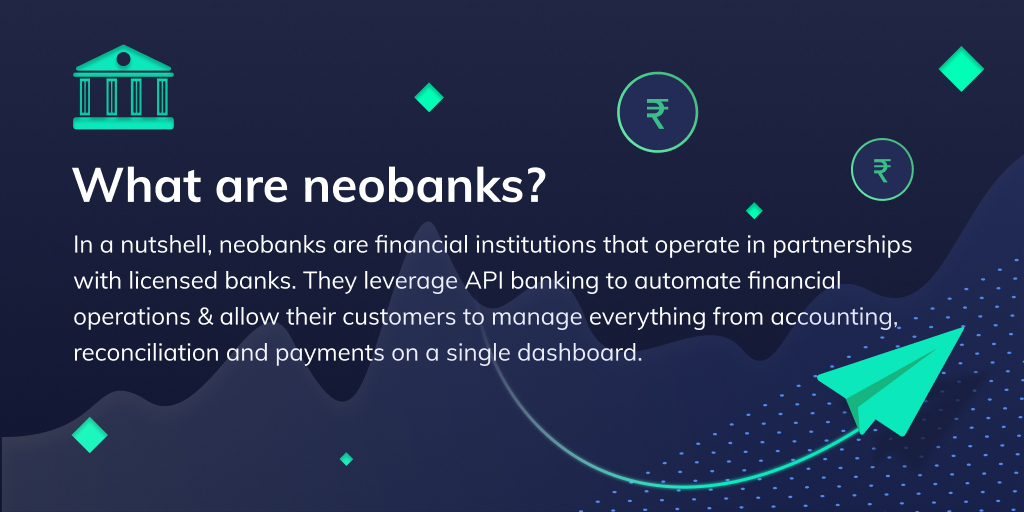 Neobanks have digitised banking processes, end-to-end. There's no longer a need to stand in long queues for processing payments or withdrawing money. Businesses don't need to fill out never-ending paperwork or visit the physical branch to open a current account or to get their loan approved. 
And what seemed to be far-fetched thought, neobanks are no more the new kid on the block. The global neobanking market is expected to have an annual growth rate (CAGR) of around 46.5% between 2019 and 2026, generating around USD 394.6 billion by 2026. 
India has also caught up to the trend. 
India has overtaken China with having the highest Fintech adoption rate globally of 87%. The global average rate stands at 64%. 
It's amazing how financial institutions all across the globe had marked neobanks to be the future of banking, but Covid-19 made it a reality. 
Impact of Covid-19 on banking 
Undoubtedly, COVID-19 has taken a toll on the global economy, but it catalysed the digital transformation of various industries. Neobanks are amongst the many business models that flourished during COVID-19. 
The pandemic drastically affected how businesses carry out their day-to-day financial processes. Traditionally, businesses were required to carry out tedious paperwork & visit the physical bank branch for every banking process, right from a change in the payout approval process to opening a current account. 
The COVID-19 outbreak posed a health risk for both customers & bank officials for all the financial operations that required them to visit a bank branch. Contamination of the currency posed another threat which affected timely payments. 
The need to embrace neobanks became more urgent than ever as they successfully solved the practical problems of traditional banking in the wake of the virus. 
And, the adoption rate of neobanks during the pandemic proves that customers did embrace them with an open heart. 
Neobanks – Saviour for small businesses during COVID-19
Apart from the transactions, one of the financial operations that needed immediate action to keep business afloat during the pandemic was quick access to capital.
MSMEs relied heavily on traditional banks to fulfil their needs of working capital. While securing loans was never an easy task, the pandemic only made it worse for small businesses. 
The Indian Government did release many relief measures to uplift businesses during COVID-19, such as the Emergency Credit Line Guarantee Scheme (ECLGS). 
Sadly, it wasn't of much help. 
It was reported that from the 4.5 million MSMEs eligible for the ECLGS scheme, only 2.4 million, or 53 percent, have secured loans. 
Such a low credit offtake in the MSME sector is linked to the requirement of a spotless financial history & collaterals by banks to provide loans to businesses. While big enterprises could furnish this, small businesses were at a loss. 
That's where neobanks proved to be the messiah for small businesses. 
The alternative credit options provided by neobanks uniquely cater to the needs of SMEs & MSMEs during COVID-19 & beyond. 
While there are many businesses that thrived in COVID-19, one such story is of our very own customer at RazorpayX.
GroSuper, a Bangalore based startup grew its business by 2X in the last 6 months with the help of Razorpay Capital. 
Access to capital was only a small yet significant part of the bigger problem. Businesses needed a solution to carry out entire business banking from the safety of their home.
Future of banking post COVID-19
The pandemic triggered a visible shift in the banking behaviour of businesses of every size. And neobanks proved to be the perfect solution to accommodate such a transition. 
The long-term behavioural changes brought about by COVID-19 may mark an end to the era of physical banking. 
Business that choose RazorpayX save 10X time by carrying out all financial processes, right from managing invoices, taxes, and capital to analysing their financial health, all on a single dashboard.