Most businesses struggle with processing payroll given the sheer complexity of the never-ending administrative and tax-related responsibilities that come with it. In fact, many startup founders regard it so time-consuming that it takes away their focus from other important business functions.
But the thing is, you don't have to struggle with managing payroll for your business at all if you just use the right payroll software.
We're thrilled that 2000+ businesses trust RazorpayX Payroll for automating their end-to-end payroll processes. And now, we've gone just a step further with integrating RazorpayX Payroll into Slack to make sure you can automate all things payroll right at your fingertips.
Read on to know how.
Introducing RazorpayX Payroll Slack App
It's no surprise that Slack is one of the most loved workspace apps. Almost 10 million people across the globe use it to collaborate effectively with their team. And, while employees use it to organise their work & hit business goals efficiently, even a payroll query related to their salary or reimbursements starts with a slack message to the HR & Payroll team –
"Can I get my payslip for the last 3 months?"
"Do we have a holiday on Holi?"
"Where do I send the invoice to claim reimbursement?"
Here's a quick peek into what happens after this slack message – 
The HR team replies asking the employees to raise a query on the payroll/HR portal to access this information

Employees now reluctantly switch their tabs, log in to the payroll portal (struggling with forgotten credentials at most times) and then raise a query

Now, the admins get notified via an email to approve leave or reimbursement

Admins now log in to the HR portal, go to the requests tab and then approve the employee's request
There's no denying that this leads to a broken experience for employees & admins alike, along with losing out on precious time that can be used to focus on business growth. 
What if your employees & HR team can manage all things payroll right within Slack without needing to log in to different portals continuously! 
Save time & boost employee productivity with RazorpayX Payroll

Apply & approve leaves in under 30 seconds
We all love planning our day-offs, don't we? But checking the leave balance and applying for one on the HR portal in the middle of a busy day is not all that fun. 
With RazorpayX Payroll slack integration, applying for leaves takes less than 30 seconds.
Type in /leave-balance, check out your available leaves. Next, apply for your day-offs right on slack with /apply-leave and it's done!

Plus, admins can approve leaves right from slack without having to switch to a different tab. 
Time to book that flight now! 
File reimbursements in a few clicks
Hands up if you love claiming Reimbursements. Anybody?
I didn't think so. 
Let's face it – filing & approving reimbursements is easily one of the least favourite tasks of every employee because of the complicated filing process.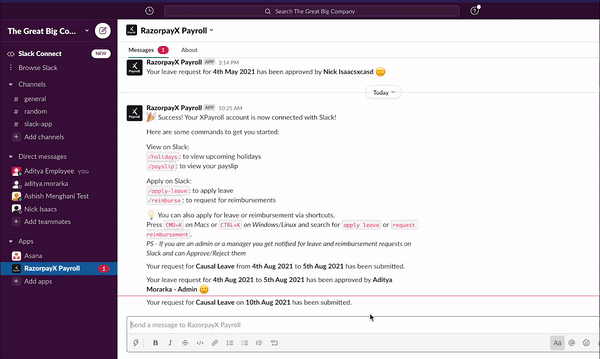 With the RazorpayX Payroll Slack app, employees can upload bills & fill out the expense details in a matter of seconds. Admins and managers, on the other hand, can get a detailed view of all the reimbursement claims right there on slack and approve/ reject them in a single click.
View and download payslips instantly
We'll all agree that finding payslips shouldn't be as difficult as it is currently is. It's not like it is a tax challan, right?

We believe payslips should be accessible to employees at their fingertips. And, our slack command /payslip does just that. No more switching portals, download all the payslips hassle-free in a single click.
Access the holiday list anytime, anywhere
Not sure if Holi is a holiday? 
Just type in /holidays on slack and access the complete holiday list. We'll even notify you if there's a long weekend in store.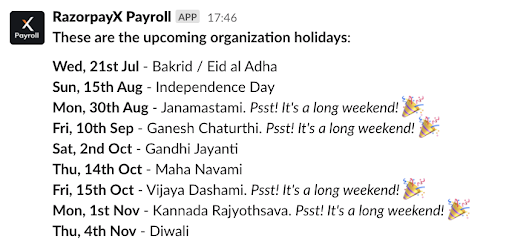 So, what are you waiting for?
Eliminate the frustration of jumping from one application to another by bringing all your common HR and payroll processes into ONE workspace.
Sign in to your RazorpayX Payroll dashboard to integrate the Slack app or sign up to experience error-free payroll processing.