Accounts Payable (AP) is the total amount owed to vendors for goods and services. Managing accounts payable error-free is crucial in managing a business's cash flow and generating accurate financial statements. 
Read on to understand accounts payable definition, process, automation, and more.
What is Accounts Payable?
Businesses have regular vendors and suppliers they have been working with for years. They have a mutual understanding that goods/services will be provided first on a credit basis, and the bills will be cleared later. This credit that a business owes to vendors is called accounts payable.
In accounting terms, accounts payable in a company's ledger denotes an obligation to pay a specified amount of money or a short-term debt to their creditors. Some goods/services billed under accounts payable include raw materials, logistic costs, fuel, licensing, subcontracting, legal fees, etc.
 Generally, the finance team manages these payments right from maintaining supplier invoices to ensuring the vendors are paid on time and everything in between. But, for bootstrapped and smaller businesses, it's usually the founders who end up crunching the numbers late at night and ensuring on-time vendor payments for uninterrupted services.

If you are one of them, it's time to automate your accounts payable process end-to-end and spend time on things that matter for your business.

Automate Accounts Payable for your Business

Why is accounts payable management important?
Businesses deal with multiple vendors and service providers for their day-to-day operations. This results in multiple invoices and bills being raised daily, making accounts payable management and on-time payments a crucial task for businesses. Any payment delays are bound to affect the vendor relationship, which might hamper essential business activities.
What is the accounts payable process?
Depending on the size of the company and the number of vendor payments they deal with, the finance team or the business owners themselves take care of accounts payable. 
It's vital to manage it efficiently to ensure accurate, on-time vendor payments and compliance with various business taxes such as TDS (tax deducted at source).
Let's have a look at the general process and how is it carried out manually.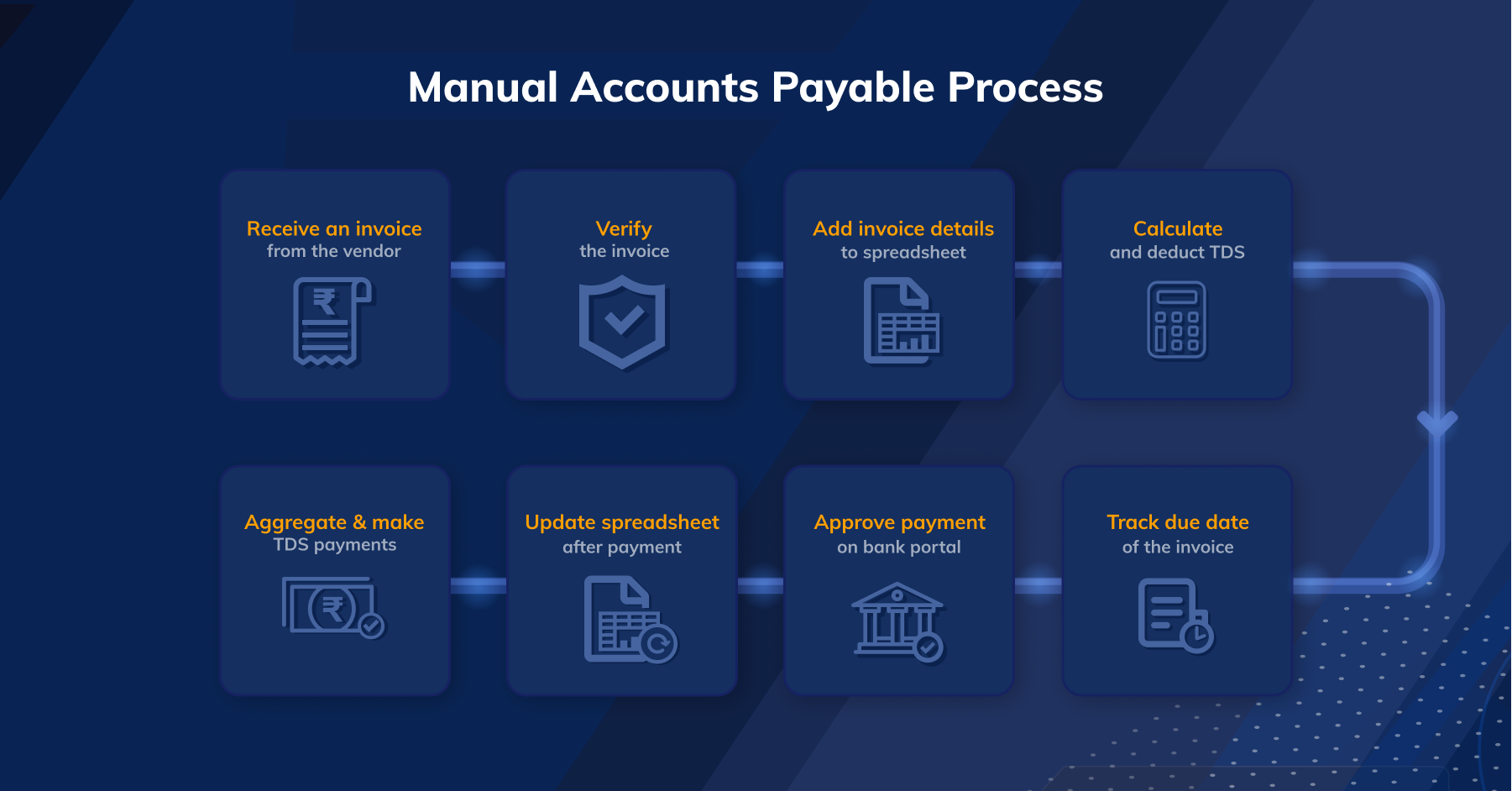 The vendors raise an invoice specifying the details of all the goods and services they provided and send it across to the businesses via email or as a physical copy. 
The accounts payable or the finance department then verifies the details like vendor's name, purchase order number, the quantity of goods etc., mentioned on the invoice or bill.
Once the company receives the invoice, an expense entry is created in the book of accounts. The finance manager then approves the bill after checking the details and the due amount.

Businesses then need to ensure that all vendor and supplier payments are released on or before the due date mentioned on the invoice, after due TDS deductions. The vendor's bank account and payment details are maintained in a separate spreadsheet. After all the necessary checks and approvals, individual payments are approved on the bank portal by the business owners themselves or finance teams/ accountants. 
In cases where the finance teams manage vendor payments, business owners or founders still need to approve them by sharing OTP for every payment raised. After the payment has been released to the vendor, the liability is struck off from the company's ledger.
Before we move any further, let's understand some of the difficulties businesses face while executing the above process manually.
Missed or lost invoices stored in drive folders or spreadsheets

Errors while making manual data entry of invoices

Manually deducting and paying TDS on difficult to navigate tax portals

Delayed payments due to banking hours and dependencies on founders providing OTPs
And a lot more.

If you also struggle with the above while managing vendor payments for your business, read on to understand how you can put an end to all these woes by automating your accounts payable process.  
Why automating accounts payable is vital for your business growth? 
Automating accounts payable helps businesses save time, money, reduce manual paperwork, streamline and digitise the process. 
An efficient accounts payable automation software empowers finance teams and business owners to process vendor payments in a few clicks and invest more time effectively running the business. 
Let's understand the benefits of automated accounts payable software in a little more detail.
Accounts payable software allows businesses to add their finance teams and accountants with restricted access. Since everyone can access the software, reviewing and approving the bills and invoices becomes as easy as clicking a button.
You don't need to manually log into the bank portals or face the hassle of sending multiple OTP's. You can quickly approve vendor payments on the go.

Don't believe us?

Click the button below to break free from becoming the OTP manager for your business and go back to being the founder.

I don't want to share 1000 OTPs anymore!
Along with being a slow process, manual invoicing is prone to human error. Any discrepancy in calculation or missing TDS due dates can result in heavy penalties. Using software like RazorpayX reduces this risk and ensures no vendor payment or TDS  due dates are missed.
Improve cash flow management
Accounts payable automation software allows companies to easily create monthly, quarterly, biannual, and annual reports and help them stay at the top of their cash flow management system.
No more paperwork and excel sheets
Businesses don't need to store the vendor details, invoices and payment details in heavy files, both paper or excel, as everything is stored securely on the cloud. 
RazorpayX – A Complete Accounts Payable Software for Businesses


RazorpayX allows businesses end-to-end automation for adding, tracking, and clearing invoice and TDS payments.

All you have to do is upload an invoice on the RazorpayX Dashboard or forward the invoice sent from your vendor, and RazorpayX takes care of everything that follows. 
Auto-Capture Invoice Details
Our intelligent OCR extracts and populates all the invoice details saving you the hassle of manual data entry and reducing the possibility of errors.
Pay your Vendors
You can make payments instantly via IMPS, UPI, NEFT, and RTGS or schedule them for a later date.
Auto-Pay TDS
RazorpayX automatically deducts and pays the applicable TDS before the due date. Not only that, you can view all the challans on the dashboard post-payment.
So, what are you waiting for? Never miss a vendor payment again.

Automate Accounts Payable for your Business