Recent RBI guidelines have disallowed businesses, payment gateways, payment aggregators, and acquiring banks from storing customer card data. To ensure that customers continue to enjoy the convenience of saved cards on checkout, the RBI has provisioned for a workaround –  Card-on-File Tokenisation (CoFT). 
Card-on-File Tokenisation is the mechanism through which a customer card number is replaced with a surrogate value called a 'token'. This token has no meaningful relationship with the original card number and is therefore much more secure. 
Razorpay TokenHQ is India's first multi-network RBI compliant card tokenisation solution. With TokenHQ, businesses can continue offering their customers a saved card experience, while staying compliant with RBI guidelines and regulations. 
Why adopt a card tokenisation solution? 
So, why do businesses even need to adopt a tokenisation solution? Well, if businesses wish to continue offering customers the convenience of saved cards, they will have to adopt a tokenisation solution. This begs the question, why offer saved cards, and what is this convenience all about? Let us understand this with the following examples. 
Transactions WITHOUT saved cards:
The customer begins typing……
First the 16 digit card number

🤔

Then the Card Holder's name

🧐

The expiry

😵

Finally the CVV

😮‍💨

Oh no! Customer made a mistake and the transaction FAILS

😡
Transactions WITH saved cards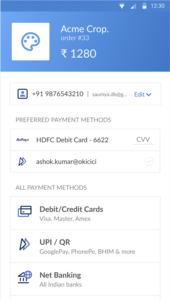 The customer begins typing……enters CVV 🙂

And voila done! The transaction is complete. The customer is delighted and likely to visit your website again. 
To summarise, a saved card experience leads to: 
 Increase success rates

fewer drop-offs

an overall increase in transactions and revenue  

customer delight
This is exactly why businesses need to adopt a card tokenisation service before the RBI guidelines on card tokenisation come into effect on July 1st 2022. 
Also Read: Decoding Card-on-File Tokenisation: All You Need to Know
Razorpay TokenHQ: Enabling seamless card tokenisation  
Now that we have talked about why businesses should adopt a tokenisation solution, let us talk about why Razorpay's TokenHQ is the right solution for you: 
Multi-network

: We work across all three major card networks: Mastercard, Visa and RuPay.

Support for

Multiple Payment Gateways: Businesses use Razorpay's card tokenisation service across multiple payment gateways. What's more, they can deploy 'TokenHQ' even if they don't use the Razorpay Payment Gateway.
Highly scalable APIs:

Scalable and developer-friendly APIs capable of supporting high traffic volume.
Future-proof

with provision for multiple tokenisation models in the future. 
The Razorpay Difference: We are truly future-ready!
There are a few other card tokenisation offerings in the market and we want to make sure we are very clear about how TokenHQ is different from all of these offerings. 
Improved scalability, availability & flexibility with the option of different tokenisation models
Razorpay is uniquely positioned to offer multiple tokenisation models due to deep relations with banks and other stakeholders in the ecosystem. Without giving away too much, we expect to provide our partner businesses with the following outcomes in the coming year: 
Greater flexibility:

With respect to migration and operation of tokens
Higher Success rates:

Higher transaction success rates than even network tokenisation 
Better commercials:

Bypass card networks, thereby leading to significant cost benefits
Superior Payments Experience
By using Razorpay TokenHQ, businesses can ensure that their customer experience remains seamless and the impact (if any) is minimal. There will be no change in the number of steps the customer has to take to complete a transaction. The consent for tokenising the card will be obtained through an AFA (Additional Factor of Authentication) as can be seen on the checkout image.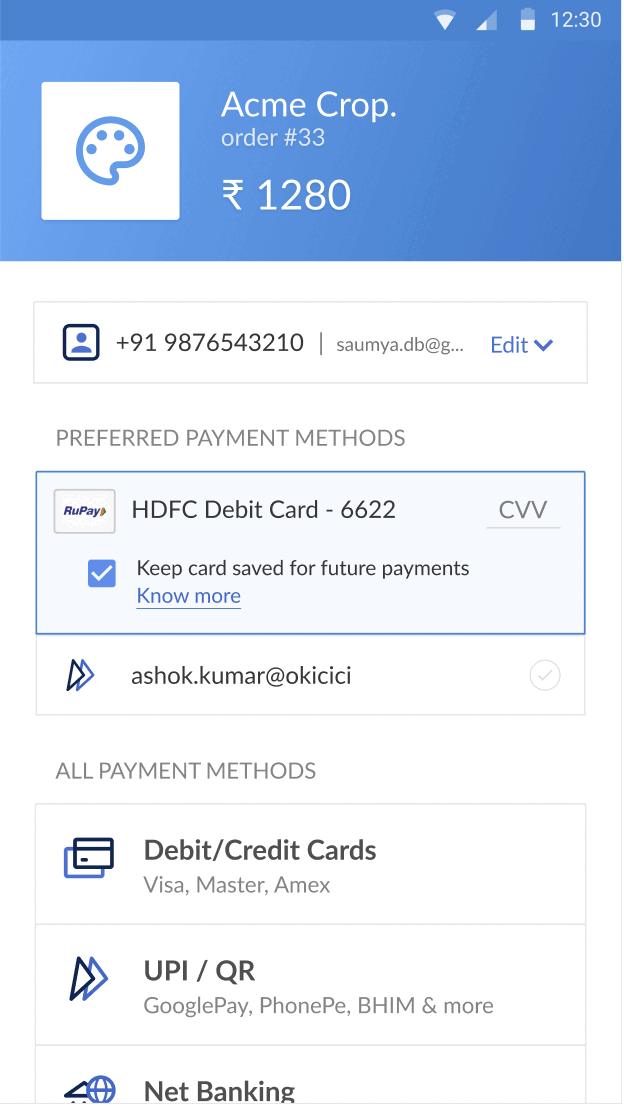 No additional hops: Razorpay offers a seamless checkout experience with no additional hops. That is to say, customers will not be redirected to a different page, nor will the number of steps for transaction completion be impacted.
Seamless customer consent:

Razorpay collects customer consent in a seamless fashion with a pre-ticked checkbox. This entails that the customer experience will not undergo any disruptions and the customer can continue to transact as they do currently. 
Easy Implementation
Auto-enabled

for businesses using Razorpay standard checkout and no integration required for businesses using custom checkout

Easy integration with developer friendly REST APIs for businesses using API integrated checkouts
Exhaustive error codes (for tokenised transactions) with source and extremely detailed reasons. This will be super useful in the long term. 
Integrating with Razorpay TokenHQ
Integration effort with Razorpay TokenHQ will vary depending on the type of checkouts the business has. Below are the types of checkouts and how much effort is needed for each of these to integrate with TokenHQ.
Standard checkout
Who

: Businesses on Razorpay's standard checkout, TokenHQ is auto-enabled at

zero added cost

. 

Integration effort

: None
Custom checkout 
Who:

Businesses using locally saved cards and on Razorpay's custom checkout.

Integration effort

: 0-1 day
 API Integrated checkout 
Who

: Businesses using API integrations or S2S (Server to Server) integrations on their checkout. This is available on demand. You can either reach out to your account POCs or

fill this form

. 

Integration effort

: 0-3 weeks.




There will be some integration effort required, depending on what existing integrations the business has with Razorpay. 
The sooner businesses start tokenising customer card details, the quicker they can build a repository of saved cards. Remember, all existing non-tokenised card data will be purged post June 30th, 2022. So make sure you are prepared for the coming year and equipped to provide your customers with the best possible experience!
We would love to hear from you. Reach out to us at card-tokenisation@razorpay.com if you have any queries or concerns.