It has become a habit for consumers today to try and add vouchers when they order food or other items from websites and apps. It's also common for them to add additional items to their carts to avail discounts on purchases over a certain threshold. 
The power of 'offers' is very evident in the present-day market and businesses from all verticals are directly or indirectly benefiting from it. 
Read this article to know more about offers and how you can create and run them to scale your business.
What is an offer?
An offer is an incentive you provide to a visitor or customer to make a purchase decision on your website or app. An offer can be in terms of discounts, free trials, free shipping, free additional products, etc. 
Offers, in general, are one of the best ways to invite customers on your platform and to retain the existing ones.
Why should businesses run offers?
Entrepreneurs running a business understand the importance of getting customer data. Furthermore, they know that the key to increasing the lifetime value of an existing customer is by gratifying them at certain points and getting them hooked to your product or service. 
Having a lucrative offer in place does wonders on all of these fronts. Here are a few points to support this:
By gratifying the user with a quality offer, you can get more data. A potential customer won't mind sharing their contact number or their company name if you have something good to share 

Running a high-value offer for a limited period of time will help you attract more customers in a short span of time, hence assisting you to leverage your business's growth 
For the latter part, to increase the lifetime value of your customer, planning the right offer at the right time can help businesses meet their targets. Here's how:
By running a sale during a festive period when customers are on the lookout for the best price, you can hit two birds with one stone: clear your existing stock and get more eyeballs to your business

Gratifying the right set of people when they achieve a milestone like completing a year with your business ensures that the customer stays with you for longer
Most of the existing offers in the market are self-explanatory by their names. Here's a list of the most popular offers:
Discounts on MRP

Certain amounts off on purchases over a threshold

Buy one get one free

One-month free trial

Free vouchers

Free credits 

Cashback offers

Free resources (white papers, ebooks, reports etc)
How you can run offers on Razorpay
With Razorpay, you can run offers by providing:
Instant discounts
Cashbacks
No-cost EMIs
Now that you know the prerequisites of offers and how they can help you scale your business, it's time you know how you can run an offer right from the Razorpay dashboard. 
You can create, run and track an offer and its performance right from the Razorpay dashboard. Follow these simple steps to get started:
Login to your Razorpay dashboard and navigate to the 'Offers' tab and click on 'Create New Offer' on the top right corner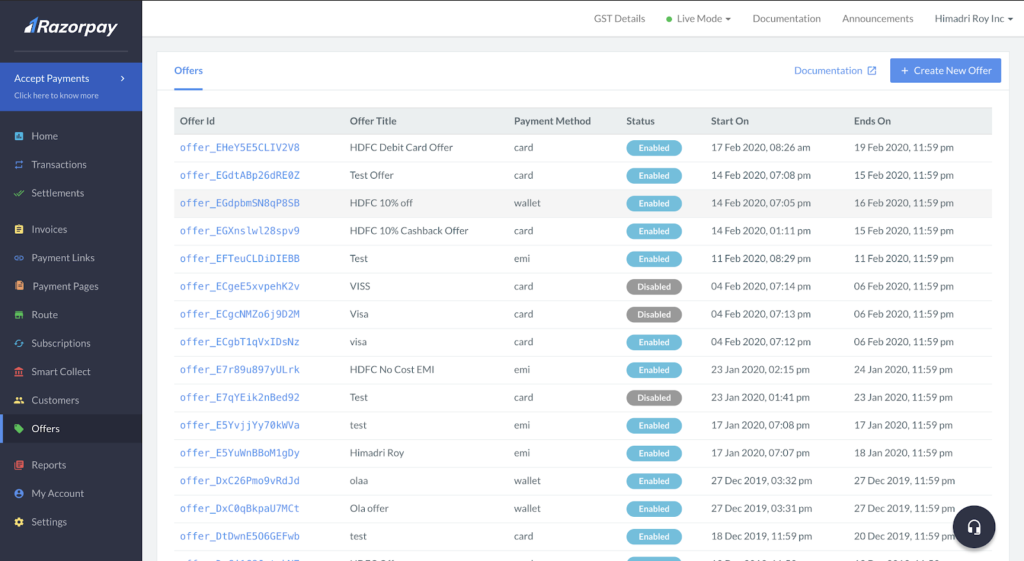 Fill in the required details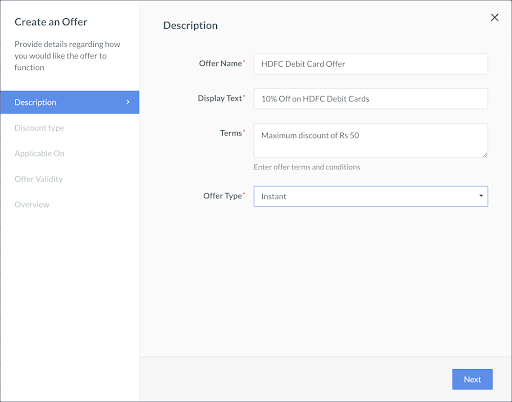 Please note: The offer name is for the creator to keep a track of all the offers. It is for internal use only. Display text is the text that your customer (end-user) will see during checkout.
Under 'Offer Type', choose from the below-mentioned types depending on your requirement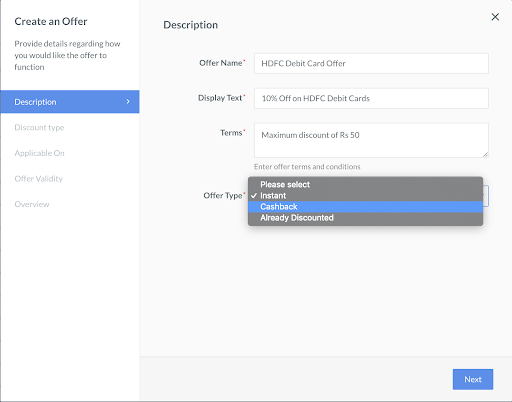 Instant: Offer will be applied as soon as a user selects it

Cashback will be provided by the cashback provider as per the terms and conditions agreed with the creator

Already Discounted is to be used by the creator to keep a track of already discounted items
Enter relevant details under the 'Discount Type' menu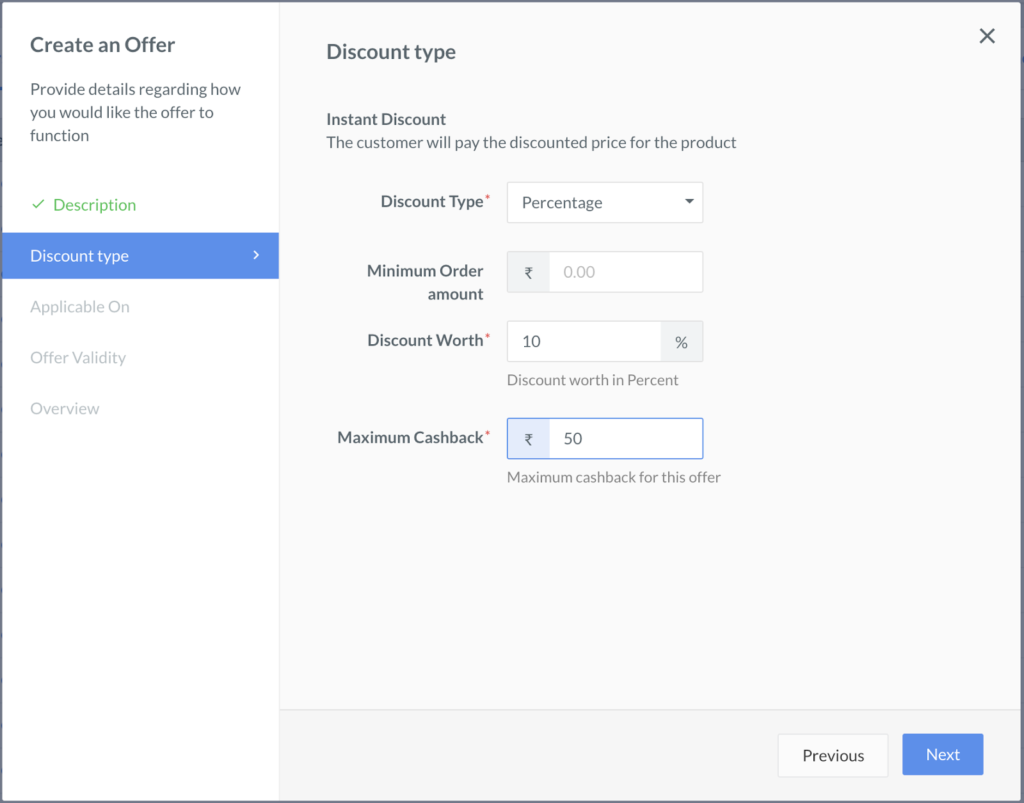 Choose where you want to run your offer: payment method, card type, bank, network, limit on card usage and so on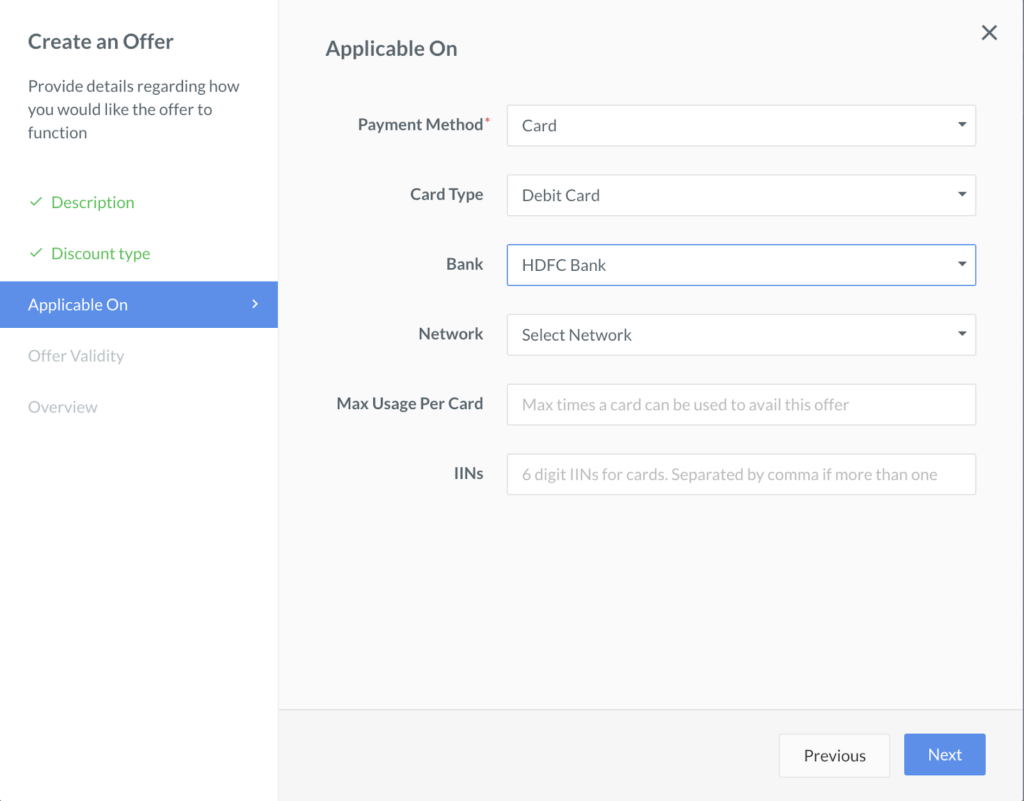 Set the offer validity as per the dates you want to run the offer on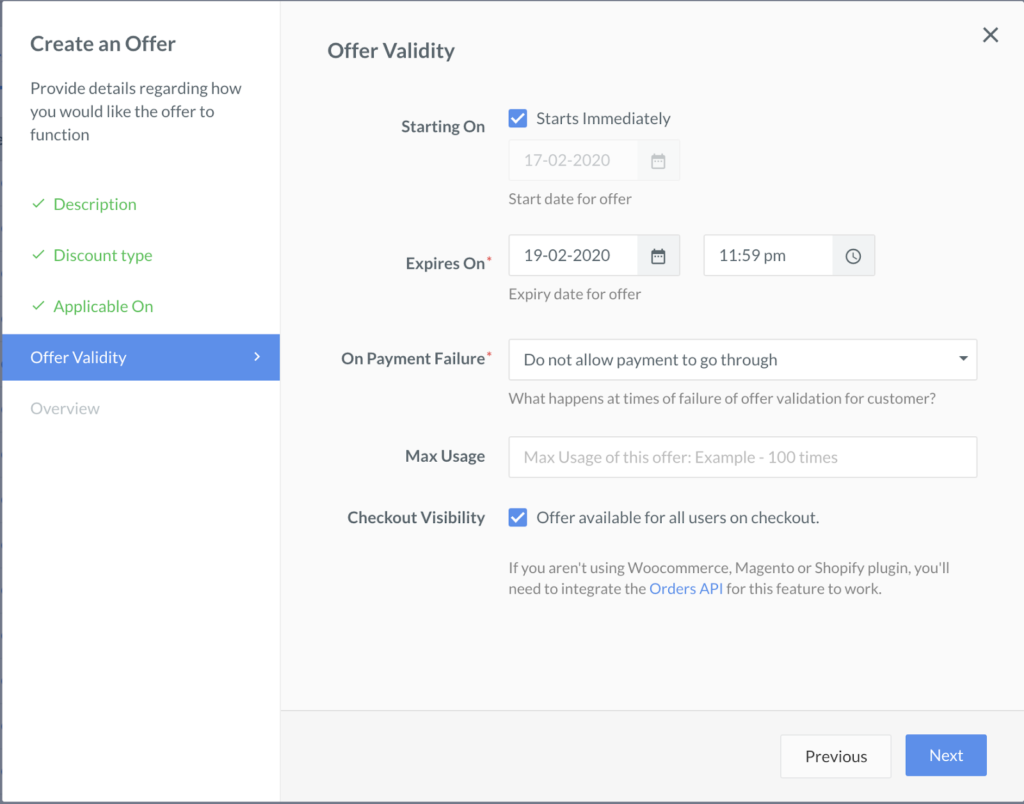 Check the offer overview and agree to the terms & conditions  before you make your offer live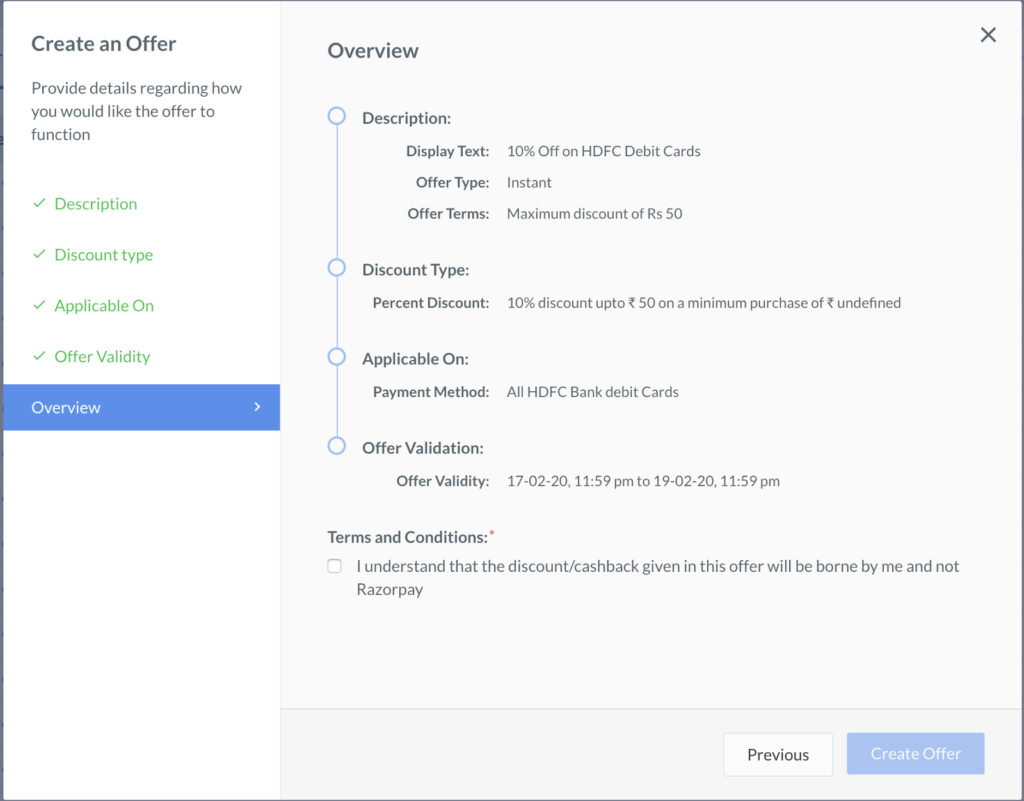 You can track the offer by logging into your dashboard anytime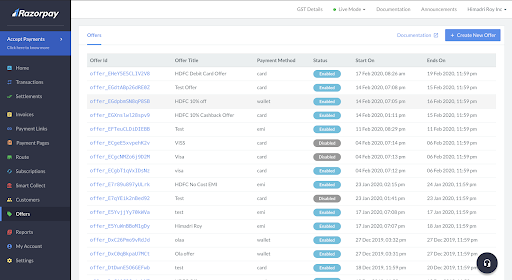 In conclusion 
There you have it! An offer is basically a type of high-quality incentive that can help you make the best of your business from time to time. What are you waiting for? Sign up on Razorpay and get started by creating your offers now!