The last decade has seen a rapid growth in e-commerce, as it helped  in many industries break through a cumbersome business model that involved middlemen and logistical delays. This boom owes most of its growth to business owners who realized that their outdated business model was costing them revenue, keeping them distant from their customers, and making it difficult for them to keep up with changing demands.
Through latest technological innovations in online shopping, D2C brands are changing the landscape of Indian e-commerce and setting benchmarks with a new-age digital-first approach. According to an Inc42 Plus report, the Indian D2C market is expected to touch $100 billion by 2025! 
With customers having more knowledge about online products now than ever before, D2C business owners must rise to the occasion. It is now pivotal to provide your customers with order information they can conveniently consume, helping you retain your loyal customer base  and also build trust.
So, to provide an excellent end-to-end shopping experience that goes beyond digital payments for your customers, Razorpay has partnered with Shiprocket, India's first automated shipping software. Shiprocket has always made an effort to simplify and enhance the shipping and logistics processes by building a technology-backed solution that consolidates all shipping operations in one platform.  
Seamless shipping with secure payments at your fingertips
As a result of this partnership, businesses can now sign up on Razorpay Payment Pages to access Shiprocket's logistics and delivery services.Essentially, a D2C eCommerce player will now be able to accept and place orders from Razorpay Payment Pages, and also provide information on last-mile delivery of their products to make fulfilment  more efficient. 
Suggested read: Build your online store with Payment Pages
With a one-click integration that can be done right after you sign up on Payment Pages, you can enable an instant download of your incoming orders and process them efficiently from the Shiprocket panel. 
What's in store for you with Shiprocket and Razorpay Payment Pages? 
Auto-sync of incoming orders
You can synchronize your Razorpay Payment Pages with Shiprocket, and this will automatically pick up all incoming orders on the platform. This makes it easier for you to process orders directly from one place and helps you further simplify your order management and reduce the fulfillment  time
Accept domestic and international payments 
Razorpay Payment Pages is the quickest way to accept domestic and international payments with an online store. You can accept these payments with automated payment receipts and take your store online with zero coding and in no time
Shipping with multiple carriers
Shiprocket offers 17+ carrier partners and comprehensive network coverage to over 29,000 pin codes. You can choose the best carrier for every shipment and ship to every household in India. This can enable you to ship more orders in one go! 
Discounted shipping rates
Shipping rates through Shiprocket start as low as Rs.19/500 g for e-commerce orders. While you ship faster, you can also save on shipping costs and increase your profit margins for the best results. Furthermore, it is free to use and there is no monthly setup fee 
Custom branded page
You can use Payment Pages to build web pages with personal customizable content, ready-to-use templates, custom URLs, text and media support, and various social media sharing options. You can then share the Payment Page link with your customers and start accepting payments efficiently 
How to integrate Payment Pages with Shiprocket?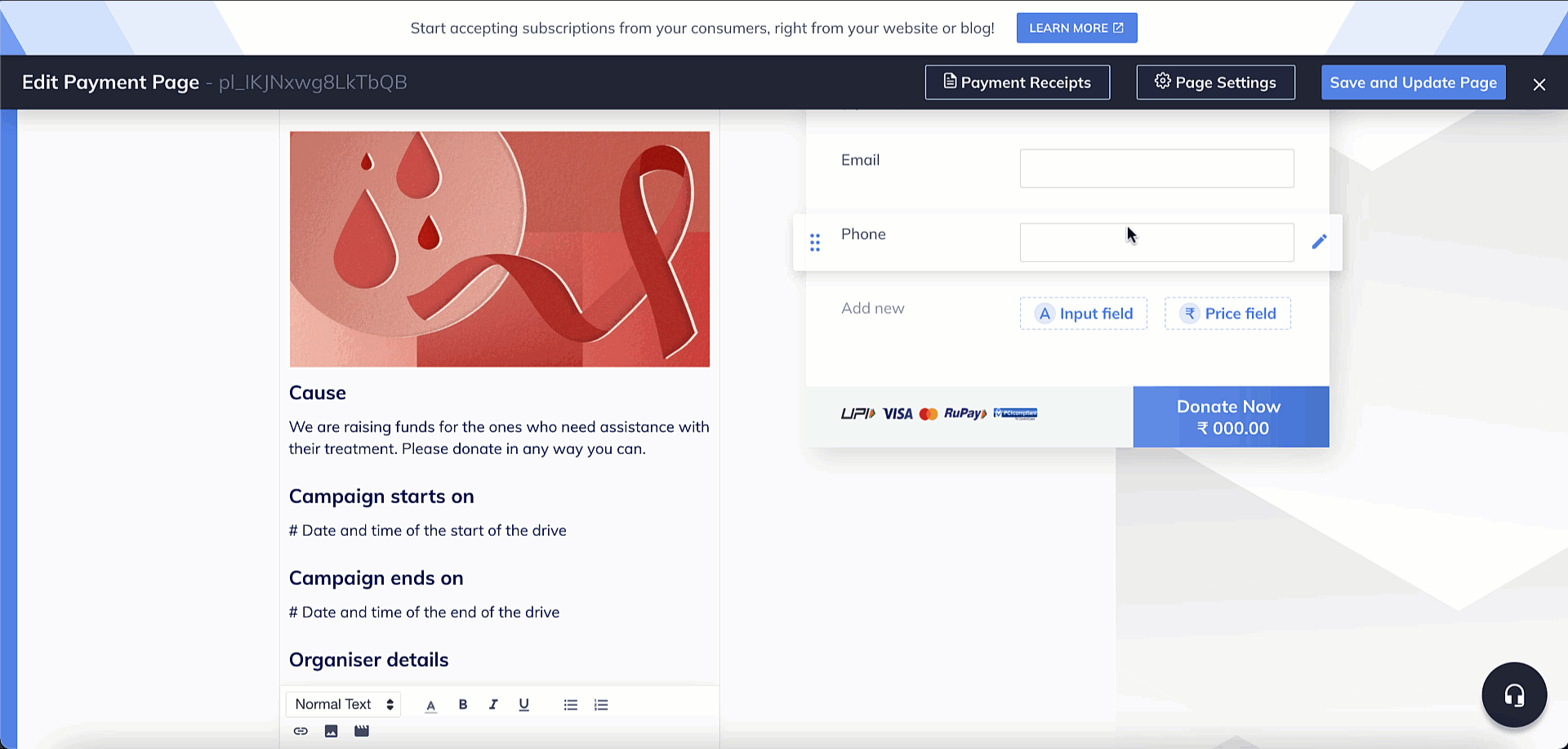 You can integrate Payment Pages to Shiprocket by enabling the Shiprocket Option on your Payment Page.
Log in to the Razorpay

Dashboard

and navigate to

Payment Pages

Click the

+ Create Payment Page

button

Select a template from the list or click

Create your Own

Choose

Page Settings

Scroll down to the

Create Orders

on Shiprocket section and click

Enable

A pop-up will appear informing you that various parameters that help gather customer information are being added to your Payment Page

Continue with the creation of your Payment Page
Suggested read: How to integrate Shiprocket with Payment Pages
Razorpay's product suite continues to focus on providing online shoppers with the best payments and customer experience. Our cutting-edge APIs-driven payment solutions along with Shiprocket's logistical expertise is a match made in heaven that'll help e-commerce businesses grow their customer base by augmenting their overall shopping experience.
On to more customers, more revenue, and more growth!