If you are a startup founder and looking to spend less time on managing finances and bring everything in one place, you'll resonate with Abhishek Jain's story – Co-Founder & CEO, The White Willow. 
Read on to know how he grew his business, and bid farewell to financial hassles with RazorpayX.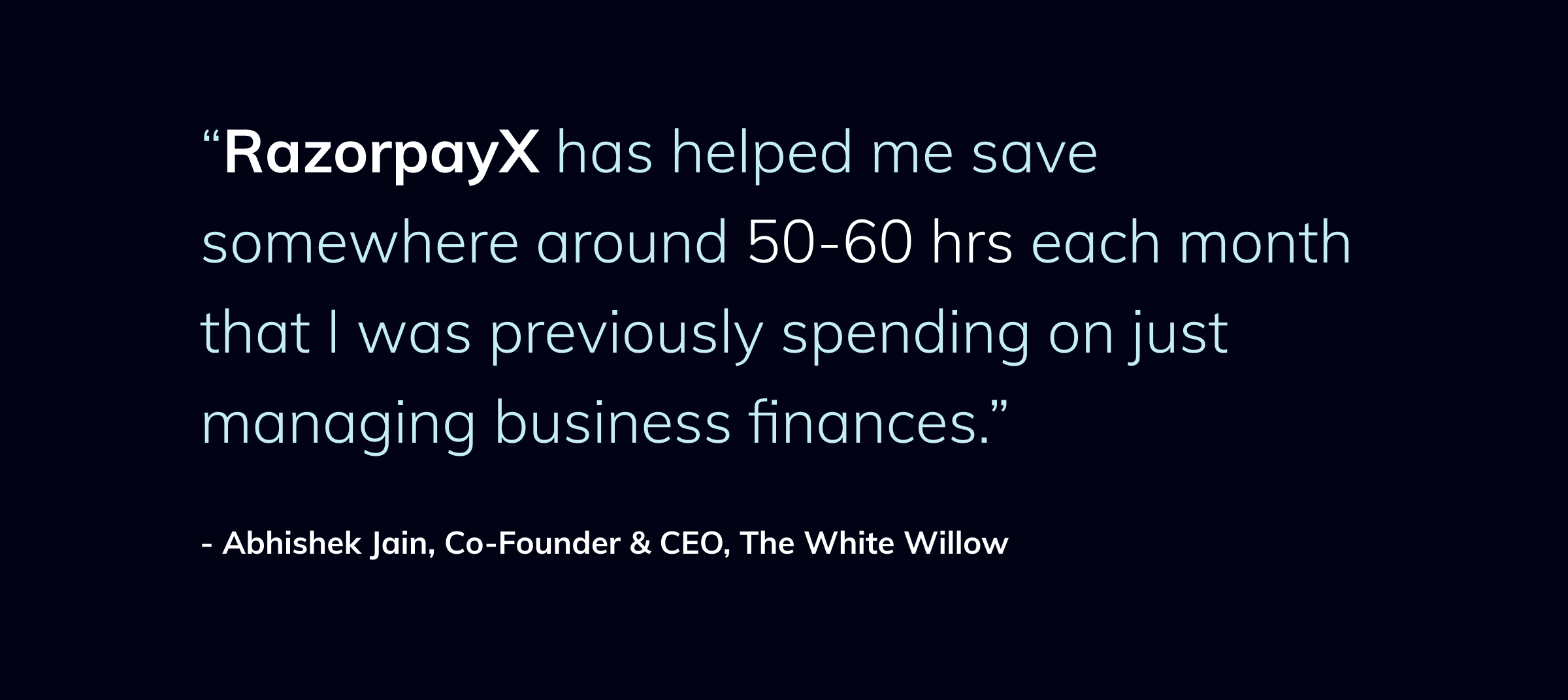 Meet The White Willow 
A human spends a third of his life sleeping, and yet we never emphasize the positive effects a good night's sleep has on our health. The White Willow was started to make speciality pillows accessible to the masses, enabling people to sleep better.'
'Having over 70 different types of categories, The White Willow pillows has pillows for all types of sleepers and ailments.'
Friction in The White Willow's Growth Journey 
The White Willow needed a strong finance solution that allowed them to process 20-30 invoices, daily, giving them a complete view of the outstanding payments for the next 50-60 days and freedom from manual finance tasks. 
"Previously, working with tools like Tally, it was a challenge to get a complete view of the business finances and I had to personally sit with my team every day to close the invoices.", says Abhishek.

RazorpayX to the Rescue 
After The White Willow got started with RazorpayX, they were immediately able to cut down from a 5 step vendor payouts process to 2 steps, which not only saved time but boosted the vendor confidence in the company.
RazorpayX helps The White Willow plan, track, save and make money
After signing up with RazorpayX, The White Willow eliminated the need of working with multiple products and managed all aspects of business finances from within one single dashboard. 
Vendor and tax payments 
The finance team no longer had to manually enter invoice details and chase OTPs from Abhishek for every vendor payment. With RazorpayX the TDS payments, too, are automated end-to-end.
Payouts without RazorpayX = 5 step process
Payouts with RazorpayX = 2 Step Process 
Customer Refunds 
Integrating Shopify with RazorpayX has solved the headache of handling customer refunds completely for The White Willow. They process refunds, both partial or full in a click creating a smooth experience for their customers. 
Reimbursements 
The White Willow was maintaining an excel sheet for all credit card expenses, and would manually track, approve each reimbursement and related bills. Now the team uses RazorpayX Payroll, allowing employees to attach bills in a self-serve manner, and reimbursements are instantly processed in just a few clicks.  
Easy Collaboration with the Finance Team

Before RazorpayX, the accounting team would send daily account statements to the CA. Now since all payments are made via RazorpayX, the team including the CA has custom access to view and download all invoices on the RazorpayX dashboard resulting in faster error-free bookkeeping.
With a complete view of the payouts, we can plan our cash outflow and liquidity needs better and invest the excess funds for better returns. –Subhajit Ghosh, Chartered Accountant – The White Willow

"RazorpayX helps us plan every aspect of business finances – faster and better. My daily meetings with the finance team have gone down from 45 mins to 15 mins enabling me to focus more on what I love – growing my business"
Are you ready to start your Growth Journey with RazorpayX?