A structured financial management system is the pillar of any well-heeled business strategy. As much as a business would like to focus on great cash inflow, making payouts is also an equally crucial task.
And, leveraging out-of-the-box technology to streamline the process is what every business should do.
Let's take a step back.
What is a payout?
A payout is a taxable payment made by a business to its stakeholders from the company's current or retained earnings. In traditional business banking, the methods using which a company can process payouts are IMPS, NEFT, RTGS, and UPI.
What are the different types of payouts?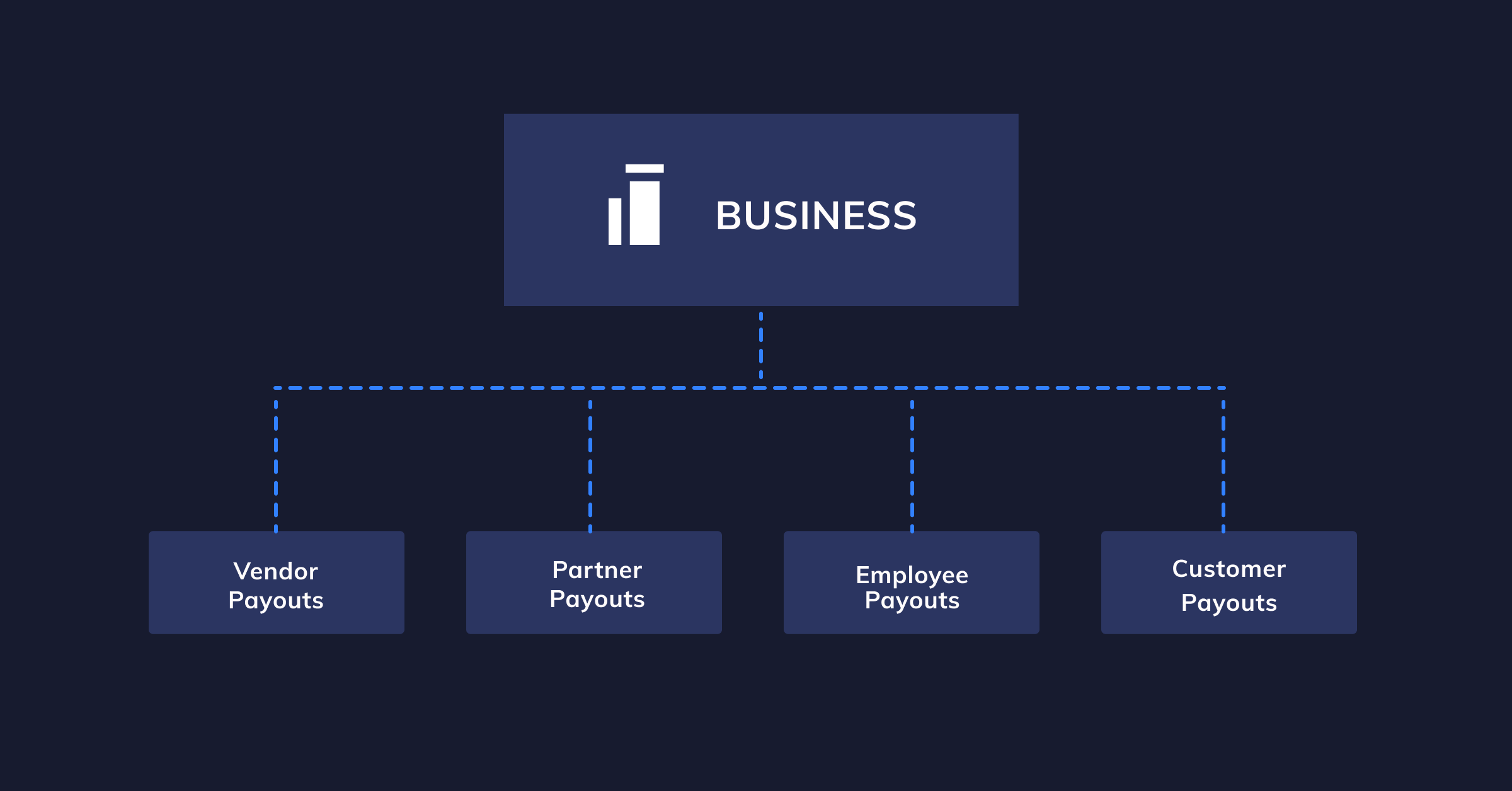 Vendor payouts –  payments made by a business to a vendor (supplier) for the goods or services provided
Partner payouts – a business pays a commission to another business or a contractor for cross-selling products or services
Employee payouts – a business pays its employees for their services
Customer payouts – Cashback, rewards, and refunds made by a business to its customers
Common problems with payouts
Have you ever had to make a crucial payment to your vendor or customer, but you couldn't process it because of fixed banking hours? Delayed payouts often lead to interrupted service. Not to mention, they're just embarrassing.
But it can happen more often than not for many reasons.
You can only process payouts via NEFT and RTGS, and only within banking hours

Uploading contacts in bulk to make a bulk payout is very complicated because of complex file formats

There's a hold-up upon adding a contact for a payout

You can't verify the validity of a bank account before making a payout

Limitations on bulk payouts when made via UPI and IMPS

A low cap on TPS

No easy way to track and identify errors because of complicated and vague error codes

Reconciliation can be very difficult in the case of refunds and failed transactions
So, how can this process be made simple so that businesses don't have to go through these setbacks? 
Let's introduce to you, RazorpayX Payouts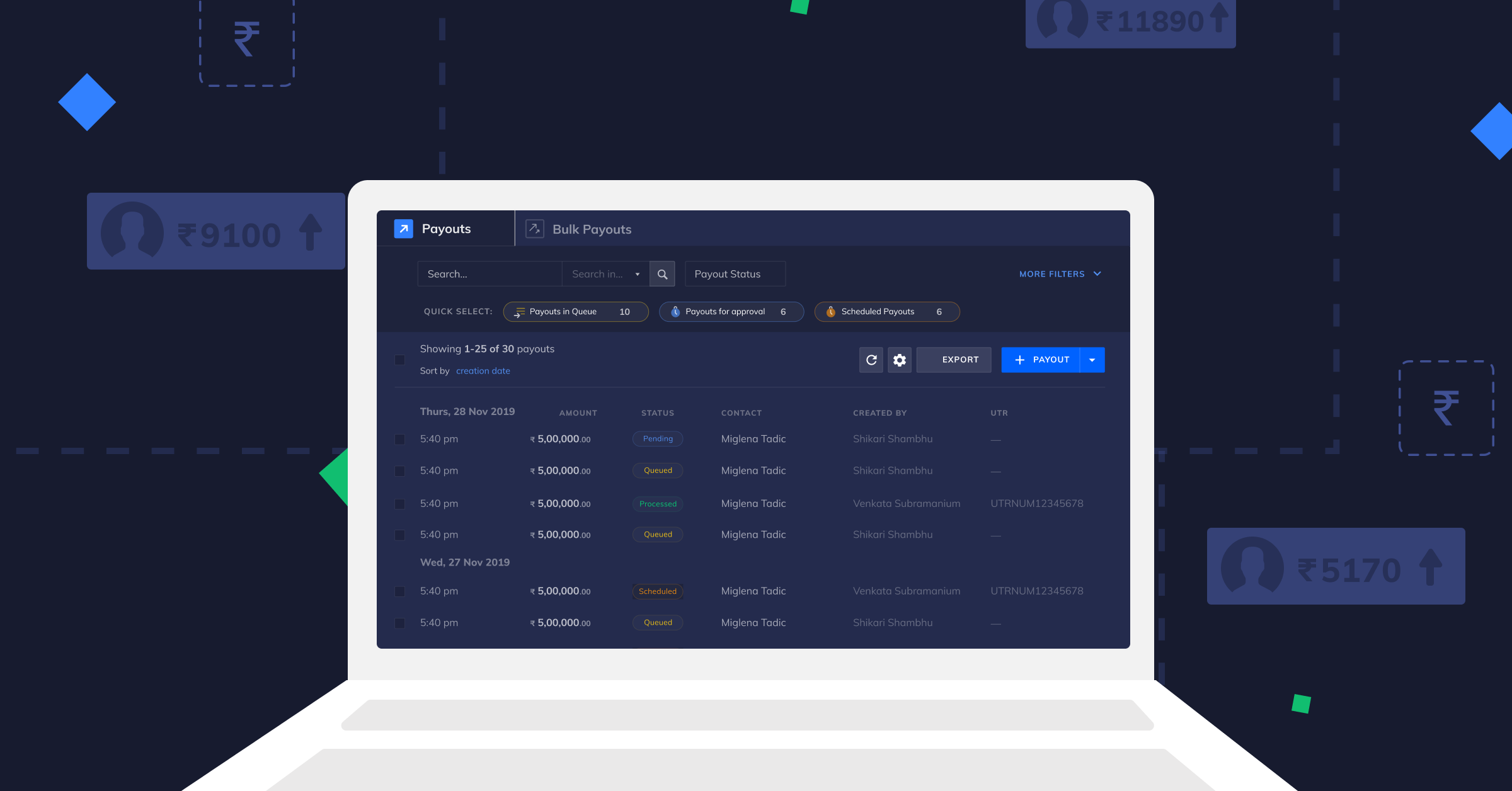 Imagine solving your payouts problem in just a matter of minutes, and further simplify all of your business banking operations! That's exactly what RazorpayX Payouts can do for your business.
Whether you're making a bulk payout or just a one-off, RazorpayX helps you move money seamlessly, without you having to worry about banking hours. RazorpayX Payouts is that one single platform that automates your business banking operations to such an extent that you don't have to worry about making any manual effort.
How does RazorpayX simplify your payouts process?
Make payouts, disbursals, and refunds via UPI, IMPS, RTGS, and NEFT, at any time of the day, instantly

No hold-up upon adding a contact; transact immediately

Upload any number of contacts in one go, without dealing with confusing file formats

Create payouts in bulk via APIs or directly from the dashboard

Offer 24*7 instant refunds to your customers and vendors etc., without any manual intervention

Add multiple team members with access control and secure payments with 2-factor authentication

With intelligent error code mapping, identify errors without any trouble

Reconcile refunds and failed payments in ease

Track, automate, and accelerate money movements and make impactful business decisions
How to make a payout via RazorpayX?
You can make payouts on RazorpayX in five simple steps.
Signup and activate RazorpayX account

Add funds to your business account

Create contact

Add fund account to the contact

Create payout
What kinds of payouts can RazorpayX handle?
Bulk payouts – You can make your payouts in bulk, all at once. Simply upload all your contacts, sit back, and relax. RazorpayX will take care of all your outflow.
Payouts queue – If you need to make a payout and your account is low on funds, RazorpayX will queue your payouts that go over balance, and process your payouts when you add funds to your account.
Scheduled payouts  – RazorpayX allows you to schedule all your payouts to your beneficiary's bank account or VPA, so they are processed at a later time. 
Payouts, simplified!
Like we said before, making payouts is as important as cash inflow. Never worry about delinquent or delayed payouts ever again! Make fast, effective payouts to your customers, vendors, employees, and partners, and track all forms of money movement with RazorpayX.
PS: Want to take Payouts for a quick test drive before signing up?
Check out the Payouts Demo
and learn to make a payout in 4 simple steps!