During the pandemic in 2020, a lot of businesses either started their first online marketing campaigns or scaled them to make them more consistent. Not only that, many businesses scaled the usage of SaaS tools and cloud servers that make operations much easier. 
This is a story of how we reimagined RazorpayX Corporate credit Cards for every business that went through this transition. RazorpayX Corporate Cards are developed in association with SBM India, one of the biggest banks in APAC.
"With RazorpayX corporate cards, we hope to solve the problem of access to finance for business owners and help improve their cash flows. The pandemic has led to a new wave of entrepreneurs and small businesses. We believe financing solutions like these will reignite innovation that can speed up the recovery of the Indian economy." – Harshil Mathur, CEO and Co-founder, Razorpay
To begin with: 
What is a RazorpayX Corporate Card? 
A RazorpayX Corporate Card is a type of credit card issued to businesses. The business owner can choose to extend the card to their employees as well to help create a seamless reimbursement experience by applying for Add-on Cards. This way, they don't have to use their personal funds to pay for business-related expenditures and then, go through with the reimbursement process. 
The card increases a company's purchase power while improving the cash conversion cycle with short-term credit at no cost (zero interest). 
Some expenses such as SaaS subscriptions, cloud services, and marketing expenses can only be done with a credit card. With RazorpayX Corporate Cards, you also get a higher credit limit than personal cards to be able to make all business expenses without affecting personal liability.
Apart from helping manage finances, these cards make compliance and reporting much easier for a growing business that needs to focus on the core business. They also have various perks to offer in terms of rewards and lower charges for international transactions.
How do RazorpayX Corporate Cards work?
A RazorpayX Corporate Card works pretty much like any other credit card. It can be used to make online payments as well as purchases at a PoS in brick-and-mortar. These payments get registered to the company's statements, while the owner's or employee's personal funds don't get tangled up in the process. The card typically has the name of the company or the cardholder. 
Why do you need a RazorpayX Corporate Card?
Lately, RazorpayX Corporate Cards have seen a surge in demand because of the evolving needs of Indian businesses. Below are some of the reasons why you should consider getting a RazorpayX Corporate Card for your business: 
You run online ads or use SaaS for your business

You use AWS, Google or other cloud infrastructure for your business

You don't want to pledge security or fixed deposit to get a corporate card

You don't want the hassles of OTP or reimbursements for your team

You want to make international or recurring spends




You do not want personal liability




You want complete control and visibility over spends




You want to spot fraudulent purchases and non-business expenses better




You want to build a better credit score
How are RazorpayX Corporate Cards different from other corporate cards?
RazorpayX Corporate Cards are issued on the basis of business performance and potential instead of fixed deposits or security collateral. The Corporate Cards also integrate with Razorpay payment gateway and RazorpayX banking hub to make your repayments and usage easier with better visibility all around.
How can you become eligible for RazorpayX Corporate Cards?
You can become eligible for a RazorpayX Corporate Card by being an active user of the Razorpay payment gateway, RazorpayX Payroll or RazorpayX Current Accounts. With consistent usage of these products, you will be eligible for higher limits as well.
How to apply for a RazorpayX Corporate Card
If you are already eligible for the card, you may get one by completing a few simple steps on the RazorpayX dashboard. We evaluate credit bureau reports and your business bank statements. However, a high credit score is not necessary to avail the card. Your business performance visible through Razorpay or RazorpayX products is the most important factor.
Click on the image below to see how you can apply for a RazorpayX Corporate Card.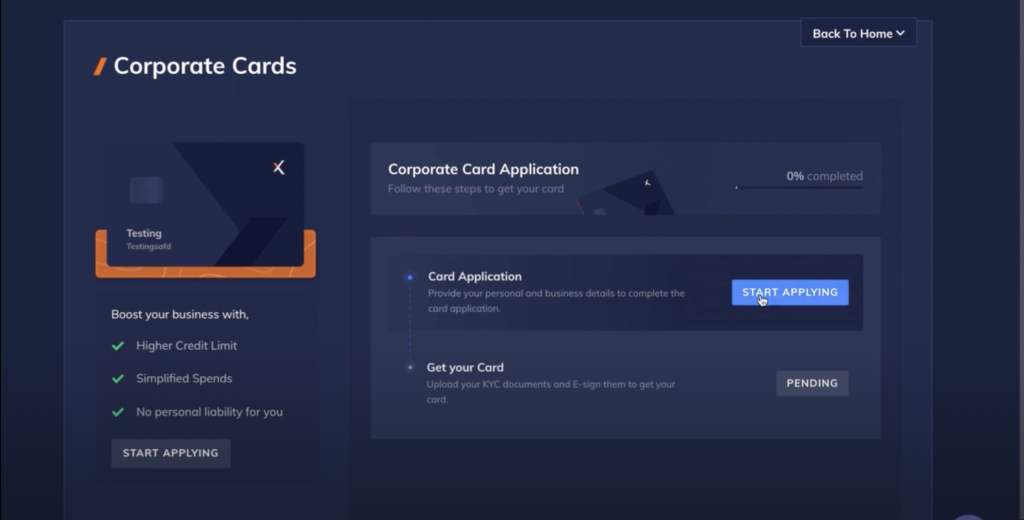 What are the additional benefits of using a RazorpayX Corporate Card?
The more payments you make with your RazorpayX Corporate Card, the more cashback you get on everything such as from software to ad spends and taxes. It requires no complicated paperwork and approval is almost, always instant. You can also get Add-on Cards tailored to different roles of your team members to track business expenses better. 
So what are you waiting for? Apply today and reap the benefits of a corporate card for your business.