RazorpayX Corporate Card is aiming to solve the hassles of digital spending for businesses. It is constantly evolving and trying to address the needs of businesses by providing a wide range of features.
So, if you don't have a RazorpayX Corporate Card for your business yet, we're going to tell you why it's a good idea to get one. Read on.
Meet ThinkTac 
Creative thinking for children has always been associated with a basis for overall development. Introducing ways to encourage creative and critical thinking at an early age helps in setting a foundation for continuous growth in all spheres of life.
ThinkTac's mission is to provide a platform for children to nurture creativity and critical thinking, and test ideas without fear. The goal is to make experiential and competency learning accessible to all children, providing them with the knowledge, skills and competencies they need to thrive in the 21st century. ThinkTac does this in a fun and engaging manner, ensuring school and parent buy-in with curricular outcomes.
As we speak, ThinkTac is on the path to reaching 1 million users across the globe.
Challenges before using a RazorpayX Corporate Card
Before starting the RazorpayX Corporate Card program, the two major challenges faced by ThinkTac were:
Using personal credit cards for business expenses led to unnecessary paperwork, OTP hassles and lengthy reimbursement cycles

It was difficult to know which costs were legitimate and which were just a waste of valuable company money
Scaling with RazorpayX Corporate Card
Razorpay was no stranger to ThinkTac. While they have been using Razorpay Payment Gateway to accept payments on their platform, they had not availed a RazorpayX Corporate Card to streamline business expenses. 
ThinkTac adopted RazorpayX Corporate Card to solve their problem. And within no time, they experienced a massive change.
By logging in to the RazorpayX Dashboard, business heads at ThinkTac had complete control and visibility over all spends. They also set an upper limit on funds that could be used by their employees, making sure that things never got out of hand with overspending. This helped them manage their expenses really well, eliminated the entire process of claiming & accounting reimbursements and reduced administrative overhead costs significantly.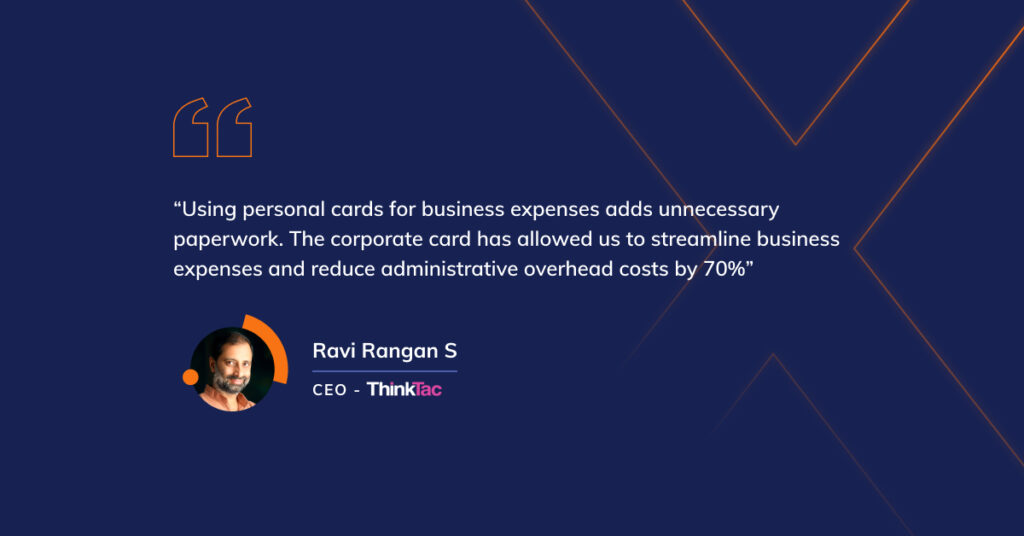 ThinkTac also got RazorpayX Add-on Cards for key employees who made frequent purchases on behalf of the company. This reduced the task of handing out OTPs every time someone made a business purchase. Also, Add-on Cards helped ThinkTac better categorise and understand their business expenses. These cards also eliminated the need to go back and forth between emails to match up purchases.
Outcome 
By using RazorpayX Corporate Cards, ThinkTac could streamline its business expense management. Business heads could gain better insights into where their expenses were incurred and how the business was doing overall.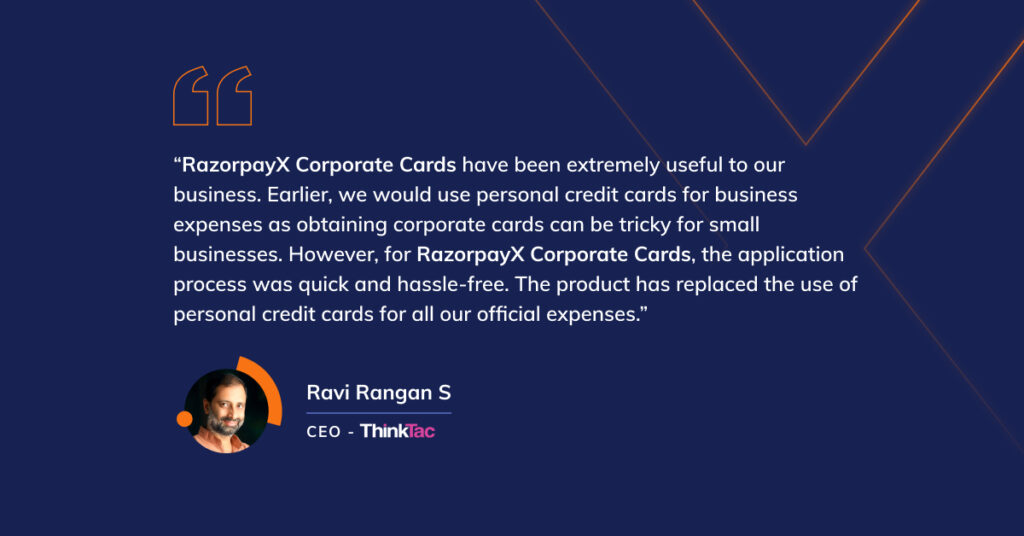 Lately, many companies like ThinkTac have found value in adopting RazorpayX Corporate Cards that help their engines run smoothly.  So, let us ask you. Do you have a corporate credit card yet? 
The RazorpayX Corporate Cards are developed in association with SBM India, one of the biggest banks in the APAC region.