Making quick payouts is essential for a seamless money movement. While the traditional payout method requires you to know the bank account details of the recipient, with X payout links, you can make instant payouts to your vendors or disburse refunds, cashback, prize money to your customers in a click securely, without bank account details.
Here's how you can get started. 
What is RazorpayX Payout Links
RazorpayX Payout Links is the easiest and fastest way to disburse funds into your customers' preferred bank account via IMPS, UPI, NEFT, and RTGS.
How does Payout Links work
RazorpayX Payout Links automates the process of making a payment/refund to your customer within minutes. 
Simply create a Payout Link on your RazorpayX Dashboard by entering your customer details along with the amount that needs to be refunded. You can send the Link to your customer or have RazorpayX send it out. 
Also, if you need to create several Payout Links, you can use APIs to create them in bulk. Now that your customer gets the Link, the process is done in a blink.
How to create a Payout Link
Step 1: Log in to your RazorpayX Dashboard 
Step 2: Navigate to Menu → Payout Links and click on '+Link' 
Step 3: You can select an existing contact or add the name, contact type, phone number, and email id of your new contact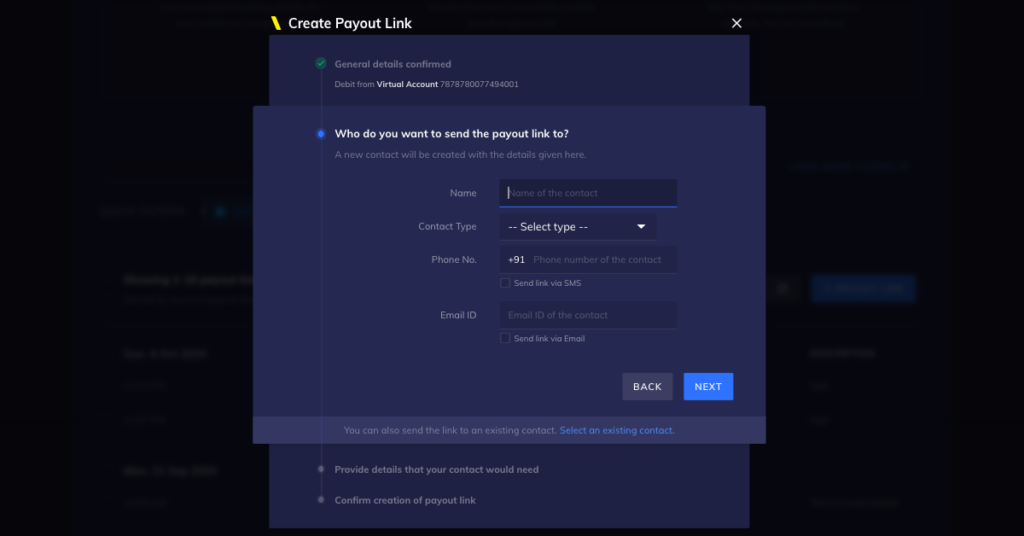 Step 4: Enter the amount and the payout purpose along with payout description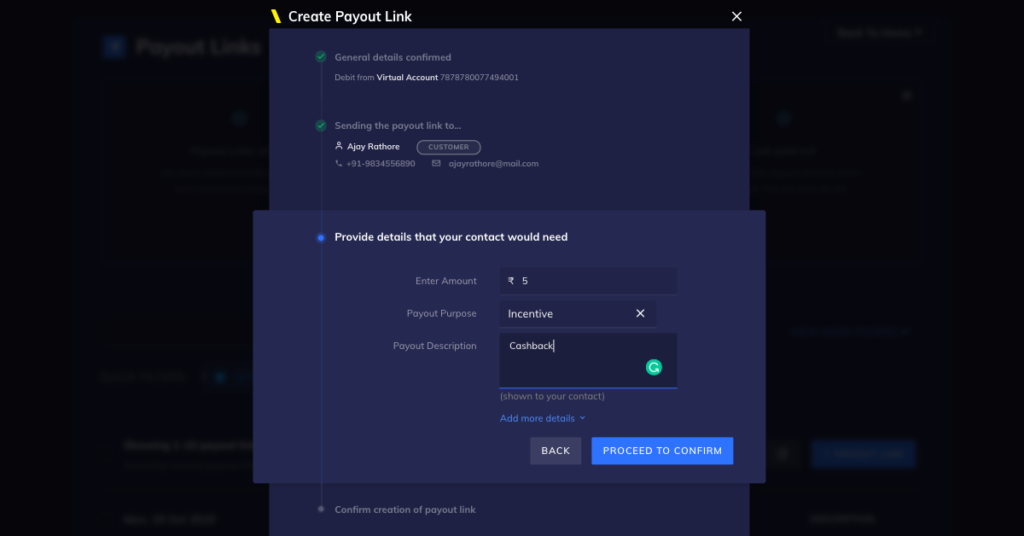 Step 5: Click on 'Proceed' to confirm
Step 6: Enter OTP to confirm the creation of your payout link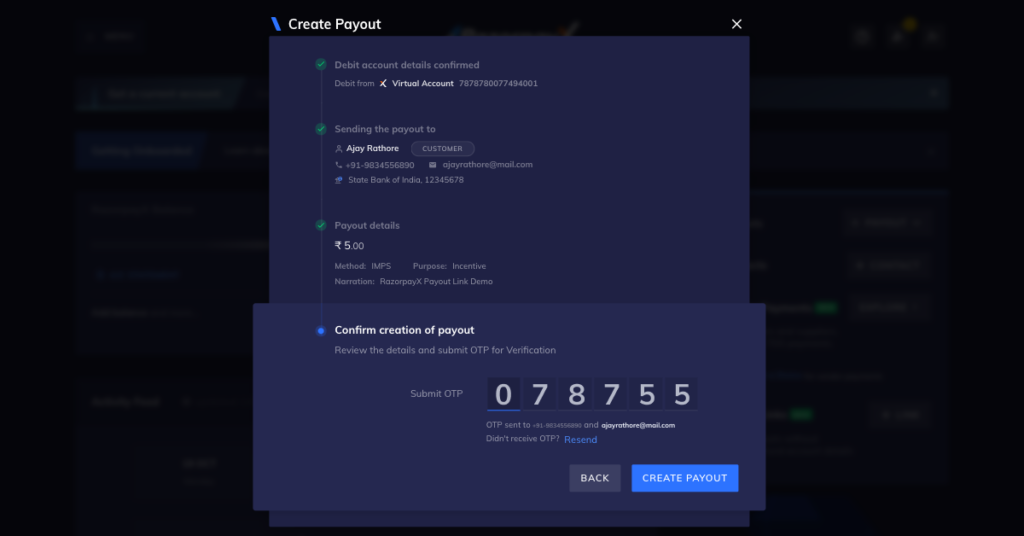 Step 7: Click on 'Create Link' 
Step 8: You can now copy the link and send it to your customer
How it works for your customer
Your customer opens the Payout Link and verifies themselves via OTP

They enter their preferred account which can be a bank account, or their UPI ID

On successful entry of their account details, they receive their refund almost immediately

Your customer is notified if there is any error with the account details they have provided, so they can re-enter the details or try with a different account
What you can use Payout Links for
Payouts: Make one-off payments to your contractors, freelancers, vendors, and more. 
Refunds: You can also make refunds to your customers, even without having their bank account details.
Winnings: Offer referral bonuses, cashback, winnings, incentives, and more instantly.
Start making 24*7, instant payouts without knowing the recipient bank account details.