Getting a powerful current account for your business is essentially the first step in efficiently managing your cash flow. It's the only place where you can get a 360-degree view of your business transactions. 
What is RazorpayX Current Account?
RazorpayX Current Account is a smart current account that empowers you to manage your entire banking, right from money movement to accounting in one place. 
Your RazorpayX Current Account not only comes with all standard banking features like cheque book, debit card, and account statements plus great tech capabilities like insightful financial reports, instant payouts, approvals workflow, API banking, and more. 
How can you apply for a RazorpayX Current Account?
Log into your X

Dashboard

Click on '

Apply for a Current Account

' 

3. Select "

Request Access"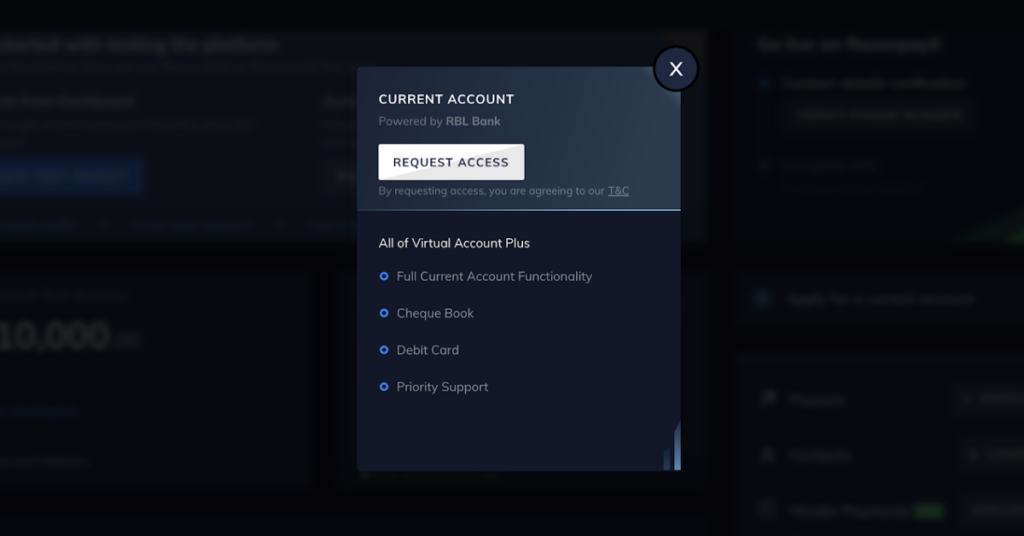 4. Enter the pincode of your registered business address & hit 'Submit'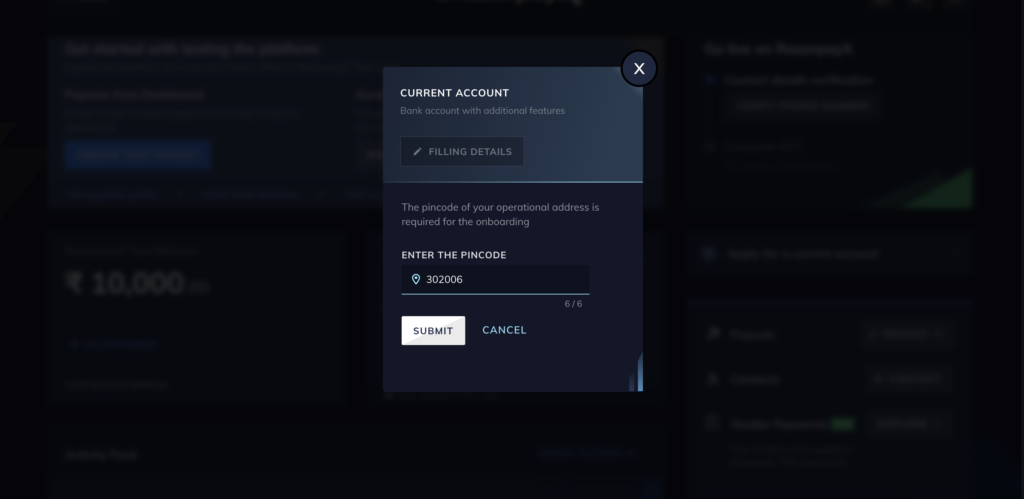 5. Your application for a Current Account is now submitted. Once this is done, our team will contact you for further processes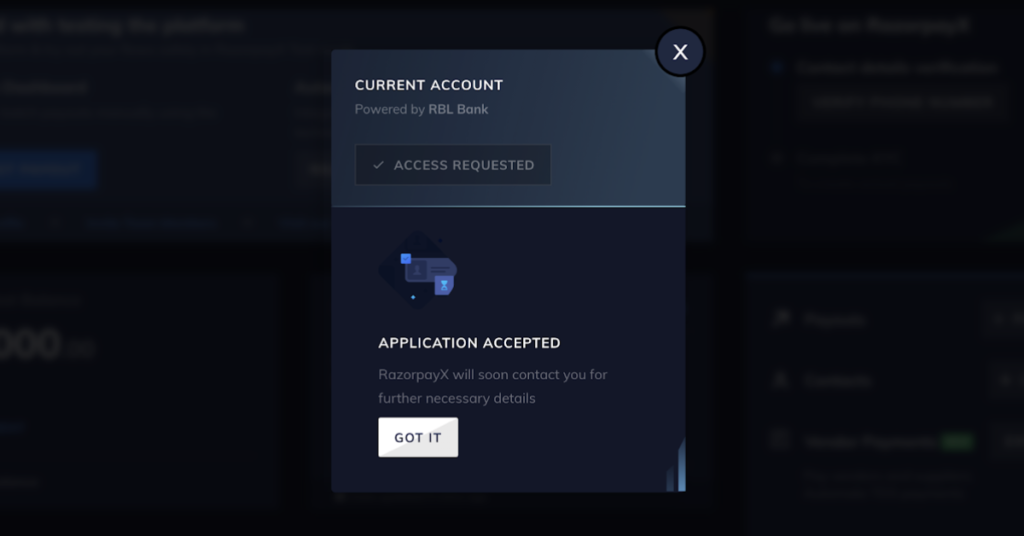 Pro Tip:  Before getting started, go through the list of documents you'll need for the mandatory KYC of your RazorpayX Current Account.
How can you simplify your business finances with RazorpayX Current Account?
With RazorpayX, you can do everything that you can do with a traditional current account, and – 
Make instant payouts via Dashboard & APIs 
Once your RazorpayX Current Account is activated, you can start making single or bulk payouts to your vendors, customers, partners, employees, and more via IMPS, NEFT, RTGS, UPI. You can also schedule and queue your payouts along with making payouts to a credit card. 
Get insightful financial reports 
Access important financial information like cash flow, P&L reports, and more that gives you a real-time view of your business transactions. RazorpayX gets you all the financial information that is crucial for making smart business decisions. 
Get access to smart apps & integrations 
1. Vendor Payments
You can automate payments to your vendors and contractors with RazorpayX Vendor Payments app in less than 5 minutes. RazorpayX also allows you to calculate and deduct tax at source (TDS) for your invoice payments. 
2. Payout Links 
RazorpayX Payout Links empowers you to make seamless payments to your vendors and contractors  And, you can also disburse refunds, cashbacks, prize money to your customers, instantly, without their bank account details. 
3. Payroll
You can automate and execute payroll, compliance, and contractor payments on your RazorpayX Dashboard with Opfin – an end-to-end payroll solution. 
Set up an efficient approval workflow
To reduce human errors, RazorpayX allows you to create custom workflows for the creation and approval of your payouts via Dashboard, using API, or using the Bulk Payout feature. Raise a request to enable this feature with our support team. 
Manage teams
You can add your teammates and assign them roles to limit their access to the Dashboard as per your business requirements. Currently, we support four roles – Owner, admin, finance roles, operations, view only. 
Go ahead & apply for a Current Account with RazorpayX in minutes and start experiencing friction-less money movement for your business.