Every business relies on vendors and contractors to avail services like office space and supplies, food, software subscriptions, travel and entertainment, etc. And, relying on manual methods to make invoice payments can be difficult. 
Here's how you can get started with RazorpayX Vendor Payments and automate payouts and taxes. 
What is RazorpayX Vendor Payments
Vendor Payments is a modern solution that's packed with the latest tech and features for businesses to use. The Vendor Payments App allows you to automate the process of making payments to your vendors. 
All you have to do is upload an invoice on the RazorpayX Dashboard, add the vendor details and create the payout as per your business requirements.
How Vendor Payments works
Auto-Capture Invoice Details
Once you upload an invoice, our intelligent OCR extracts and populates most fields. This saves you the trouble of manually entering data, reducing the possibility of errors.
Track and manage invoices
The Vendor Payments dashboard gives you complete visibility of all upcoming invoice payments. You also receive email reminders so you never miss an invoice payment again.
Pay your Vendors
You can make payments using IMPS, UPI, NEFT, and RTGS. Eliminate the time and effort spent on manual reconciliation with the payment status available in real-time on the dashboard.
Auto-Pay TDS
TDS is applicable on invoices based on the vendor category. The app automatically deducts and sets aside the applicable TDS. At the end of the month, the amount is automatically paid. The challans will be available on the dashboard.
How to get started
Log into your

Dashboard

Navigate to Menu → Vendor Payments

Upload an invoice on the RazorpayX Dashboard
The invoice details are auto-read and uploaded on RazorpayX using our OCR technology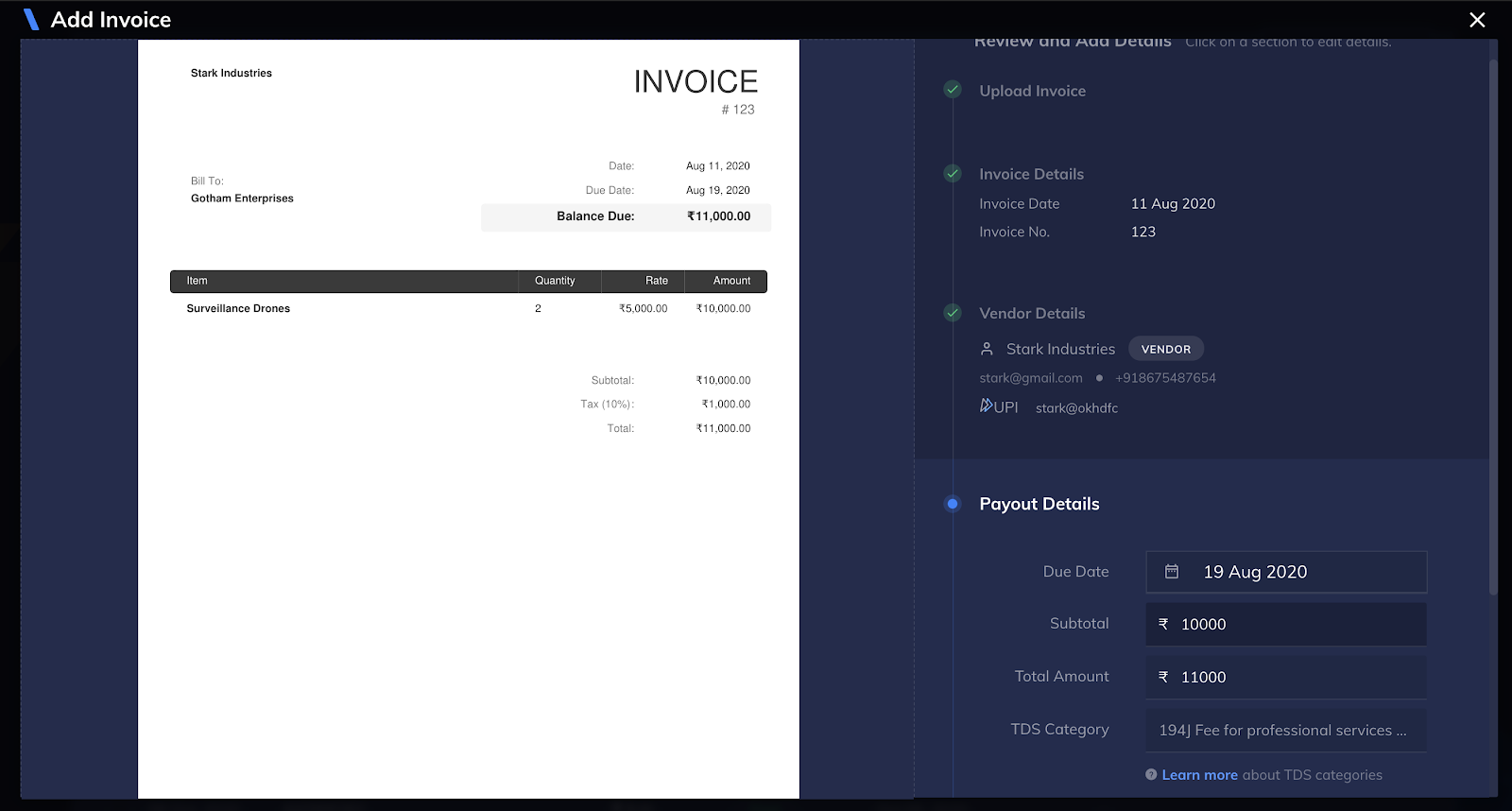 Select an existing vendor or create a new vendor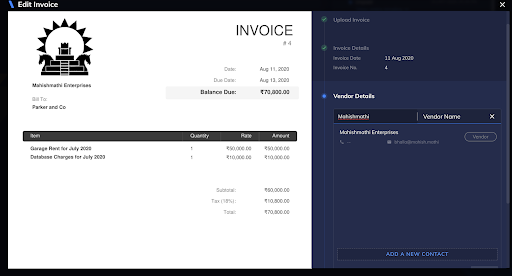 Select a Fund account for the vendor or create a new fund account. These are the account details (bank account or UPI ID) to which the amount is transferred
Review the Invoice Details such as due date, TDS category, and amount to the vendor
You can either save the invoice and pay it at a later time or make the payment immediately

Once created, payouts follow the approval workflow

set on your RazorpayX account, if any

Once paid, an email goes to the vendor with the details of the payment

A TDS ledger is maintained with all the TDS deductions of the month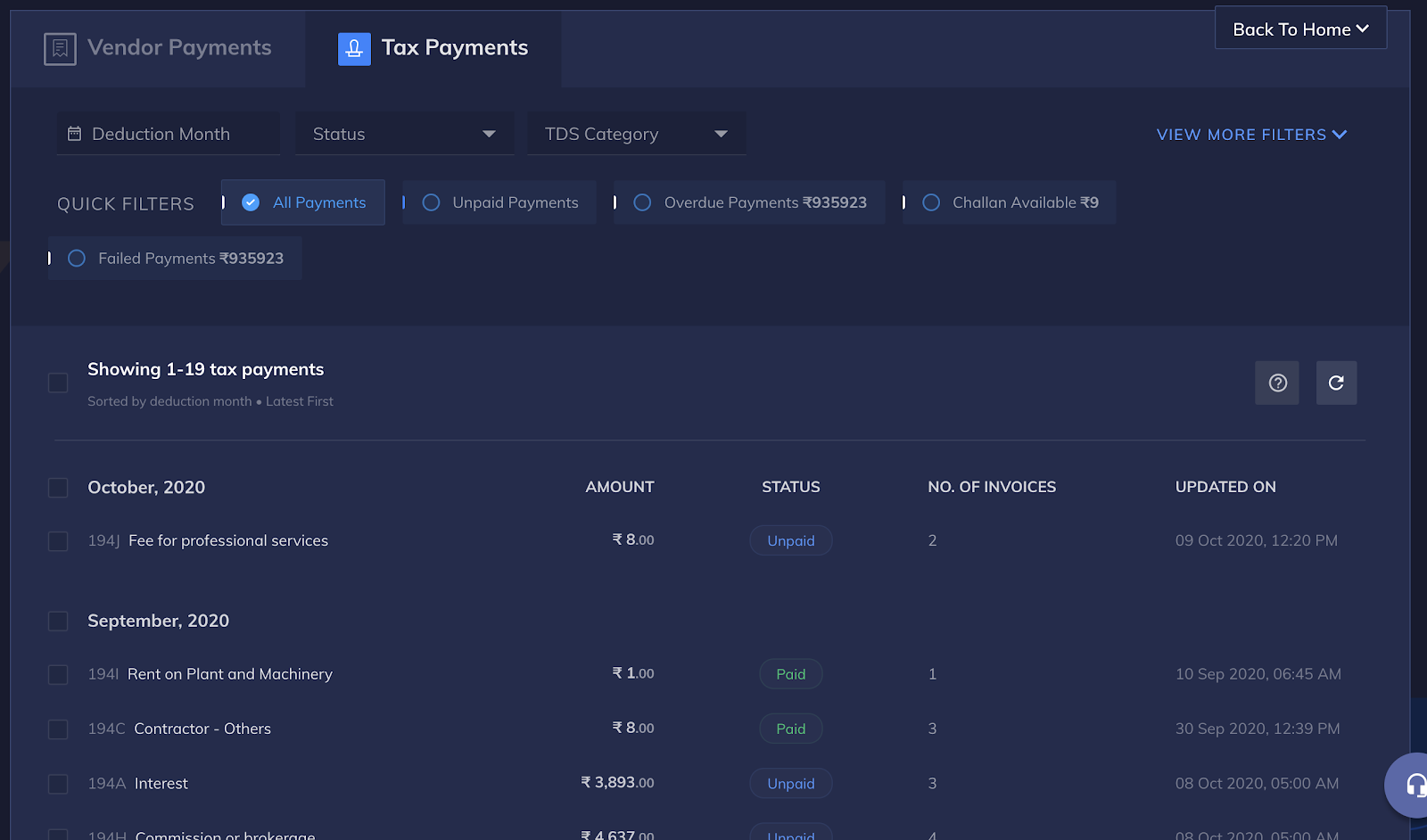 TDS is automatically paid on the 4th of the next month and challan would be available for download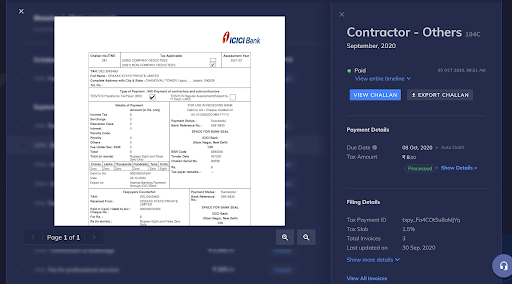 An export of all the invoices can be downloaded from the dashboard and sent directly to the accountant for bookkeeping
Start automating your vendor payments with RazorpayX and never worry about dealing with spreadsheets or tax payments again.