The pandemic has proven to be a tipping point for digital transformation in every industry. This holds especially for e-retailers who have been among the first industries that pioneered going mobile-first in the face of challenges.
For instance, McKinsey highlights that COVID-19 has forced e-commerce deliveries to traverse the growth of 10 years in a mere 8 weeks. The rise in online shopping has also had a consequent improvement in digital payment ecosystems. However, the same report also highlights that consumers have started to spring back to shopping with trusted brands rather than giving new businesses a chance.
Parallelly, PwC highlighted in its recent report that payment gateways have seen accelerated adoption owing to a 6 to 10% increase in online purchases (survey by UNCTAD and Netcomm Suisse eCommerce Association) with lockdown restrictions. While this has created a great opportunity for businesses to craft seamless experiences for customers, it has also birthed the challenge of earning consumer trust, as outlined before.
How do businesses garner trust from the first interaction
The inherent problem lies in the way online shopping works. While retail stores allow consumers to establish trust by physically seeing and touching the items before they pay for them, online shopping is the opposite. The consumers pay first, without getting a chance to establish the frontline trust with a brand. This rift grows wider and results in cart abandonment more often than not. This study highlights the average rate of cart abandonment at almost 70%.
Much like consumers trust an Instagram account without second thoughts when they see the blue tick mark; or when they trust the orange "Verified Buyer" tag on Amazon's customer reviews, e-businesses also need an identifier to help them communicate to their consumers that they are trustworthy.
The Razorpay Trusted Business Badge gives the consumers this first-interaction trust point for a business they are shopping with. With an aim to bridge the gap between repeat customers and new customer cart statistics, Razorpay adds a Trusted Business Badge to the checkout page of a business. This badge paves the way for the consumers to know that the company is safe to transact with. The company also has the option of displaying this badge on their websites if they so choose.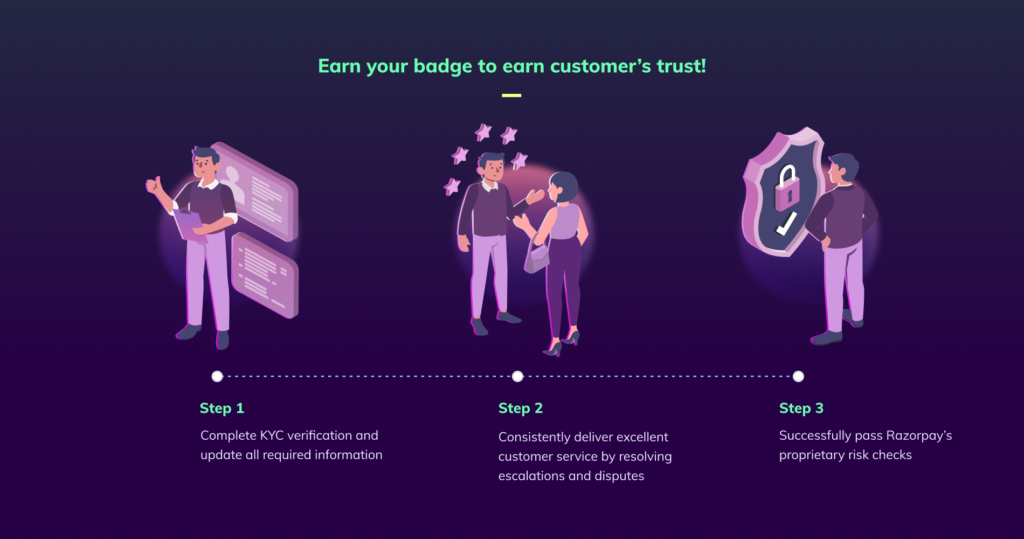 With the digital payments market in India growing at a CAGR of 22% (2024), businesses must adopt new channels of payment for the consumers and distinguish themselves on the trustworthiness scales with the Razorpay Trusted Business badge. This enables the businesses to tap into the wide consumer base that engages in online payments in the current scenario, which is 75%, according to KPMG.
The best part of the Razorpay Trusted Business badge is that it needs to be earned, much like consumer trust. There are no shortcuts. After a business verifies its operation with the Razorpay ecosystem, it shall undergo stringent standard checks as per Razorpay protocol; only upon passing the tests shall it receive the Badge.
Hilary Hinton, "Zig" Ziglar laid down one of the most important cornerstones of doing business: "If people like you, they will listen to you. But if they trust you, they will do business with you."
In today's day and age, words must be augmented with actions to gain consumer trust; Razorpay Trusted Business badge is the place to start.