If there was one game changer for the Indian payments space in 2018, it was UPI, undoubtedly.
From being known as a 'Wallet Killer' to being one of the fastest payment modes ever to bring financial inclusion to the masses, UPI has revolutionized the way people think about money today, about banking ecosystem and the technology that overpowers it all.
We believe that the consumers, regulators, payment processors and banks will soon evolve themselves to a new plane of reference which will enable collaboration (and not competition) to build solutions for the future.
Around 620mn transactions worth over one trillion were conducted in December 2018, up from 30mn UPI transactions in September 2017 (according to NPCI). This is the highest number of transactions and amount recorded since the inception of UPI back in August 2016. I believe UPI will become the preferred mode for all online payments soon; for all you know, the UPI handle may be used as a credit card too.
In 2019, UPI 2.0 is bound to become mainstream – it will not only drive larger transaction volumes but also significantly increase P2M adoption.
As a payment solutions provider, Razorpay has always been interested in new payment technologies and their growth. Last year, we wrote about how UPI had been faring in the Indian market; specifically about how it had affected wallets.
With UPI 2.0 we know that the market is ready for another upheaval, and we want to be the first to tell you that. So, let's look at the numbers – shall we?
7x Growth in UPI adoption throughout the year!
To understand how well UPI has been adopted as an online payment method, we looked at the GMV coming from UPI payments for the period of January-December 2018.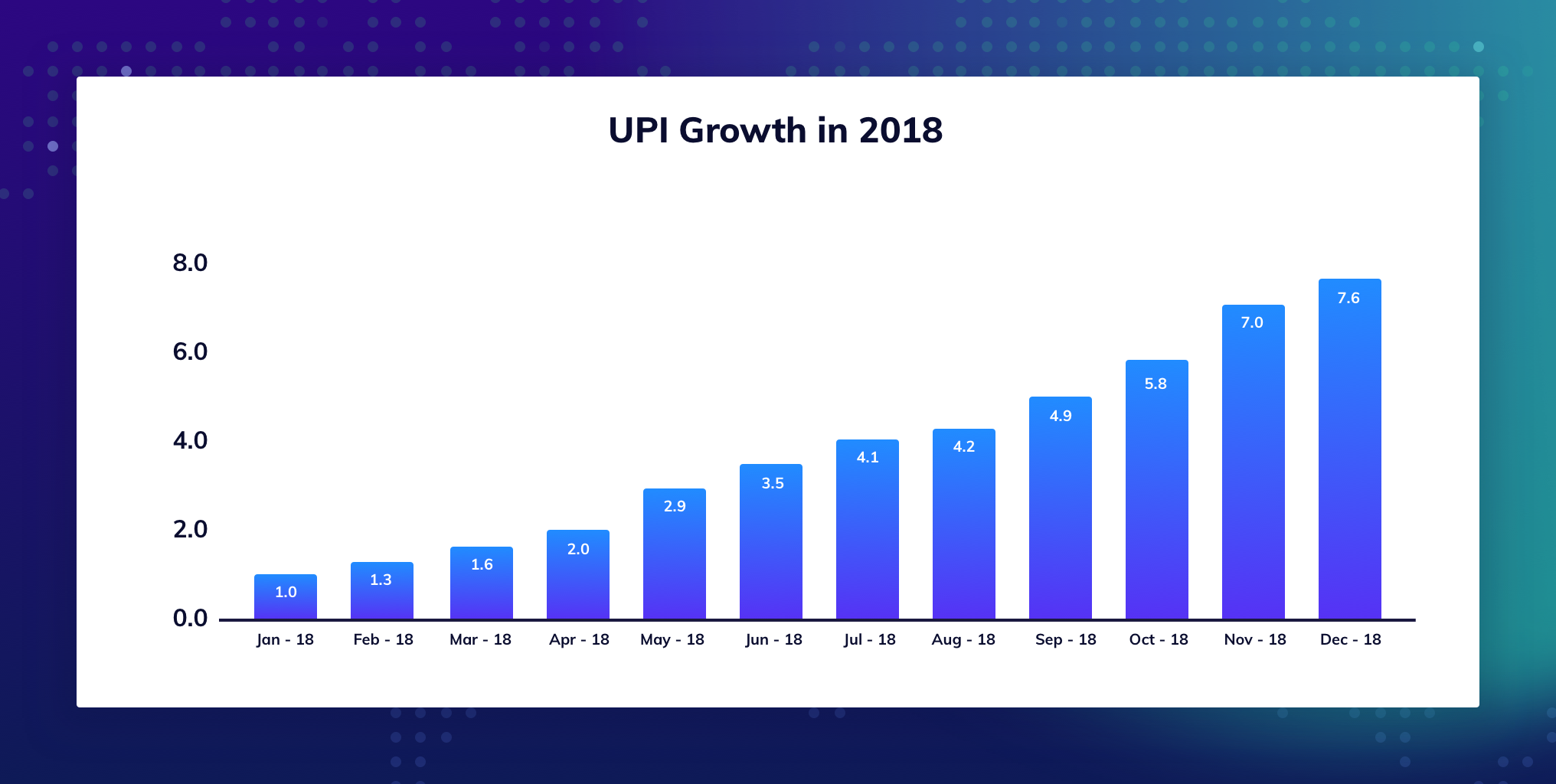 Baselining the GMV from UPI for January, we see that the platform has achieved over 7x growth in the twelve months. While the growth has been steady, the months of September-December have seen huge spikes in UPI payments.
This spike is also evident when we chart the month-on-month change in GMV from UPI payments. This change was the highest for the months of May 2018 (44%) and December 2018 (45%).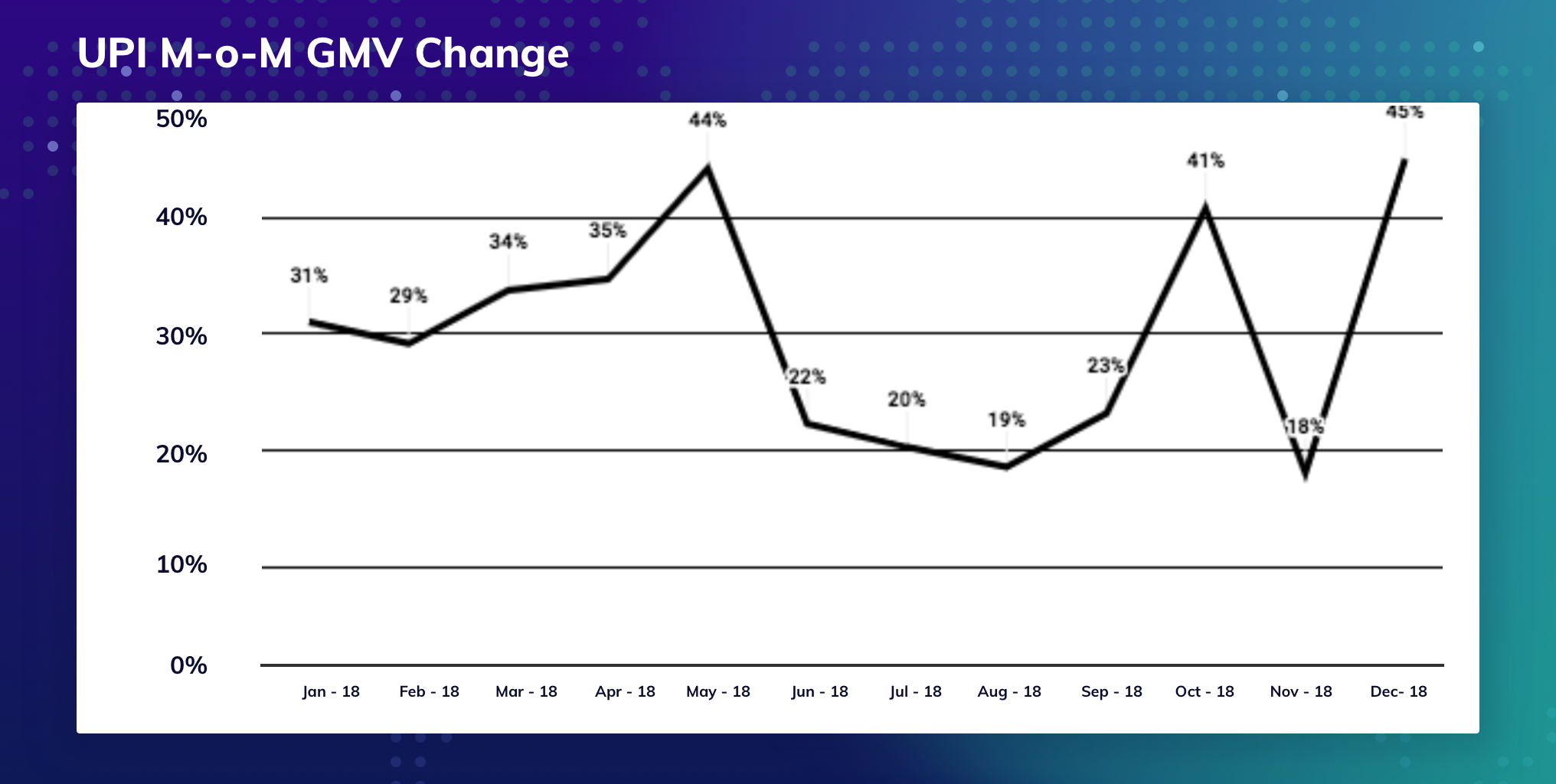 UPI in 2018: Google Pay reigned!
UPI has opened up the market to a lot of new players. Last year, it was BHIM that ruled the roost – what with the push it got from the powers that be. However, 2018 has been the year of Google Pay.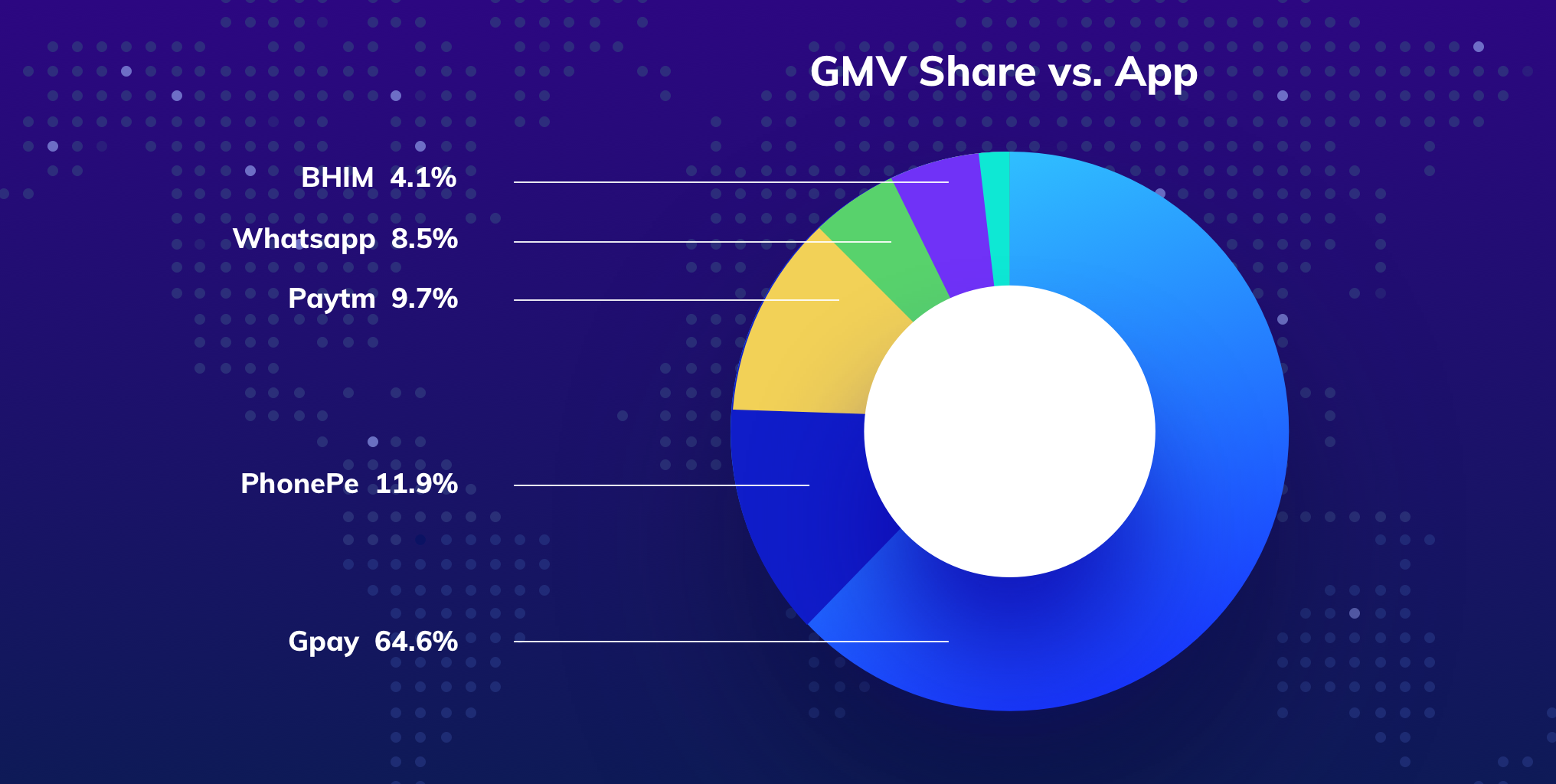 On Razorpay, 62% of all UPI payments in 2018 came via Google Pay; while last year's winner BHIM took home a meager 4% of the cut. PhonePe still retains its second rank, while Paytm has jumped up the ladder to the third position – last year it was placed way below.
The Indian consumer now demands more from its payment apps than ever before.
Google has been able to monopolize the market by offering a smart combination of features – Audio QR for P2P payments, vernacular language options to its app, and instant bank loans.
It is indeed time that the other wallets, too, pulled up their socks and started offering more to their consumers in order to win them back.
UPI vs. Cards: Will UPI kill card transactions?
From our report last year, we know that UPI is a wallet killer. Now UPI has also been stealing market share away from cards as well as Net Banking. We are already seeing that the credit card penetration in India is descending and the cost of a credit card issued by banks is high and mobile -unfriendly.
From contributing 2% of the total GMV on our platform in January of this year, UPI grew to 14% of GMV at the end of December 2018. GMV share of cards, on the other hand, fell from 74% at the beginning of the year to 55% at the end of December 2018.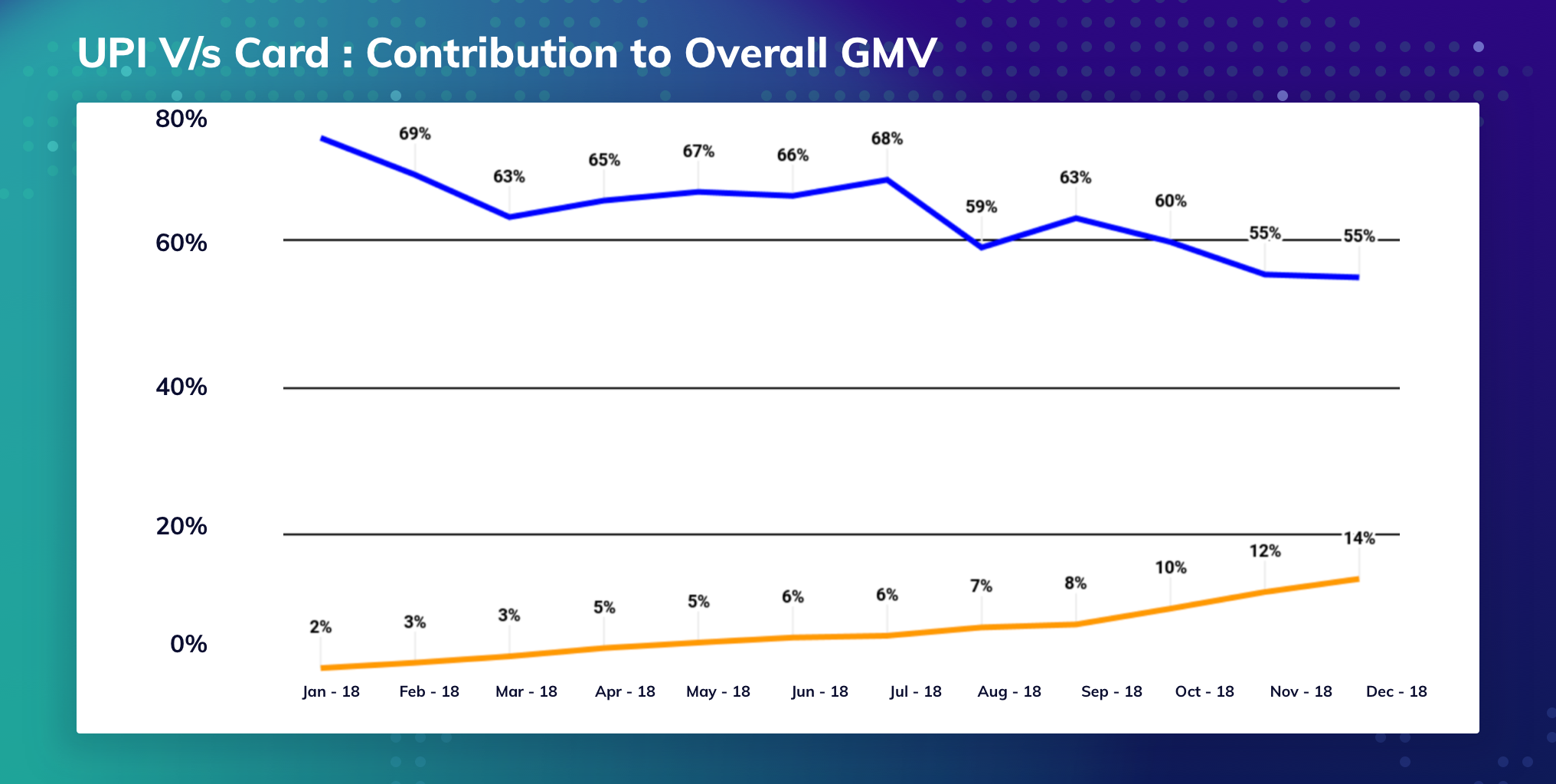 The effect was also seen in the Average Transaction Value (ATV) of card payments. Baselining the ATV of both UPI and card payments as 1.0 for January 2018, we saw that while the ATV of UPI payments jumped to 1.6 by November, the ATV of card transactions had fallen to 0.6 by the end of the same period.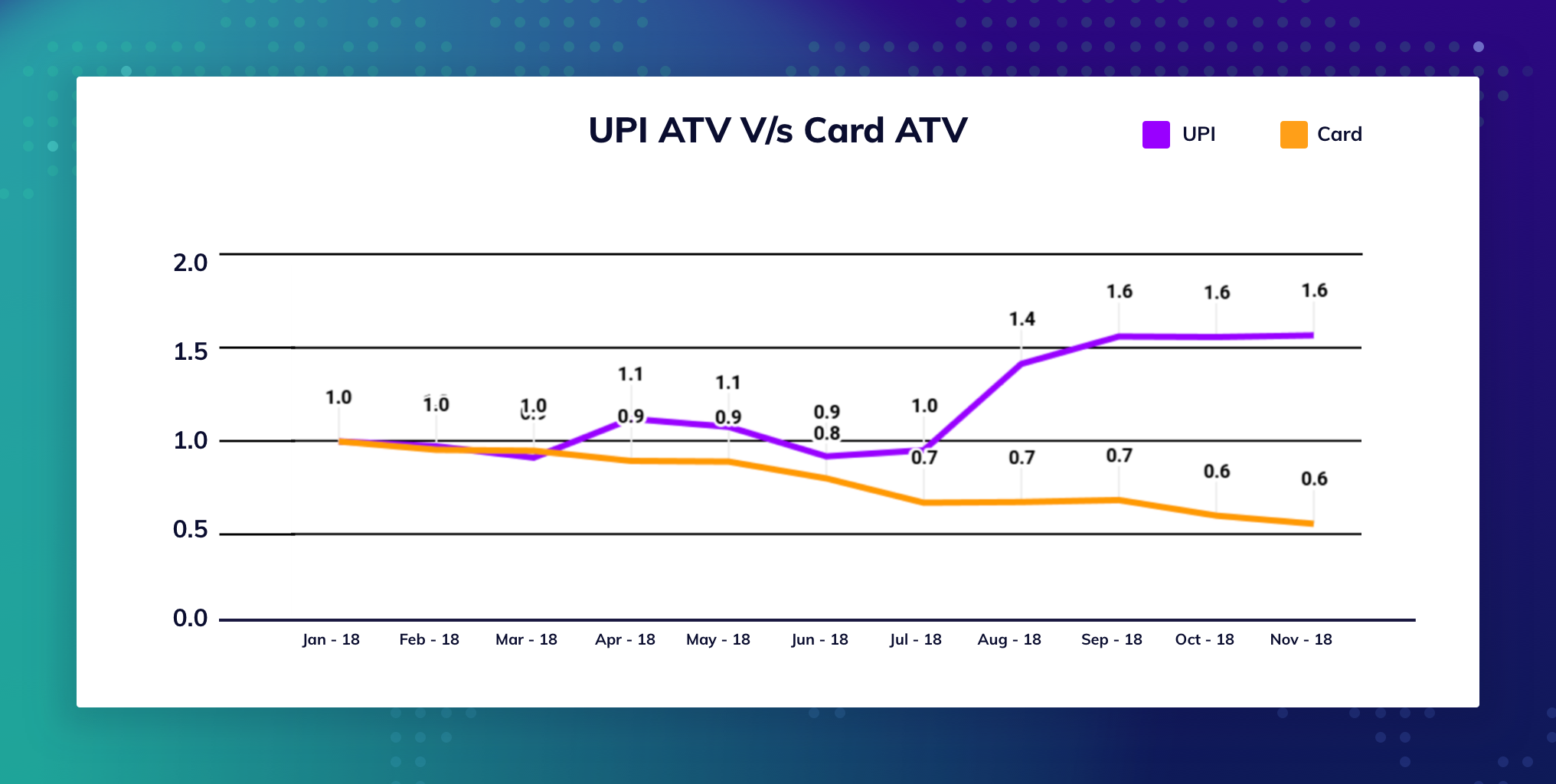 A big majority of card transactions are used for subscriptions (recurring charges). The UPI 2.0 launch did miss a point by not including recurring payments, but it would be interesting to see if card payments drop even further when UPI offers this feature as well.
UPI adoption: How does it fare across cities?
We know that the tier-1 cities in India are always the first when it comes to digital adoption; thanks to better infrastructure, digital penetration, education, and awareness. But when it comes to UPI, the trend has been changing and how! As of less than a month ago, the percentage of UPI users across Tier 2 & 3 cities showed an unexpected pattern: 87% in tier-1 cities, followed by 13% in tier-2 and 3 cities (up from 1% in Jan'18) – UPI has the potential to make lives easier in tier-2 and 3 cities.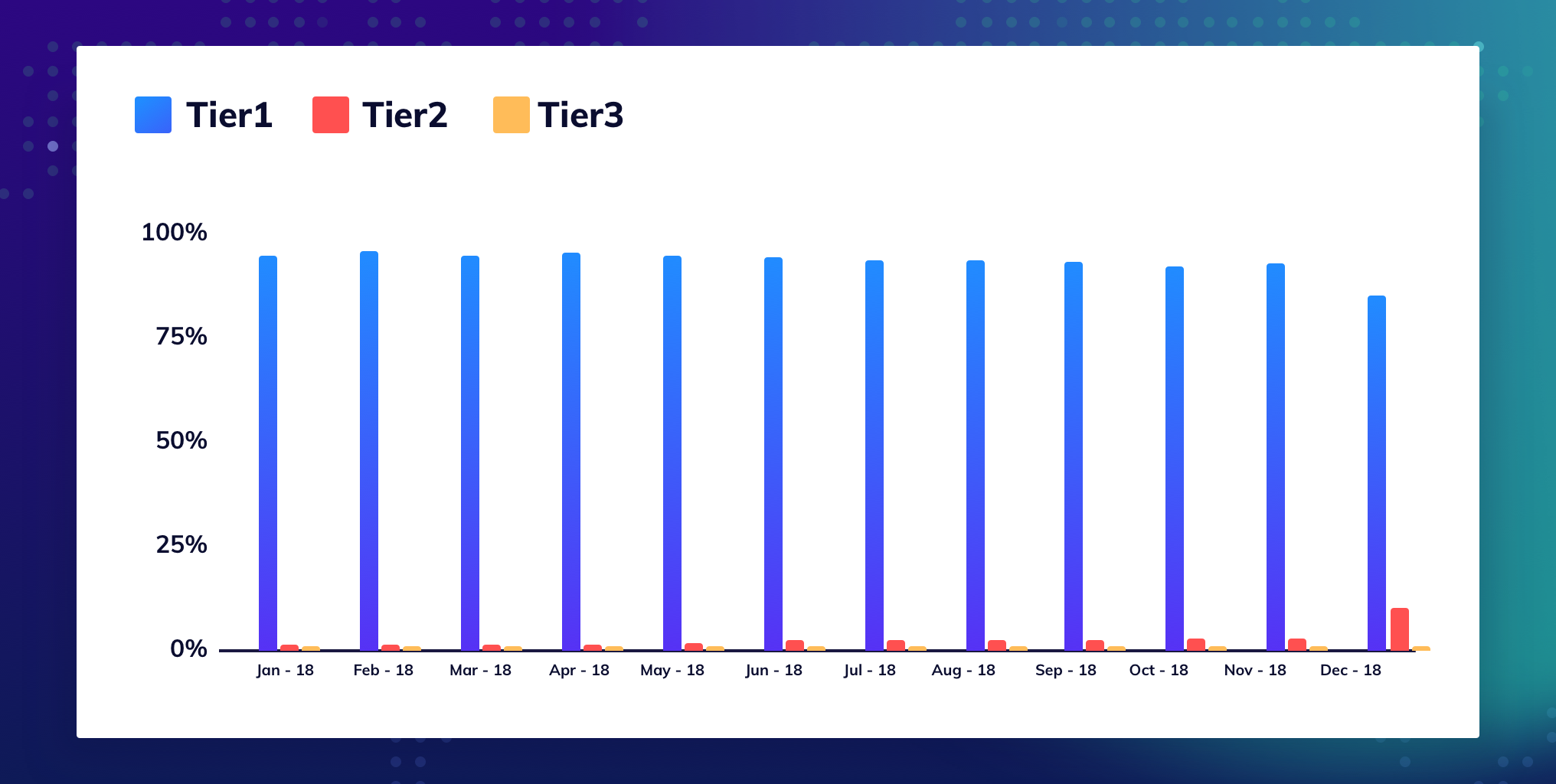 Eleven months later, 11% of tier-2 users are on UPI and the tier-1 percentage has dropped significantly to 87%.
The ease of UPI payments and the use of vernacular languages has contributed a lot in increasing UPI adoption in smaller cities; proving that there is a huge market for UPI and UPI-based apps even in the small parts of the country.
UPI in 2019: The predictions
It's obvious that UPI usage is only going to significantly increase with time. The subscriptions industry is waiting for recurring charges to be accepted on UPI. SEBI recently announced that UPI will be made available for IPO payments.
WhatsApp is soon going to make UPI payments (which is currently in the beta version) available to its consumer base of over 200 million users. This could be the biggest boost to the digital payment landscape in India so far.
We also expect Google Pay to launch micro-credit via the overdraft facility introduced in UPI 2.0. Along with new features and updates, consumer behavior regarding UPI is also set to change. Your UPI handle could very soon become more than just a payment mode – it could replace your credit card, for instance.
UPI, could, therefore, become the de-facto method of all online payments. And watching how other payment modes catch up or provide more UPI-based offerings to their consumers will make for a good 2019 indeed!
*All the data in this blog post has been sourced basis transactions done on Razorpay*
This article was first published on Inc42.