Social media platforms are an enabler in public conversations, and Twitter, in particular, stands out when it comes to driving the discussions forward. Continuing its endeavour to boost the creator economy in India, Twitter has launched a new feature – Tip Jar. 
This feature will enable the content creators on Twitter to connect causes and conversation with direct acceptance of online payments via Razorpay in India. 
In this blog, we will explore how you can get started and benefit from this feature. But first, let's start by understanding what Tip Jar is.
What is Twitter Tip Jar and what does it do?
Twitter's Tip Jar feature enables Twitter users to send and receive money from other Twitter users using third-party payment service providers. In India, Twitter users will be able to use Razorpay to accept payments via the Tip Jar feature. This feature is currently available to a select few users and will be gradually opened to others.  
These few select users will see the option to add Tip Jar to their profile when they tap 'Edit profile' on Twitter. This group includes creators, journalists, public figures, experts, and community leaders.
What's more? Tip Jar is available in multiple Indian languages, including Bengali, Gujarati, Hindi, Kannada, Marathi, Tamil!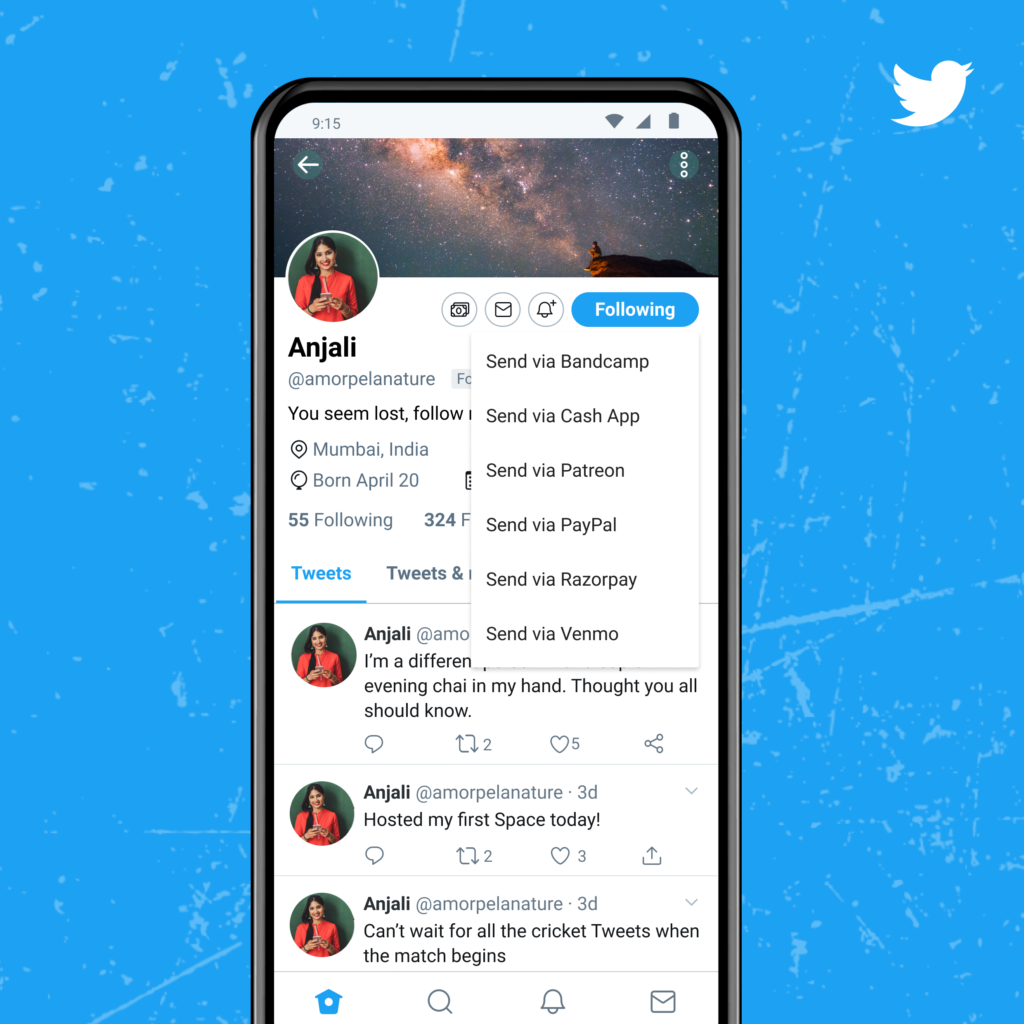 Supporting influencers
If you are an influencer on Twitter, you must know your words mean the world to your followers. With Razorpay and Twitter Tip Jar, you can now collect payments or donations for a personal campaign or your client's campaigns. 
For instance, if you need support for an event on mindfulness where you bring together experts, musicians, theatre artists and more, this feature will help you do just that directly from the Twitter profiles.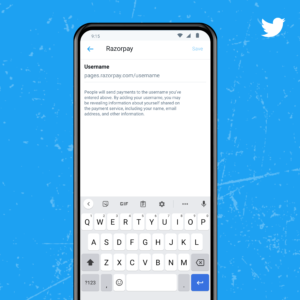 What can you do with Razorpay and Tip Jar today?
The first step is to turn on the Tip Jar feature on Twitter, Allow Tips and tap on Razorpay. And paste the custom suffix from your dashboard payment page: <pages.razorpay.com/yourcustomurl> Copy your URL suffix, and that will get added to Tip Jar.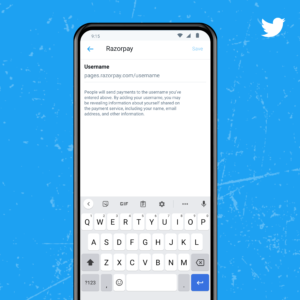 Need help in customizing your URL. Check it out here. Don't have the payment page? No issues; you can create it easily. Here's how:

To create your payment page, navigate from your Razorpay dashboard and choose the template "Events and Tickets", and edit details of the event you are planning. 

Share the links and the timelines. If there are specific passes or packages for registration for the event, you can add those details and share a bit more about you and your team as well.

Remember to edit the payment details on the right-hand side.

Uploading images from similar events can help your followers get more context. 

Set your contact and social share details before you hit publish.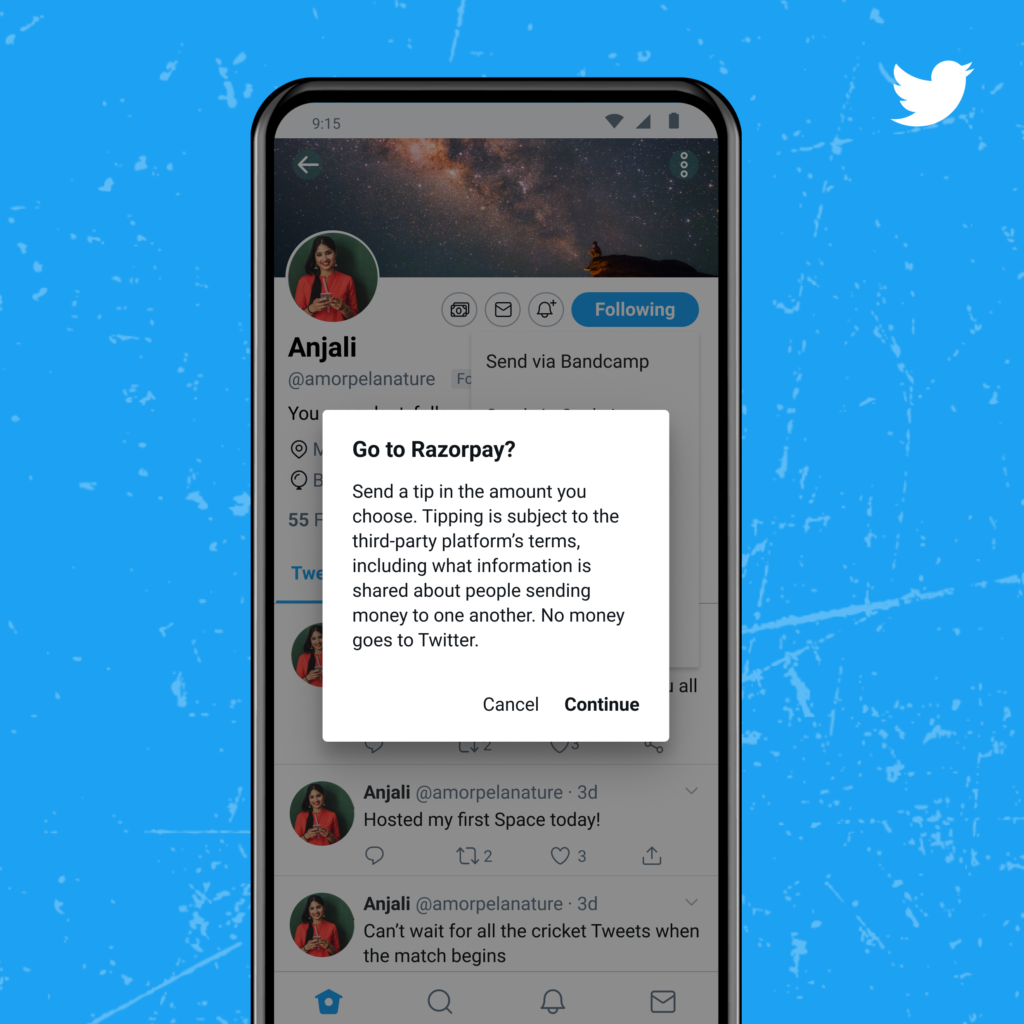 Powering the creator economy
A creator's joy lies in the act of creation, be it art, music or content. As a creator, you always strive to find the right set of audience to showcase your work. And what better than having them support your art directly, online?  
What can you do with Razorpay and Tip Jar today?  
You can now enable payments directly for your work without creating multiple tools and processes across different platforms. 
Start as before by turning the Tip Jar on and adding the custom payment URL.

Need help in customizing your URL. Check it out here.
Don't have the payment page? No issues; you can create it easily. Here's how:

To create the payment page, on your Razorpay dashboard, once you choose "Create Payment Pages," navigate to "Product Sale" or "Fees Collection" templates which could be more relevant for you.

Add a visceral description of your work and a short summary of the project you want support for. 

Visual cues can help your followers, so you can add some images that explain your work.

Remember to edit the payment details and the contact information before you publish. 
While we have enabled these easy templates for you, you can, of course, create your own templates as well while building your payment page. It's easy. At any time, to view the payments made, you can go back to your payment pages on your dashboard, click on the page ID, and you can see all the transactions. 
Community leaders: Empowering Change
If you are an NGO or an individual working towards helping your fellow countrymen through a time of crisis, like the ongoing pandemic, any natural disaster relief, or are rooting for a social change, you will need aid to bring systemic change. This is where collecting payments via Razorpay on Twitter Tip Jar can help you.
What can you do with Razorpay and Tip Jar today?
As before, set Tip Jar on Twitter and choose the URL suffix for the payment page.
Need help in customizing your URL. Check it out here.

Don't have the payment page? No issues; you can create it easily. Here's how:

Go to your Razorpay dashboard to create your payment page. Choose from our customised templates under "Create Payment Page." 

Choose the template called "Accepting Donations."




Psst! We have pre-created these templates to save you time. 

Include a powerful title that gives people a reason to support your cause.

Select a start and end date; data shows it's good to give a time-bound approach to a donation campaign. 

Images speak volumes. So try adding some field or campaign in action images and some details about your organization and your past work, which lends credibility. 

Add any eligibility around tax exemption, too, to make it clear for those donating.

You can also customise the price field by clicking on the 'Payment Details' section on the right-hand side. You can keep the price fixed or let the followers pay what they want.  Do read our detailed documentation for more insights.
Before you save the details, remember to update your contact details and social share icons. Your followers could share and find more supporters for you. And voila, you are done!
How can your followers support you directly through Twitter Tip Jar? 
Once your followers log in to their Twitter account, they can visit your profile and see the change you are initiating. If they want to support you, all they have to do is tap the tips icon, choose Razorpay, and that's it. The payment will get routed to you.
At Razorpay, we are excited to enable sending and receiving payments via Tip Jar for our community. We look forward to powering your stories of change and inspiration!