Let's start with a public confession: 'Paperwork is usually tedious.'
Have you seen someone being relaxed when they hear 'all you have to do is courier these 5 documents'? It's simple: everyone wants everything to get automated. One of the major hurdles people faced a few years ago was in the financial sector, where they had to go through multiple manual verification processes. However, we have come a long way and most of that paperwork is now a minute-long process. Read this article to know everything about Razorpay Paper NACH and how it has brought about a change in the banking operations in India.
What is Physical NACH?
Before we understand Razorpay Paper NACH and its offerings, let's take a step back and understand the traditional flow. 
NACH stands for National Automated Clearing House. Over the decades, the process of physical NACH became the backbone of a number of industries. The process of physical NACH meant that the business had to appoint an agent who used to take the required documents from one end to another. Since there was a lot of manual intervention, the entire process took about a month. With a long process in place, there were other concerns like the availability of the applicant, commute hassles, seasonal barriers and a lot more.
Why do we need an alternative to the existing NACH system?
Companies that offer physical NACH services to their customers had to go through a 15–30 days mandate registration cycle in which multiple stakeholders and hops were involved. Since this was a manual process, the probability of error was also high.
One of the biggest drawbacks of this process is the fact that there was no error identification mechanism throughout the process. The applicant was informed only when the mandate was rejected and hence, they had to go through the entire cycle again.
Well, that's how the traditional system was, which led to the demand for a quicker process. 
Introducing Razorpay Paper NACH 
Razorpay with its new Paper NACH offering is looking to make this process more streamlined and automated, by significantly reducing the TAT from 15-30 days to real-time. Click To TweetWith a powerful OCR engine, eliminating manual steps via automation and error detection mechanisms using machine learning, we are making the process more efficient. This will save you time and money and reduce the workload on your business operations team. Let's talk about some of the major advantages of Razorpay Paper NACH.
API driven process for mandate upload, debits and response
Razorpay Paper NACH is easy to get started with its API driven process in a primarily manual oriented world. Our API driven process makes it easy to create mandates, upload debits and get a response for your end customer.
Real-time error detection
Our OCR easily identifies incorrect account details, mismatch in the signature, alignment issue, ink spillage around the mandate and notifies the same to the doer
Easy retry 
There are some unavoidable errors which occur majorly due to network and technical issues. Our systems have quick and easy retry functionality that uploads the failed mandates automatically.
No manual intervention 
There's no third-party or manual intervention with Razorpay Paper NACH. Every step from filling details, downloading and uploading the form back for verification is just one man's work.
Reduced operational expenses 
Automatic verification by using OCR  eliminates the need for field agents, courier charges and support teams, reducing the operational costs by almost 30%.
Higher Customer Retention
Our automated process with real-time updates allows businesses to retain customers who may drop-off in the process of submitting forms. 
Quicker TAT
We cut down on the existing 2-week to a month-long timeline by automatically submitting the form from customer to NPCI eliminating any third party involvement. The real-time error detection also makes the process quicker!
Comprehensive dashboard
Choose to create or close mandates within minutes. Have a detailed view of the payment status and track real-time updates. Also, get customizable reports and powerful analytics all in one dashboard.
How does Razorpay Paper NACH work?
Cutting down the signup and setting up process, let's primarily talk about how the automated NACH works. 
Razorpay makes it mandatory for your customer to fill in certain details like bank account number and other details, contact information etc. These details get captured with Razorpay.

Now, you can create an e-form and instantly, a link will be generated for the same. You can share this link via email, SMS, WhatsApp etc. 

Your customer can download the form, sign it and upload it back. 

Razorpay's OCR engine tracks for errors, if any, in real-time and notifies your customer about the same.

After your customer successfully uploads the mandate, you can track the status, debit money and send responses anytime by logging into your dashboard!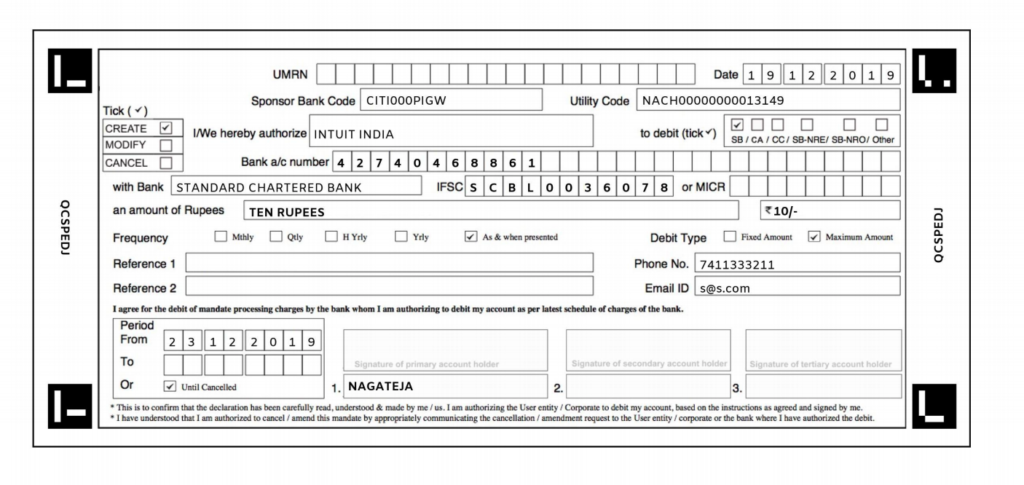 Use cases of Paper NACH 
Lending industry
As mentioned in the example above, lending businesses have seen a drastic change in the way they operate. For the lenders, one of the benefits is the ease in the collection of loan repayment. They no longer have to go running behind an individual. The customer on the other end does not have to go through multiple visits at the bank. The overall turn around time is also much lesser compared to the traditional method. Razorpay's Paper NACH has helped theses businesses by making the entire process quick and seamless. 
Wealth management platforms 
The way people have started managing their funds has come a long way. There are a number of ways to invest like SIPs, buying digital gold and so on. All of these investments are majorly used by millennials who prefer to manage everything from one laptop. There are a number of platforms that offer you to consult with a dedicated counsellor or to create a plan by yourself.
Once you decide on the areas you want to invest in, they ask for your bank details and send a mandate usually over a mail. All you are asked to do is, take a print, sign it, scan and upload it back. That's it! With a few simple steps, you are all set to make wise choices with your finances. The best part is, neither of the parties has to manually visit a brick and mortar building. Razorpay's Paper NACH, in this case, makes sure a hassle-free experience for an investor and an ongoing business, without disruptions for the business. 
Life insurance
Individuals have always made it a point to invest in life insurance policies so that they can make use of them in case there comes in some unseen disaster. Earlier either an individual was asked to pay the entire amount in one go or had to make sure they did not miss out on a single instalment. With the advent of facilities like Razorpay Paper NACH, these life insurance providers have been able to ease the process. They can now sell a plan to the customer online. And the moment the customer signs up for a plan, they can set a particular date and an amount which will auto-debit without any manual intervention from the individual's end. Hence, in the long run, easing the way life insurance companies used to operate so far. 
A short tale: 'then' & 'now'!
Now that you understand Razorpay's Paper NACH and what it offers, let's quickly throw some light and compare the old process with the new one.
| | |
| --- | --- |
| Traditional Paper NACH | Razorpay Paper NACH |
| TAT approx. 15-30 days | TAT approx. 10 days |
| Extensive manual work | No manual work, fully automated |
| High operational costs | Zero operational costs |
| Higher customer drop-off | Higher customer retention |
Razorpay Paper NACH is seen to bring about some positive reception and adoption across industries. Collection of payments on a recurring basis has been an issue for a lot of businesses. While it has solved a major issue, it has also positively impacted some of the key metrics that businesses are sensitive to. 
Sign up today if Razorpay Paper NACH seems like a thing for your business. Get in touch with us to get started now!