The Indian IT industry has seen meteoric growth over the years. Tech giants, along with a vibrant startup culture, have launched it to a position of global high regard. A report by India Brand Equity Foundation (IBEF) estimates that the industry will grow to a size of $350 billion by 2025. And, driving this growth is an ever-growing army of IT professionals.
According to a report by Statista, the Indian IT industry employs 4.36 million people as of 2020 – a number that will only increase as more and more lucrative jobs emerge. This has resulted in an even greater number of aspiring programmers enrolling for Computer Science courses offered by universities.  
But, there's a problem.
There is a mismatch between the skills employers want and what educational institutions offer. And, with hardly any importance given to soft skills or interview preparation, landing that high-paying IT job becomes a distant dream for many. Siddharth Maheshwari and Nishant Chandra, two young techies from IIT Roorkee, decided this needs to change. And, that's how Newton School was born. 
Meet Newton School
Backed by RTP Global, Nexus Venture Partners and Prophetic Ventures, Newton School is bridging the gap between employer requirements and the skills that students graduate with. 
The Bangalore-based ed-tech startup is on a mission: to make India the developer powerhouse of the world. Through one-on-one mentorship from industry experts, live projects, soft-skills training and placements, Newton School enables aspiring IT professionals to land their dream jobs.
In just two years since its inception, they have successfully placed hundreds of students in leading tech companies and startups – the likes of Meesho, Zomato, and Cult.fit. And, their unique pricing model allows their students to pay in instalments only after they get placed – which means they never have to worry about student debt.
Mentors: the heroes of Newton School
The key driving force behind Newton School is its mentors – industry experts from tech companies across the globe. And, as the business scales, Newton School is bringing more and more mentors on board to create a richer experience for the students.
Currently operating with around 500 mentors and nearly 2,000 students, Newton School is on the road to expansion. But like any company, with scale comes its own set of challenges. 
For Newton School, this meant every new mentor added more burden onto their operations – especially their financial operations. And, in the initial days, overseeing all things finance singlehandedly was becoming quite the task for Siddharth, the cofounder.
The challenge
With a growing number of mentors, vendors, and employees, the three-member finance team of Newton School faced three key challenges on the financial operations front.  
Making monthly payments to mentors
First, the finance team would have to add each new mentor as a beneficiary on the bank portal and wait out the cooling period. And then, they would manually have to make payments to each of the mentors, one by one. Manual operations became harder when the number of mentors grew from a handful to hundreds.
Tracking transactions was no mean feat either. If a payment made to a mentor failed, then the mentor would have to reach out to Newton School to look into the matter. The team would then have to download bank statements and analyse them on excel sheets. As a result, making timely and accurate payments to mentors became a challenge. 
Further, it also put a dent in the mentors' payment experience – which could influence their decision to continue on the platform.
Payroll and compliance 
Just like any other startup, Newton School ran into payroll troubles as their workforce expanded. Payroll processing was painfully time-consuming, taking an entire day for execution at the end of each month. Even with just 40 employees, the complex calculations, massive amounts of data, and compliance woes made payroll one tedious, error-prone affair. 
Vendor and tax payments 
As the platform grew, so did the number of vendors Newton School had to pay – right from rent to SaaS products. Dealing with invoices became a headache.  The problem was split three ways: first, how much and when to pay each vendor had to be determined by keeping track of invoices. Next, the amount of TDS for each vendor had to be computed. Finally, the vendors had to be paid their dues, and tax payments had to be made. 
The finance team spent hours performing each of these operations manually. And, the possibility of errors while entering invoice details and the complexity of TDS calculations made the process even more arduous as the company scaled.
Newton School had a choice to make. 
They could boost staffing to meet the needs of their rapidly growing platform. Or, they could look for a smarter solution that seamlessly managed their vendor payments, tax payments, payroll and compliance, and helped them pay their mentors on time while scaling with their business. 
Newton School knew they needed a new-age solution for their financial operations – one built for the unique needs of startups like them. They no longer wanted to waste time working with traditional banking solutions that didn't serve them.
That's when they turned to RazorpayX.
The solution
Newton School signed up for a RazorpayX Current Account, which eliminated the need for working with multiple products from different companies – making it a comprehensive solution.
Here's how Newton School's banking operations were transformed by RazorpayX.
Instant payouts
Making payouts was always a time-consuming, monotonous process. Now, the option of uploading beneficiary details in bulk and instant beneficiary activation enabled lightning-fast payouts for Newton School. And, they no longer had to wait around for the cooling period to elapse.
The satisfaction of the mentors, who were now being paid accurately and on time, also translated into a boost in Newton School's Net Promoter Score (NPS).
Easy reconciliation
Paying their mentors on time has always been their priority. With easy tracking of payment status, they no longer had to wait for mentors to reach out to them in case of failed payments. Reconciliation became simpler and faster, with failed transactions tracked down and rectifications made easily and efficiently.
Right from the start, we knew RazorpayX was designed to enable the user – something that has been missing in the banking industry for the longest time.
Seamless vendor & tax payments
The finance team no longer had to manually enter invoice details and process vendor payments. The Vendor Payments app enabled them to scan invoices and fetch details accurately in a matter of seconds.
TDS calculations, too, were automated end-to-end. While calculations were taken care of, all that remained was making the final vendor and tax payments. And that took no more than a few clicks.
Automated payroll & compliance
With end-to-end payroll automation, the finance team was able to cut down the payroll processing time from one day to 10 minutes. Now, Newton School could compute and make compliance payments like PF, PT, TDS, and ESI, and clear employee dues seamlessly, without voluminous excel sheets or error-prone manual calculations.
Meeting the ever-changing compliance requirements became easier than ever before.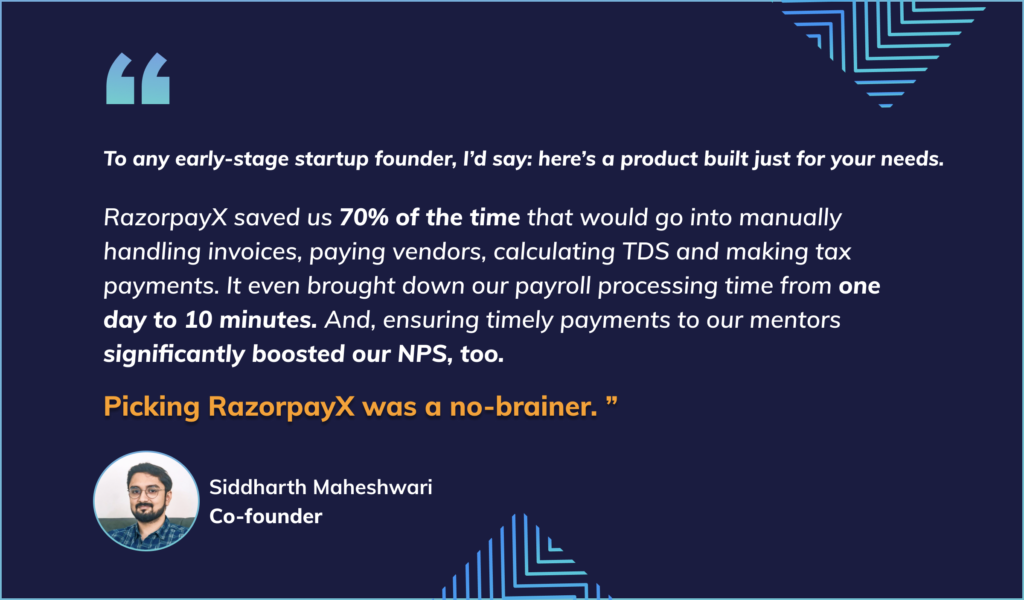 Now, they are all set to scale, backed by a seamless solution for all their business banking needs. We at RazorpayX are proud to be enablers of disruptors like Newton School.