In a world of ever-increasing consumer expectations and endless options to choose from, competition among businesses is as relentless as it gets. Thus, driving growth and scalability for your business can be quite challenging, especially if you are just starting out.
Even if you have an aggressive strategy in place, executing it requires access to a not-so-secret ingredient – working capital. Since customer payments are the most important source of working capital for small businesses, accessing them should be as seamless as possible. 
The birth of digital payments transformed how businesses had traditionally operated by making payment collection more transparent, convenient, and secure. However, come to think of it, digital payments have actually made it slower for business owners to access their revenue. As compared to cash transactions, which give business owners instant access to their money, digital transactions take 2-5 days to settle and reach the owner's bank account. This often leads to working capital constraints, especially for small or new businesses. 
Well, not anymore. 
At Razorpay, we wanted to make your digital payments immediately accessible to you so you don't have to face working capital constraints anymore. 
With Razorpay Instant Settlements, you can receive digital payment settlements in your account within 10 seconds at any time of the day, even on bank holidays. You can now transfer the payments made on your site to your bank account in real-time, so you can immediately reinvest it in your business and use it to unlock growth opportunities.
You no longer have to worry about shortage of working capital as you get access to regular cash flow that can constantly fuel growth for your business. 
How Razorpay Instant Settlements can be a game-changer for your online business
With reduced payment settlement cycles, you can run your business with far more convenience and flexibility and take it to greater heights. Here's how: 
Pay bills and creditors in due time owing to increased liquidity 
It's always dreadful to see vendor invoices and bills piling up, eagerly waiting to be cleared. With Razorpay Instant Settlements, you will never be short on working capital to pay bills, creditors, and vendors as and when you need to. With a reliable source of cash flow, you can plan and manage your expenses better and pay dues well in time, without having to wait for days for payments to be settled so you can access your money. 
Gain access to working capital to invest in business growth 
As a business owner in today's day and age, a significant part of your day goes into strategising for growth. Imagine how you can fast-track your growth journey if you have regular access to working capital. Whether it is expanding your online presence, diversifying your inventory, exploring untapped markets, or conducting thorough user research, a regular inflow of cash will ensure your plans do not get bottlenecked because of lack of cash. You can rely on instant settlements to maintain a streamlined and systematic revenue cycle that is required for smoothly running and scaling your business. 
Regularly update your inventory 
With instant access to your customer payments from day 1 of signing up with Razorpay, you can always use the money to restock your inventory more frequently and regularly. You can ensure that your shelves are fully stocked at all times, and no customer leaves due to not finding the desired product. You no longer have to wait for days to get access to your own money to be able to use it to keep your product catalogue up to date. 
Affordable pricing that wouldn't hurt your budget 
Since instant settlements is built with the aim to empower small businesses, affordability is one of the key aspects of the solution. With pricing starting at 0.3% and decreasing with more usage, we've ensured you that opting for instant settlements doesn't hurt your pocket. 
Razorpay Instant Settlements is ideal for you if: 
You own a bootstrapped business
For bootstrapped businesses, cash flow uncertainties and budget constraints are very common as there isn't any investor money to rely on for day to day operations or growth plans. However, with Instant Settlements, those challenges can be done away with.
With a consistent and credible source of revenue, you can rest assured that you will always have access to working capital for operational requirements and to unlock unanticipated growth opportunities. 
You are just starting out
Getting started can be extremely daunting, regardless of the industry you are operating in or the nature of your business. Not being sure of the entire payments lifecycle or not having access to cash when you need it the most only makes things worse. With instant settlements, we are here to take care of that challenge by providing real-time access to your customer payments.
No more waiting to receive settlements so you can use the money to invest in stabilising your business. You can immediately access your hard-earned revenue and put it to work. Therefore, if setting up your own online business is something you have been holding off, you don't have to anymore. You can rely on Razorpay Instant Settlements to keep monetary crises at bay while you are busy making a place for yourself in this competitive market. 
You are planning to take your business online 
If going online is something you have been considering for a long, now is the time to take the plunge. With Razorpay Instant Settlements, liquidity isn't going to be an issue as you can access your customer payments within seconds.
Digital payments are now as good as cash with instant settlements, no matter which payment mode your customers opt for. With the fastest payment gateway at your disposal, setting up your online business isn't something you need to think twice about, as you don't need to rely on an investor for working capital for your regular expenses. 
How to get started with Razorpay Instant Settlements 
Once you have signed up for Razorpay, submitted all the KYC documents, and completed the activation process, you are all set to start collecting digital payments on your site or app. 
To get instant settlements for your payments: 
Click on the Settlements tab on your Razorpay dashboard

Click on Settle Now button which you will find in the top right corner of the dashboard

Enter the amount you wish to receive immediately and click on Confirm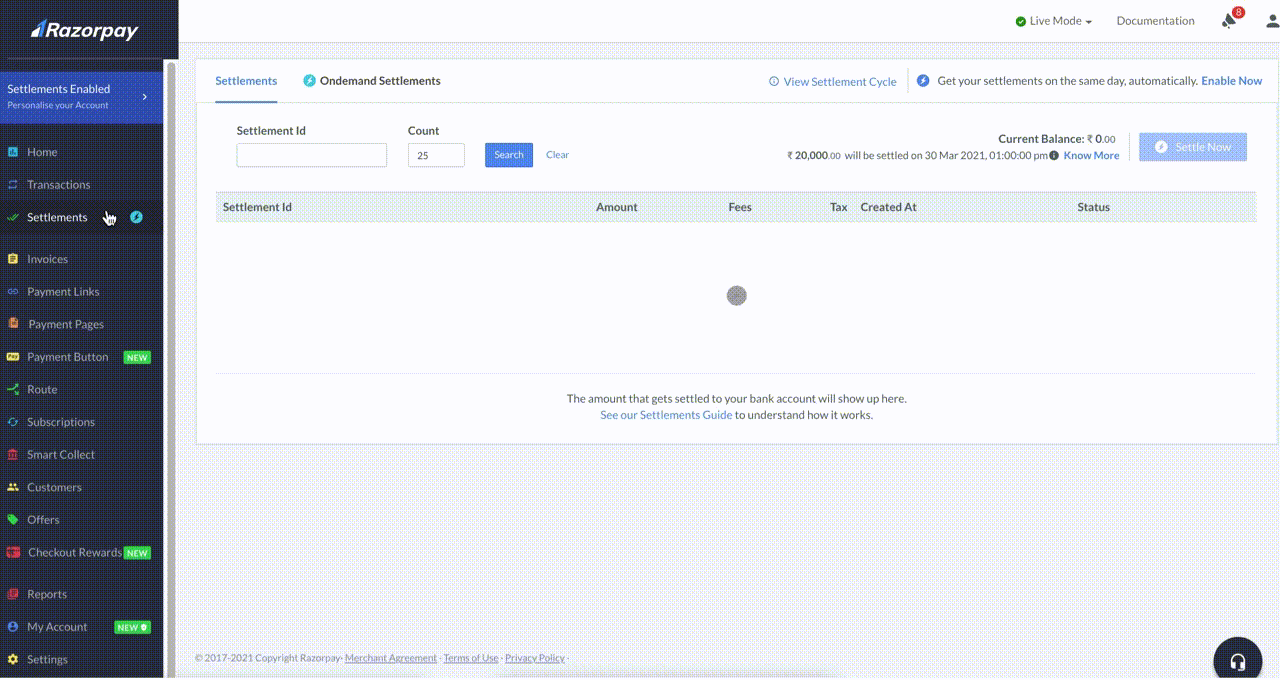 To sum up
Instant settlements can provide a huge boost in helping supercharge growth for your business by ensuring you always have cash in hand to allocate resources towards important activities. You can settle operational expenses in time, replenish your inventory, expand your short term marketing budget, and so much more, with consistent access to working capital. Get started with Razorpay today and bid adieu to cash crunch for good.