Mandar Marathe is an independent fine artist from Pune, who specialises in drawing, painting, and sculpting. Mandar discovered his passion for art in primary school and continued pursuing it, even during his engineering and corporate life. He always knew he wanted to become a full-time artist someday. 
In 2011, Mandar decided it was finally time to quit his IT job and fulfil his long-cherished dream of building a career in art. He organised his first full-blown workshop in the same year. Very soon, he started gaining attention from aspiring artists across the globe. Mandar then went on to record his first course for the world's most popular e-learning platform, Udemy.
Today, Mandar's website hosts 37+ beginner and intermediate level courses that students can take up from any part of the world. Some of the most common ones include drawing, watercolour painting, oil painting, acrylic painting, and Ganapati idol making. 
So, what was the challenge?  
More than 90% of Mandar's students are either working professionals, homemakers, or retired people from tier 1 and 2 cities who are passionate about art. Mandar's live and recorded courses have made learning art accessible to everyone. 
But, up until recently, Mandar's students were not able to use their preferred payment mode to pay the required fees and sign up for the workshops and courses hosted on his website. This was because Mandar was using another digital payments solution, which only accepted payments via debit or credit cards. However, just like the majority of the Indian population, Mandar's students too preferred UPI over other payment modes. Thus, Mandar was repeatedly losing out on bookings as students would drop off due to the unavailability of their preferred payment mode.  
Personalised online courses became unimaginably popular during the pandemic, especially those created by dedicated artists such as Mandar. However, due to the lack of a robust online payments solution, Mandar was unable to reach his desired target audience, which severely impacted his business and revenue. Moreover, this led to a broken user experience on his site, and he noticed a significant drop in customer happiness as well.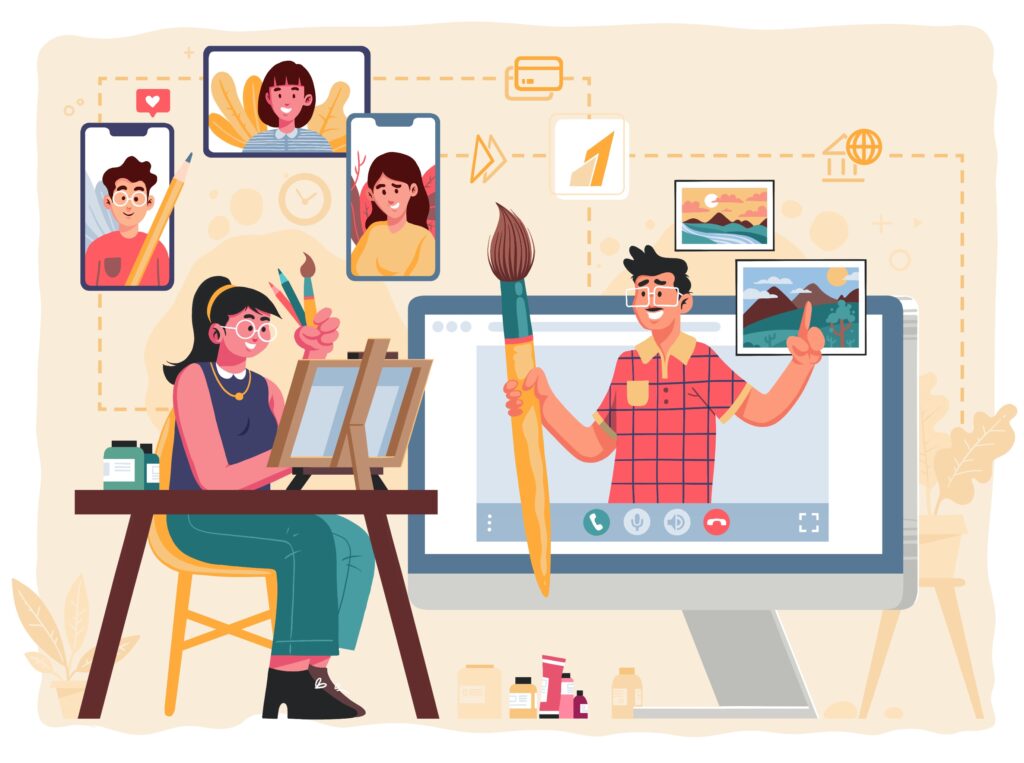 Mandar turned to Razorpay Payment Button to accept fee payments 
Being a one-person army, Mandar needed a payment solution that was easy to integrate and go live, so he could do it all by himself. He was also looking for one that offered a great range of payment modes, so his students always had a choice. 
Here's how Razorpay Payment Button helped Mandar streamline payments on his online platform: 
Mandar went live on his own
Mandar found Razorpay Payment Button to be a handy solution that offered a no-code, do-it-yourself way to collect payments on his website. He embedded the Payment Button on his online portal within minutes and started collecting fees through multiple payment methods, including the most requested – UPI, with an integrated checkout from his website. 
He conducted  25+ live online workshops
Up until the pandemic hit, Mandar had conducted face to face workshops in his studio for more than 8 years. Once that got disrupted, he moved his classes online and started offering both recorded and live courses through his website. Between April 2020 and March 2021, Mandar conducted more than 25 online live workshops that people across time zones could attend together. 
Razorpay Payment Button allowed him to make the digital transition seamlessly, without having to worry about accepting and managing payments. 
He offered a wide range of payment modes
Since Mandar's typical class profile consisted of adults from different corners of the country, you'd expect everyone to have their own preferred mode of online payment. Razorpay Payment Button allowed Mandar to accept his course fee in all of those commonly preferred modes. This ensured lack of enough payment options was never a concern for students signing up for Mandar's courses online. 
He taught students from all over the world
Due to the popularity of his courses, many students from other countries also showed interest in attending Mandar's live workshops. He could now teach students from any part of the world as Razorpay Payment Button allowed him to accept payments in more than 100 currencies. 
Today, Mandar mentors a large number of aspiring and passionate painters, illustrators, and sculptors via online courses and workshops. He has inspired over 20,000 students across 119 countries.