Have you recently stopped and taken a moment to appreciate how you're able to pay for the chai you drink by simply scanning a QR code? Have you thought about how simple it is to make a payment at your local grocery store using Google Pay? No? Maybe you should.
For a long time, Indian citizens have remained skeptical about evolving along with the pace that technology has set. Was it the fear of exploring what's new? The fear of getting out of the comfort zone?
Maybe. But in recent years, the country has embraced change, and it has brought so much advancement in terms of how payments are simplified. Gone are those days where you always have to carry cash in your wallet. Gone are those days where you need to quarrel with vendors for not rendering change to you.
India has embarked upon a new era – The Era of Rising Fintech.
India has seen a tremendous rise in fintech adoption in the last few years with a growing demand for non-cash transactions. Keeping in mind the demand, NASSCOM predicts the Indian fintech software market alone to double itself and reach USD 2.4 billion by 2020.
Necessity is the mother of invention
India being a developing country, encourages innovation. The country sees growing customer demand for digital payments, but regulatory and operational complexities persist. Digital transactions are expected to surpass cash transactions by 2023. This demand has created the need for a new ecosystem for digital payments, banks, and fintech firms to join forces and innovate.
UPI – India's mega gamechanger
We all use Google Pay, PhonePe, BHIM, and other apps every day. But do we really know what an impact these apps have made on the Indian payments landscape?
In all these years, if we were to choose one fintech innovation that has completely revolutionized how payments work, it has to be UPI – an instant, real-time payment system developed by the National Payments Corporation of India (NPCI), that facilitates inter-bank transactions.
Everybody warmly welcomed UPI because it gave a glimpse of how easy and instantaneous payments can be. It saw a 7x growth in 2018, while Google Pay became the king of UPI apps and reigned, dethroning all other UPI apps.  At Razorpay, 62% of all UPI payments in 2018 were made on Google Pay, while BHIM app took home a meager 4%. PhonePe retained its second rank while PayTM jumped up to the third position.
From being a wallet killer, UPI has also made its way to steal the market share from net banking. It has transformed into a merchant first payment (P2M) platform, from being a P2P payment mode in 2017.
How India transacts digitally
Now, India has embraced the digital epoch to an exponential level. The first six months of FY2018-19 saw 11.8 billion digital transactions, only coursing through to burst forth.
Let's understand how consumers and businesses in India transact.
Consumers (P2P)
Indian consumers prefer cards (60%) and UPI (22%) over net banking (17%) for online P2P transactions

Travel booking is the most frequent online activity contributing 42% to overall online transactions

Bill payments and e-commerce are up next, adding about 17% and 16% each, respectively

The advent of UPI resulted in the downturn of wallets from 6% in FY2017-18 to 1.5% in FY2018-2019

Consumers prefer Google Pay in terms of value and volume of transactions with a share of 54%, over PhonePe (11.9%), Paytm (9.7%), Whatsapp (8.5%) and BHIM (4.1%) for UPI transactions
Businesses (P2M)
There has been a noteworthy change in the mindset of Indian businesses in terms of fintech adoption

Cards contributed to 56.48% of total P2M transactions, followed by net banking (23.8%), UPI (17%), and wallet (1.87%), thereby significantly reducing dependency on cash

Travel, utilities, and e-commerce were the top growth sectors in 2018, with the utilities sector contributing 17%, up from 2.4% in 2017

There has been an increase in the use of PoS (point of sale) machines as the government, and retail companies are pushing for fewer cash payments
What India can expect in 2020 and beyond
With 2019 already going full speed ahead, we can foresee digital transactions in India accelerating at 70% CAGR through to 2020, contributing to the GDP by 15%. Implementation of Artificial Intelligence (AI) in the Indian digital transaction landscape will result in more convenience and security, ensuring real-time fraud prevention.
We will also see an increase in the mobile payment volume by a tenfold by 2020. We believe 50% of internet users will begin to use digital payments by 2022.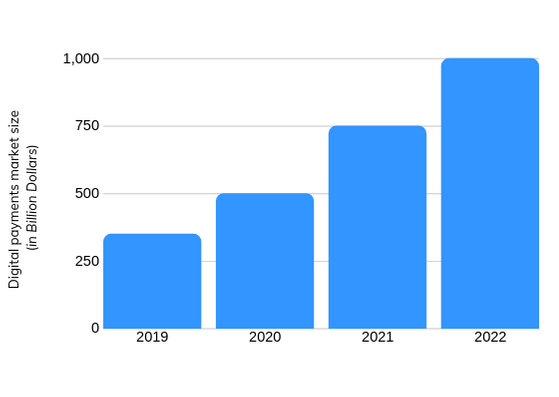 End of the line
With more and more fintech firms breaking new ground through their powerful, cutting-edge technology, India has disruptive potential in the finance sector, resulting in a record-breaking number of digital transactions as merchants and consumers both embrace the ease of digital payments.
—————
The Era of Rising Fintech Report was released to the media at an event in Pune. The story was originally published in Inc42.