Working capital is more than just a financial metric. It is the fuel that allows companies to run their day-to-day business operations. Its management, or mismanagement, can have a very direct impact on a company's financial health and operational success.
For businesses that accept payments online, working capital is a function of incoming settlements from their partner payment gateways. As a result, a lack of visibility in settlement timelines can end up creating a plethora of  challenges for companies. Some of these include:
Lack of clarity around settlement timelines: Wondering when their payments will get processed can keep businesses worried and make it difficult for them to manage working capital efficiently
Expected settlement amount: Knowing how much they are going to be paid is a crucial piece of information for companies to plan their day-to-day operations
Settlement status on the transaction page: It is important for businesses to know which transactions have already been paid for and which are still pending
International payments: Answers to questions regarding the settlement cycle of their international payments and service fees on the same are crucial for businesses
Route settlements: Companies organized in a parent/child network or partner network should not find it very difficult to keep a track of how much each entity will be paid and by when
Settlement UX changes
To equip our merchants with the armor to handle these challenges, we've made the following UI/UX enhancements on the Razorpay dashboard:
Transparency on upcoming settlements 
The amount and date for your next settlement will now be visible on your Home page, Transactions page & Settlements page

This is the go-to metric for businesses of any size to quickly assess when their next settlement will happen and how much will they be paid

Settlement cycle in the 'My Account' section
New to Razorpay and want to check what your default settlement schedule is? This information is readily available on the dashboard. No need to reach out to the support team

Want to start accepting international payments? Check your international settlement schedule through your dashboard to better manage your cash flow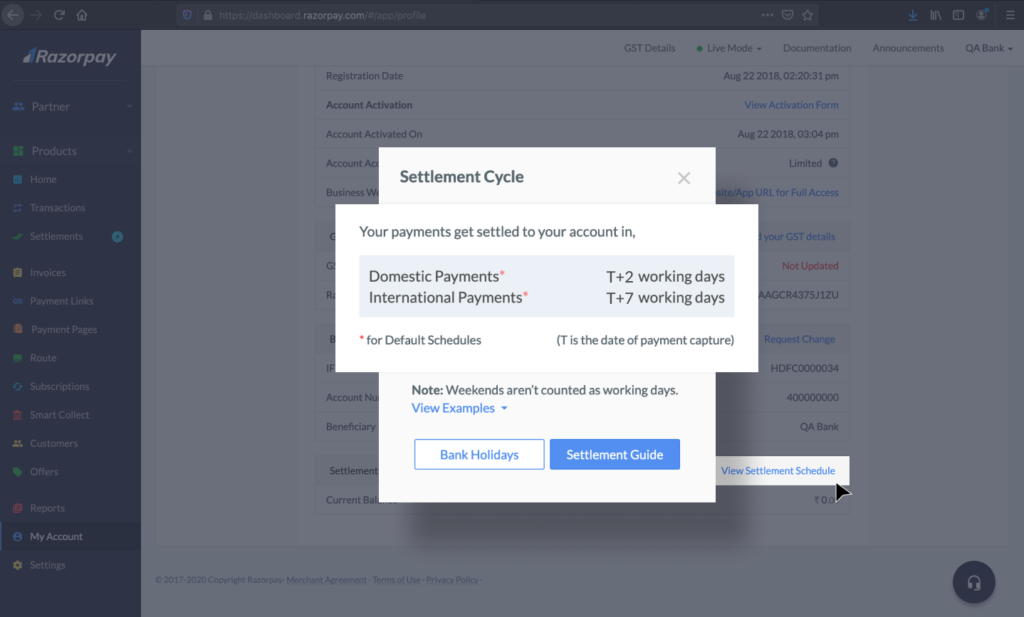 Settlement status for each and every transaction
No more confusion on which transaction you have received payment for and which is still pending

This feature also provides visibility on service fees paid to Razorpay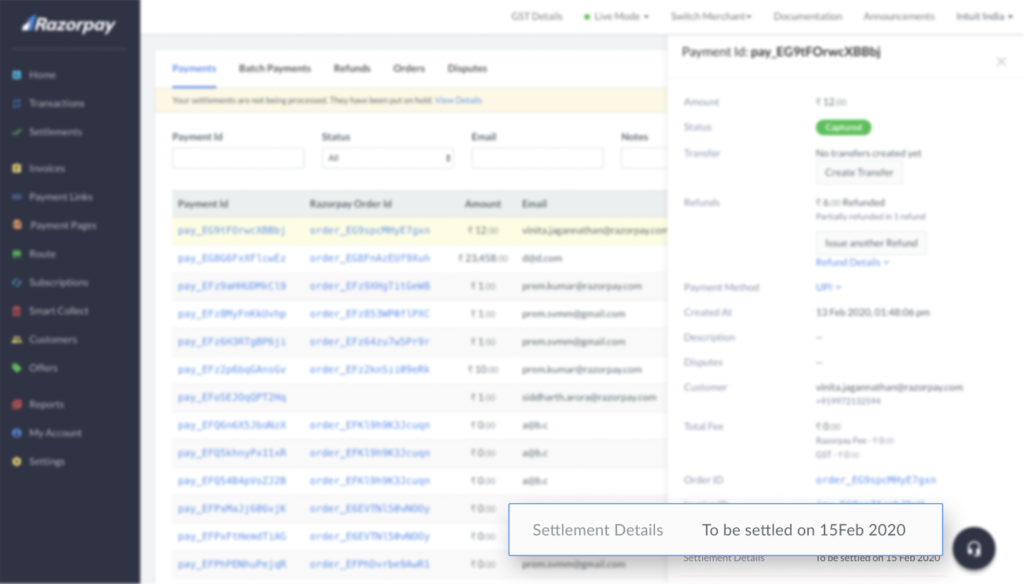 The above changes will significantly enhance visibility on settlements and provide our merchants with the information they need to efficiently manage their working capital. 
An essential quality of a payments solution is the ability to scale to meet the growing demands for our customers. Transparency in settlements is another endeavour by us to give you the best payments infrastructure.
Are you ready to simplify the way you accept online payments? Sign up on Razorpay if you haven't and leave all your payment worries to us!