What does a business need the most to scale and grow from one stage to the next? Customers? Of course! Employees? Sure. Continuous development of their offerings? The answers can be many. But one of the most important requirements is working capital. 
Working capital is required for numerous reasons. And it is important because easy access to money for a business's day-to-day activities can help improve business convenience greatly. This was the primary reason behind the launch of our Early Settlements feature.
While the Early Settlements feature allowed businesses to receive funds on the same working day, there was still the need for them to get funds even on non-working days and in near real-time.
And as usual, we have become the first to solve this problem as well with 24x7x365 On Demand Early Settlements. With this feature update, businesses can now get their funds on any time of the day, any day of the year, even on weekends and bank holidays. And that too at a very nominal fee.
The feature will allow businesses to get easy and early access to their money, reducing their daily cash crunch for any kind of operational or non-operational needs, and allowing for better management of inventory and stock.
Currently, businesses can trigger "On-Demand Settlements" at any time from their Razorpay dashboard by clicking on "Settle Now" under the Settlements Tab. In case you don't see the option, you can reach out to our support team.
Continue reading further to understand how Razorpay Early Settlements work.
What is Razorpay Early Settlements?
With Early Settlements, you get access to your funds on the same day instead of your traditional or default settlement cycle. Razorpay Early Settlements helps you reduce your settlement period from T+2 days to within a few minutes (from the time of transaction), thus enabling your business to avoid cash-flow challenges and prepare better for working capital requirements.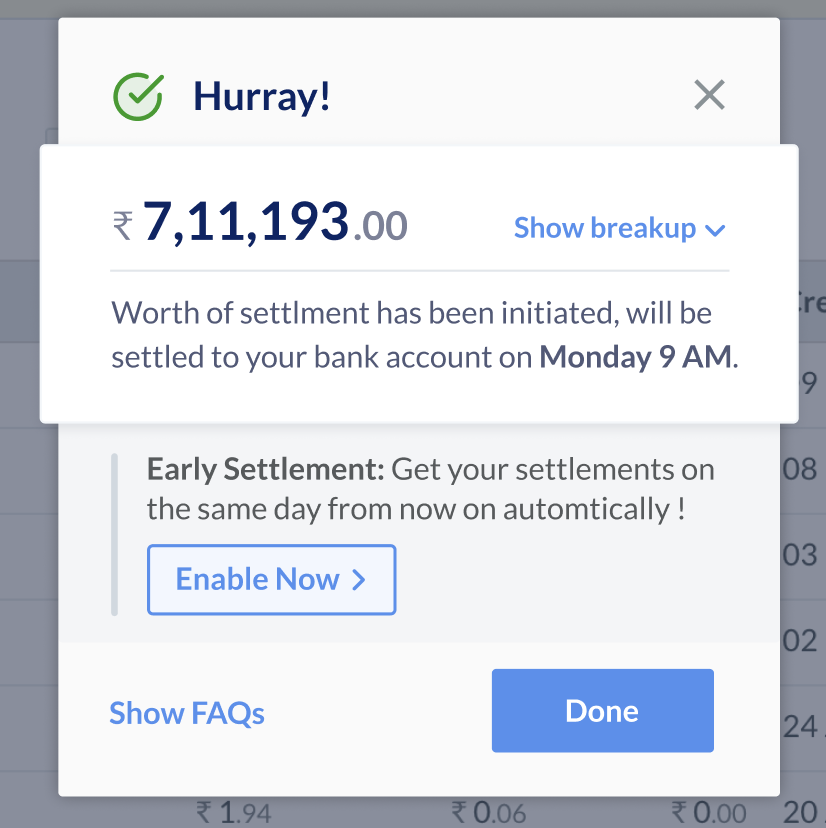 A ready inflow of cash that will help you amplify your business, and meet day-to-day cash requirements without any hassles. 
What are the benefits of Early Settlements for your business?
Easy and early access to your money

Reduction in daily cash crunch and increased cash flows

Better management of inventory and stock

Payments to creditors and vendors without any delays
Can the settlements be done at any time of the day on any of the days?
Yes, they can. Early settlements can be rolled out on any day, even on holidays.
Razorpay levies a small fee that is deducted from the merchant's settlement balance. This fee is primarily charged because Razorpay has to bear the subsequent cost of processing the early settlements by taking a loan from loan providers. This deduction takes place only if you decide to process the settlements instantly or on the same day.
Who is Early Settlements for?
It is technically for every business onboarded on Razorpay. Primarily in the last 6 months, we have seen 30% of e-commerce businesses that have gone live with Razorpay availing the Early Settlement functionalities to power their daily vendor payouts. This is followed by 17% of financial services businesses and 15% of IT services companies. For IT services, a majority of the users are freelance designers or web developers who want quick access to capital for the work they have done. 
We carry out risk checks (around refund rates, chargebacks, etc) before offering this feature to any business. To sum up, though we have seen a high traction among the industries mentioned above, businesses from almost every industry has availed Early Settlement and it has seen a high repeat rate.
To explore more about Early Settlements, click here.
Also read: Manage Working Capital Easily with 100% Visibility in Settlements