As businesses continue to scale and evolve, it's only natural to look for alternative revenue streams that leverage your core expertise but do not take you away from your primary purpose. As India's leading B2B payment solutions provider, Razorpay has designed one of the best programs in the country to help our partners grow with us. Now, creating multiple sources of income for your business has never been easier. 
The Razorpay Partner Program is designed to help Indian entrepreneurs, merchants, SMEs, startups and enterprises become third-party partners to refer Razorpay's payment solutions to their customers. 
Who can become a Razorpay partner?
Any business, ranging from an enterprise to an individual, with customers that need online payment solutions, can become a part of this program. In other words, the Razorpay Partner Program is for anyone in India who can advocate digital payments. It's free for any individual or business to join the program.
Why do I become a Razorpay partner?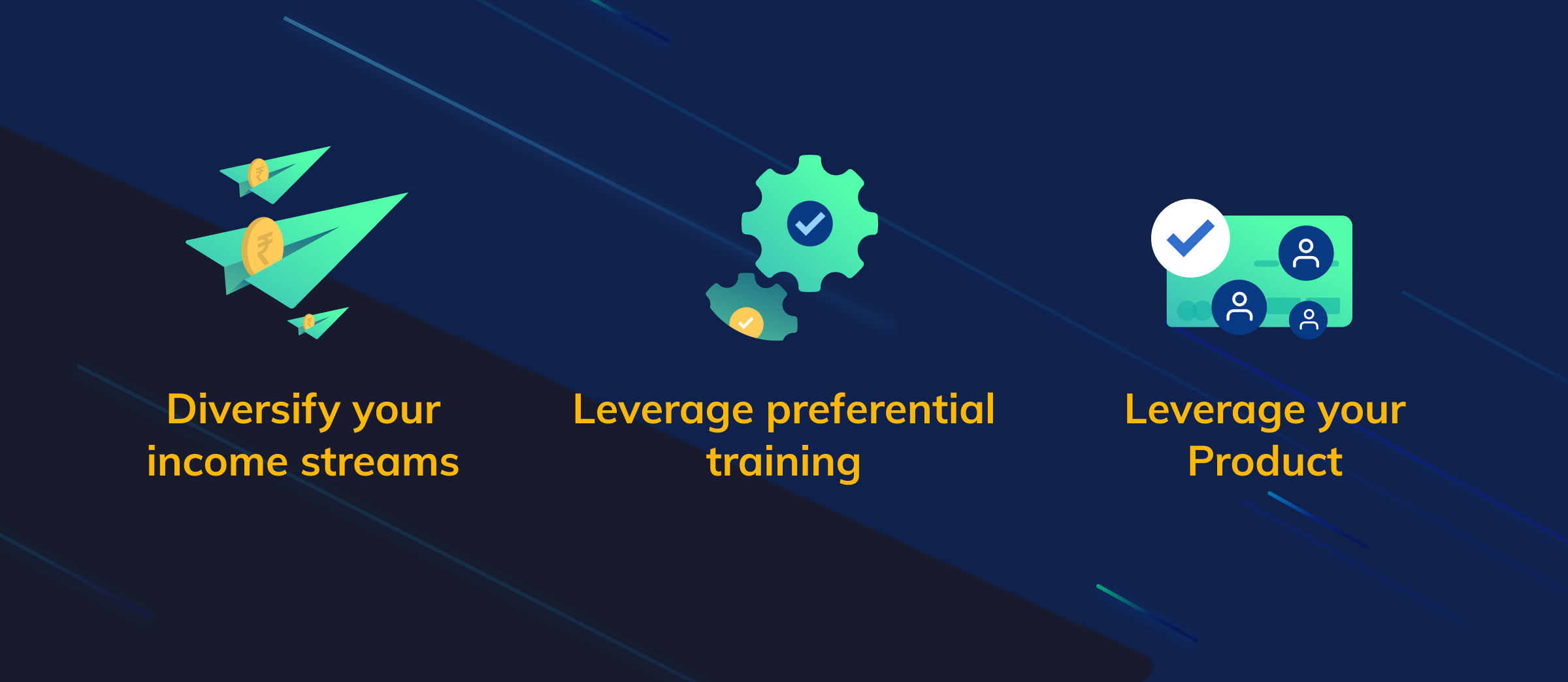 Because you get to sit back and watch your revenue grow! Earning passive income is cool.
For freelancers and bloggers, becoming a Razorpay partner is a great way to monetize your passion projects and to quickly start earning through your brand. For businesses, Razorpay Partner Program provides a safe, flexible, and cost-effective way to augment your revenue while providing your customers with India's best payments solution.
How does Razorpay Partner Program do that? Glad you asked! When you share Razorpay's fleet of payment solutions with your customers, you earn a commission each time your affiliates complete a transaction through Razorpay. It's really that simple!
Not just that. As a Razorpay partner, you also get to: 
Diversify your income streams
You earn a fixed referral bonus of up to Rs 500 for each referral or a percentage of the transaction value as commission each time your customer completes a transaction with Razorpay. 
Leverage preferential training 
Razorpay offers exclusive sales training, marketing collaterals and tools to set your business apart from your competition.
Leverage your Product 
Providing your customers with a complete set of services to easily accept, manage and disburse digital payments puts you ahead of your competition. By associating your website or business with an established brand like Razorpay, you build trust and also improve your brand image.
How to qualify for the Razorpay Partner Program?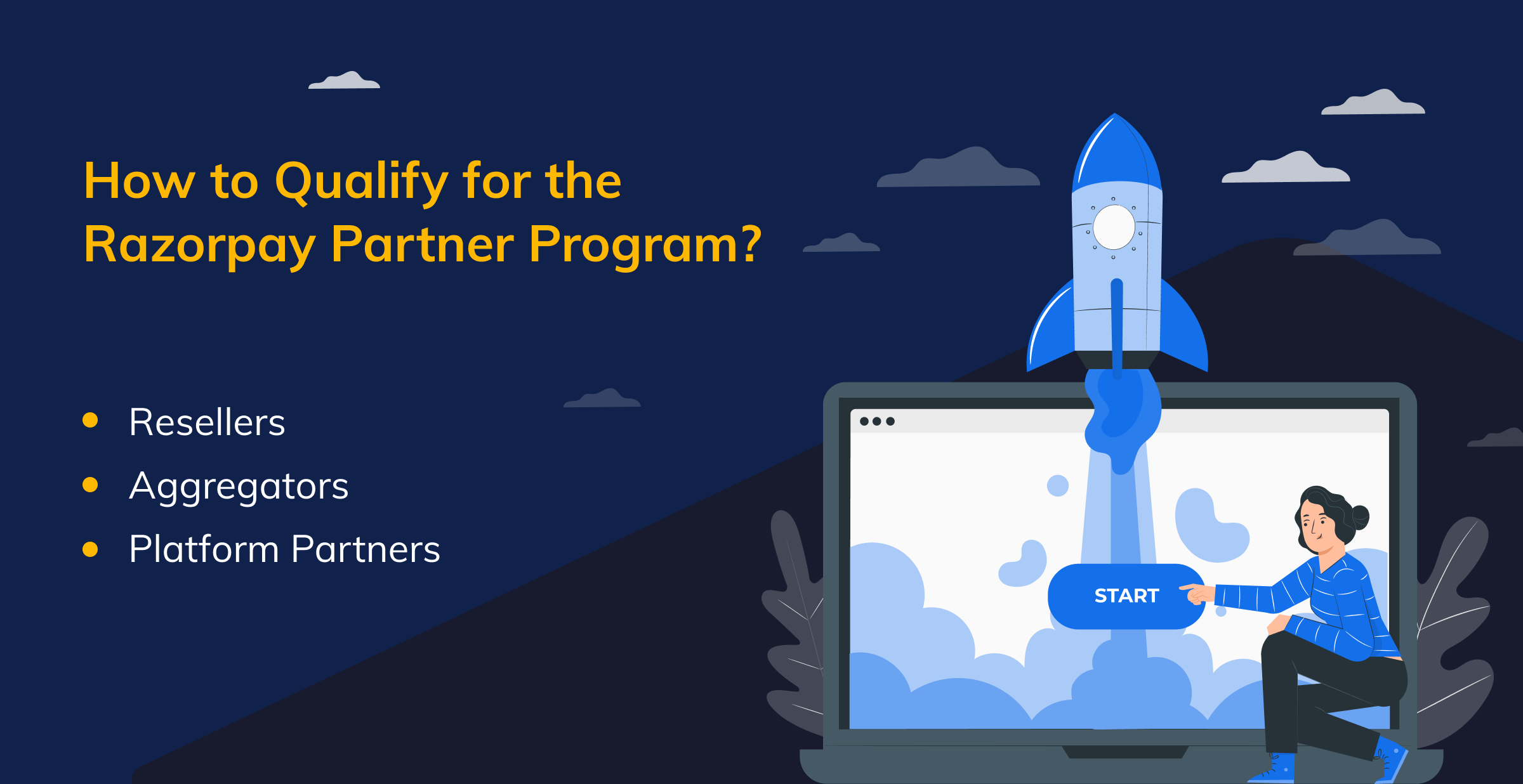 If your customers (merchants) have an online presence, make online payments, or can use Razorpay's services, you are eligible to become an affiliate under the Razorpay Partner Program. 
As India's largest B2B referral program, the Razorpay Partner Program offers three types of partnerships – 
Resellers
If you are a business or an individual that plans to only refer your customers and earn commissions, then this category is for you. For example, people with occupations like web developers, designers, freelancers, bloggers, ERP solution providers, venture capitalists, startup incubators, co-working entities and influencers can become Razorpay's resellers by referring Razorpay's solutions to your customers. As a Razorpay Reseller, you earn commission every time your customer completes a transaction through Razorpay.
Aggregators
If your business provides a platform to your merchants and also wants to manage their accounts, then you can sign up as an Aggregator. As a Razorpay Aggregator, you can create accounts and make transactions on behalf of your merchants through a simple Partner Auth integration. 
Platform Partners
By Platform Partners, we mean companies that provide a platform for other businesses (sub-merchants) to reach their customers by directly integrating with their platform. If your business can refer its sub-merchants to Razorpay's solutions, then this is the right affiliate category for you. Your merchants can, in turn, sign up independently on Razorpay, and link their Razorpay account to your platform Razorpay OAuth integration. 
Note: If you have used your Facebook account to sign-up on different websites or apps.
How do I sign up?
Sign up for the program here or leave your details with us to get a call back from Razorpay's Partnerships team.
Join Razorpay Partner Program today and get a referral bonus whenever your referred business starts using Razorpay. After you sign up, you will get access to adding merchants from our easy-to-use partner dashboard. 
It's that easy to become a Razorpay partner!