Imagine. It is 10:30am on a Monday. You are getting into the second Zoom meeting of the day while making espresso in your PJs, and you choose to keep the camera on. Your colleague waves at you from the other side of the camera with her cat curled up on the chair next to her, and then it is business as usual.
But how did we get here? You would ask if you belonged to the year 2019. Fast forward to 2020, where 'new normal' is not just another buzzword, but a reality we all live in. In this new normal, we work remotely, and if switching jobs, are even onboarded remotely. 
Since the onset of the COVID-19 pandemic, we at Razorpay have added 1251 new members to our family. We foresaw the challenges of remote onboarding and did not let them deter our spirit to make remote onboarding a seamless experience for the newbies. 
Engagement is key
One of the major challenges of remote work is to keep the team engaged and connected. To make sure our new joiners felt connected and engaged, we started by familiarising them with Razorpay's culture and values by sending them a pre-onboarding kit.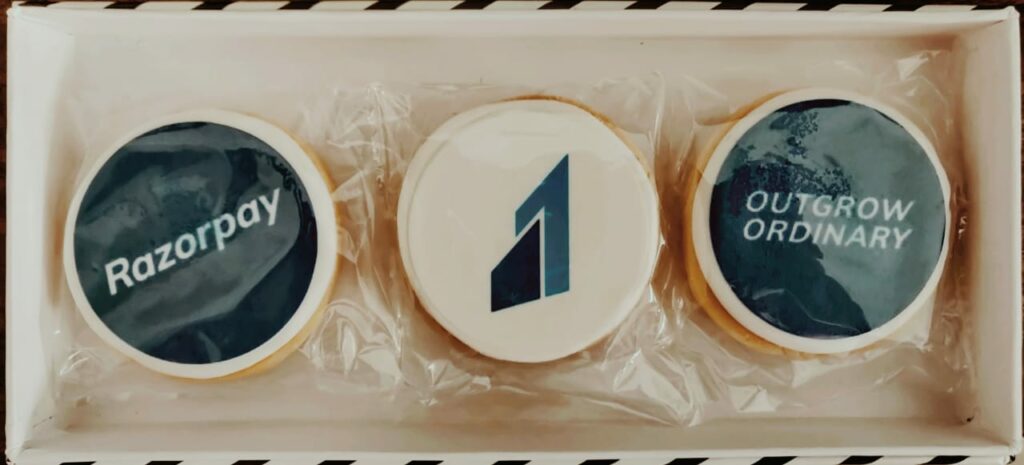 What the new joiners liked the most about these kits was the customised cookies, each of which carried Razorpay value. 
"I loved the welcome kits. They made me feel amazing. I was pleasantly surprised and felt spoiled!"

— Chidananda AJ, Senior Director, Engineering
Chidananda AJ joined Razorpay in July 2021 feels that "onboarding was well-planned and seemed like a breeze; with important sessions like insights about Razorpay, organisation structure, culture & values, compensation & benefits, security & POSH training." 
Tech 'IT' right
Keeping the new joiners engaged is vital, and so is helping them get the technology right. To do so, the onboarding team has developed a step-by-step process with the IT team to help the newbies configure their newly-delivered laptops and get accustomed to other IT processes. They also help the new Razors (that's what we call ourselves at Razorpay) with any additional equipment required to make the work-from-home experience comfortable and seamless. 
Really appreciate the IT team members who patiently spent several hours with me on Zoom to set up my office laptop!

— Sailee Rane, Director, Business Strategy
Sailee Rane, who also recently joined the Razorpay family remotely, feels that "the onboarding process was super smooth" and "will give it a 10-on-10." 
Culture – the fabric that goes beyond the office
At Razorpay we have always believed that culture is not just what exists in the office but goes way beyond. Remote work and remote onboarding sure did start as challenges for us but we got the opportunity to weave the fabric of our culture even stronger. 
"Pre-onboarding emails helped me understand Razorpay values and identify with them. It made me feel a part of the organisation even before I actually started the work," says Nikhat Saheba, HRBP Manager, who was added to the Razorpay family in June 2021. 
I would advise new joiners to go through some of the blogs on Razorpay beforehand so that they can connect the dots and have relevant queries ready.  

— Nikhat Saheba, HRBP Manager 
Great Place to Work!
Fighting all odds, learning from the Razors, and adapting to the fast-changing work environment, we at Razorpay have endured the culture we have always been so proud of.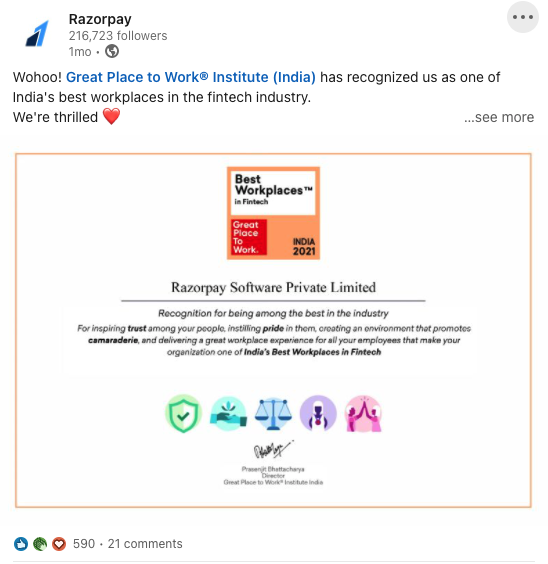 The Great Place to Work Institute, a global authority in creating, sustaining, and recognising great workplaces, recently recognised us by certifying 'Razorpay' as one of the 'Great Workplaces to Work' at – for the third time in a row! And not just that, we've been recognised as one of the 'Best Places to Work in the Indian FinTech industry'. 
Awards like these are milestones. But our real success lies in the happiness of our Razors. After all, culture is the thread that brings all of us together!