A high cart abandonment rate is an agonizing metric to look at as it directly impacts the overall business revenue and growth. According to a report, the average cart abandonment rate is 70% and at least 24% of customers abandon their carts because they are asked to create an account.

Razorpay Magic Checkout makes the shopping experience seamless for customers and reduces cart abandonment rates for eCommerce and D2C businesses, through a faster, one-click checkout experience. 
To enhance the online shopping experience further, Razorpay Magic Checkout has recently integrated with Truecaller, a global caller identification platform. With this integration, businesses will see an even further reduction in cart abandonments and will be able to boost revenues to a great extent!
About Truecaller 
Truecaller enables safe and relevant conversations between people and makes it efficient for businesses to connect with consumers. Fraud and unwanted communication are endemic to digital economies, especially in emerging markets. Truecaller's mission is to build trust in communication. Truecaller is an essential part of everyday communication for over 330+ million active users, with over a billion downloads since its launch.
Truecaller 1-Tap, OTP-less Verification solution, enables digital storefronts, mobile apps, and websites to improve the user funnel with seamless mobile number verification from onboarding to checkout use cases. The solution has strong penetration across large businesses and digital natives who use Truecaller as their users' primary mode for number verification.
The high cost of acquiring customers remains a significant issue for D2C brands and digital storefronts, leading to impeding growth and revenue impact. But this cost can be significantly reduced by improving conversions at the checkout stage. By enabling a frictionless and secure verification-to-checkout experience, consumers can complete their purchases with delight, reducing a brand's acquisition efforts. We are thrilled as we believe this partnership will bring positive change to the next phase of growth in the eCommerce ecosystem.
Priyam Bose, Global Head, GTM & Developer Products, Truecaller for Business
Razorpay Magic and Truecaller Verification SDK Integration- The Purpose 
Razorpay Magic Checkout is a one-click checkout solution that prefills contact information and shipping details of online shoppers who shop via Razorpay Magic network stores. This allows new shoppers to have a repeat-like shopping experience and it enables them to shop faster, inevitably reducing the chances of cart abandonment, which is a major pain point for a considerable amount of eCommerce stores. 
With the Truecaller Verification SDK integration a new mobile user who has never shopped via Magic network stores will still be able to experience a fast checkout process as their phone number-based primary identity will be prefilled by Truecaller with a single tap autofill experience and without the hassle of OTPs. 
M-Commerce is on the rise and according to a report 89% of people belonging to the age group of 35-44 years shopped via mobile devices in 2022 in India. That being said, the main purpose of this integration is to let shoppers enjoy a superfast shopping experience without the hassle of entering even basic information, such as their phone number and email address while shopping on a mobile phone. Thereby, reducing the chances of cart abandonment rate all the more.
With this enhancement, we will further reduce the friction involved in online shopping and make it a truly pleasurable experience.  Businesses will observe further reduction in cart abandonment rates and improvements in order conversion; thus improving business efficiencies.
Gaurav Dadhich, General Manager, Razorpay Magic Checkout
Read Also: What is Cart Abandonment & Why Customers Abandon Their Carts?
How Does it Work? 
Step 1: A Truecaller user visits a Razorpay Magic-enabled online store, builds a cart and initiates checkout.
Step 2: Magic Checkout modal opens up where users' contact details get pre-filled via Truecaller, with a single tap. 
Step 3: The user then continues with the purchase process and completes the transaction.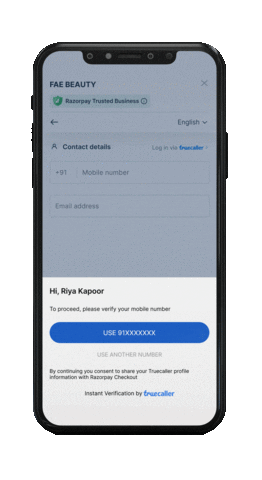 Conclusion
A high shopping cart abandonment rate is a battle that many eCommerce businesses want to fight with. And with this integration, Razorpay Magic Checkout aims to bring down the eCommerce cart abandonment rate to boost business growth.
Existing Magic Checkout enabled merchants will get this experience by default. If you are new to Magic Checkout, get it now and reduce cart abandonment efficiently!