COVID-19 had a devastating impact on India's economy. The pandemic, the lockdown and the resulting uncertainty resulted in a 24% drop in GDP from April to June 2020. It certainly was a challenging time not only for the population at large but also for a majority of Indian businesses. 
But what stood out was the tenacity of Indian SMEs and entrepreneurs to not just weather the storm but adapt with breakneck pace to the requirements of the "new normal". Businesses increasingly went digital and started collecting digital payments through various different methods, embracing the convenience and security offered by digital payment platforms. At Razorpay, we first hand witnessed this revolution towards acceptance of digital payments and the adoption of innovative digital payment methods, empowering businesses to navigate the changing landscape effectively.
One of the most significant advantages of digital payment is the seamless experience they provide to customers. Reduced dependency on cash, fast transfer speed, and the ease of transacting make online payments a preferred option. Traditional payment methods like cash and cheques add to factors like risk, steps, and physical presence. With digital payment, you can send and receive funds from anywhere in the world at the click of a button. 
Just recently, Unified Payments Interface, or UPI, recorded over 4 billion transactions in October, 2021, a new all-time high for the payment's platform since its inception. In value terms, the payments platform saw transactions worth $100 billion in the same duration, a record high. Further, NPCI is looking at $1 trillion worth of transactions through UPI on an annual basis. As India aspires to become a $5 trillion economy by 2025, digital payments will significantly contribute in getting us there. 
Carrying forward the mission of Cashless and Digital India, Razorpay is India's first full-stack financial solutions provider. We aim to enable all businesses, entrepreneurs, and freelancers to accept digital payments and accelerate their growth journey. Razorpay registered 3X growth in payment volume through SMBs that went online for the first time during COVID in 2020. 
Razorpay witnessed over 54% of digital transaction volume coming from SMBs in Tier-2 & 3 cities alone. Online transactions in cities like Ahmedabad and Jaipur grew by about 50% within a week's time. Razorpay aims to further accelerate this digital revolution, by enabling 5 million new Indian SMBs to adopt digital payments in the next 12 months, with an assortment of payment solutions like MultiQR, Stores, Payment Handle and Tap-on-Glass. Lets, take a look at these products in detail to understand how they can help businesses achieve their growth ambitions.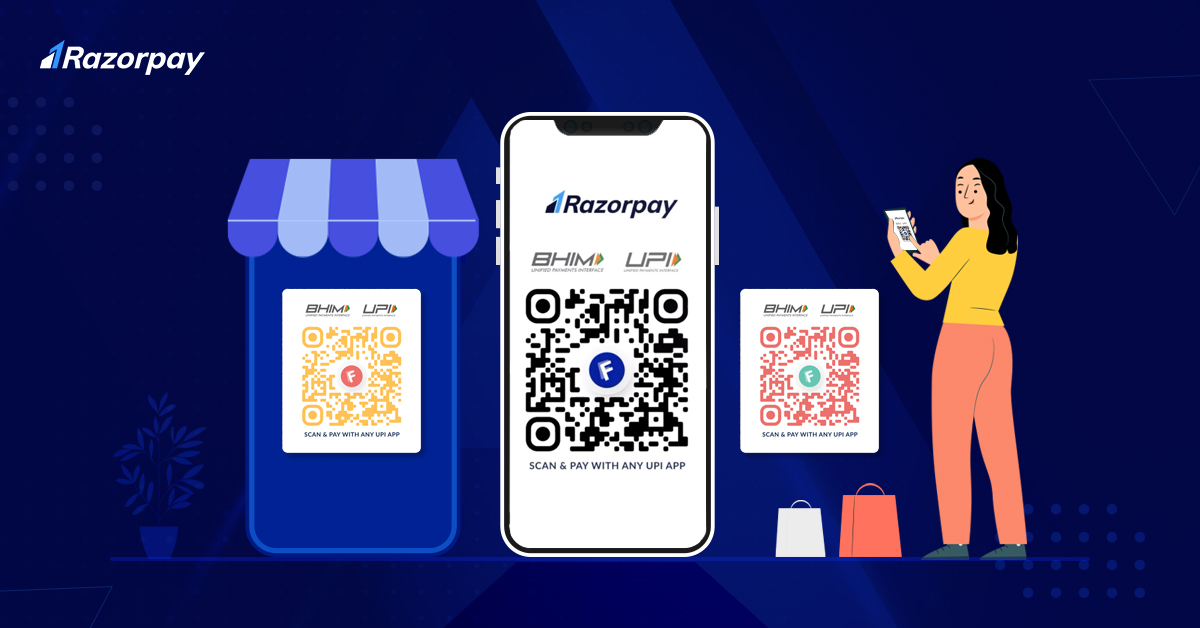 MultiQR
Razorpay MultiQR is the most robust QR code solution out there in the market. There is no cap on the number of QR codes you can generate using MultiQR. Whether you need to collect a one-time payment or multiple payments, you can generate both static and dynamic QR codes and multiple ones of them. Similarly, you can either opt for a UPI QR code or Bharat QR code, depending on your requirement to accept UPI payments or Card payments. 
Apart from that, Razorpay MultiQR allows you to: 
Generate custom branded QR codes by incorporating your business name and business logo. This helps you create better brand recognition and recall, and allows you to generate a QR code that is truly unique to your business.

Accept payments via UPI, credit cards, or debit cards. This saves small merchants from investing large sums of money in procuring POS terminals and gives them the flexibility to allow multiple payment modes to their customers. 

Replace cash on delivery (COD) or in-person collection of payments with contactless transactions
Sign up for Razorpay MultiQR now!

Stores
Razorpay Stores provide an end to end solution right from setting up an online shop to accepting payments. Selling online is simplified with no set-up costs and zero coding. Create product catalogues, share them via social channels, track orders and record payments, all on one dashboard.
Using Stores,
Merchants can build and customize an e-commerce shop and sell their products online, build campaign specific stores or go offline-to-online in minutes.

Create a hosted online store where you can create product catalogues, collect orders, and get an integrated checkout setup within the store.
You can customize the look and feel of your store with your brand colour and logo. 

You can promote and sell your products on social media channels.  Add the link in bio or simply share your Stores page on Facebook, Messenger, Instagram, and Whatsapp to promote and sell products on social channels. 
With 100+ payment modes available during checkout, Stores truly recreates an ecommerce experience with zero coding required at merchant's end.  
Click here if you want to get early access of Stores.
Payment Handle
Razorpay Payment Handle allows you to create your own personalized link to collect payments. Download Razorpay mobile app, sign up, get activated and grab your link. Just share this link with your customers and start getting paid immediately. All that your customers have to do is click on the link, enter the payment amount, complete the payment and that's it! You just got paid. 
Not just this, Razorpay enables you to: 
Personalize your link with your business name and logo, so that your customers know that it is indeed you 

Accept payments online, through email, or on the go in 100+ payment methods available on Razorpay checkout. Your customers can pay the way they want, quickly and easily.

Tap-on-Glass
Razorpay Tap-on-Glass enables merchants to accept contactless payments, from cards, on their NFC enabled android smartphones, without the need for any additional hardware. Razorpay app can be installed on any smartphone, alongside other apps. Tap-on-Glass is particularly suited well for offline businesses and stores run by independent business owners and their staff. 
With this solution, millions of merchants now can convert their NFC-enabled android smartphones into a POS machine to accept contactless card payments. This secure method of payment collection will surely provide a competitive advantage to businesses by increasing their profit margins, as no additional hardware costs will be required. Click here if you want to get early access to Tap-on-Glass.
Razorpay believes that digitization is an instrument for bringing in efficiency, transparency and parity. It will break down barriers, democratize opportunities, and empower all sections of the society to propel India's economy forward. One key ingredient of a successful digital economy is a frictionless, seamless and bi-directional flow of money and financial information.
Razorpay's vision is to be a unified financial technology platform for millions of businesses with the aim of furthering digital adoption and equipping them, especially in tier 2 and 3 cities, with industry-leading technologies that will help ensure business resilience. You can learn more about our products here.