We all know that 2020 has been a challenging year for everyone, forcing each one of us to adapt to new realities. The pandemic pushed us to spend the greater part of the year indoors and move our entire lives to the virtual realm. It further impacted every aspect of our day-to-day affairs, so much that we accepted the realities as the new normal.
During this time, one of the major changes we observed was with respect to digital payments.
While Indian consumers stayed home during the lockdown, they were pushed to pay all their bills and make purchases online. And this resulted in payment and fintech companies gaining a higher level of trust from the general public. Safety, innovation, convenience, and trust became the primary drivers for consumers to make contactless digital payments.
With innovations like UPI, which made banking services more accessible, consumers were able to carry on with their transactions without much difficulty. 
And for businesses during this period, the need to embrace digital banking become more urgent and pertinent than it was a year ago.
B2B neobanks facilitated the shift from traditional banking empowering businesses to move their entire payment and banking infrastructure online. We also saw a significant rise in the number of freelancers and micro-entrepreneurs, creating new opportunities for the digital ecosystem.
The era of rising fintech
In our previous report, we talked about the impact of the pandemic on businesses during the first 100 days of lockdown. And, we also spoke about how businesses revived themselves by going online. 
In our 7th edition of The Era of Rising Fintech, we are bringing to you a complete rundown of digital payments in India, across industries, in the year 2020.
NOTE: All findings in this report are based on the digital transactions made on the Razorpay platform from January 1st 2020 to December 31st 2020.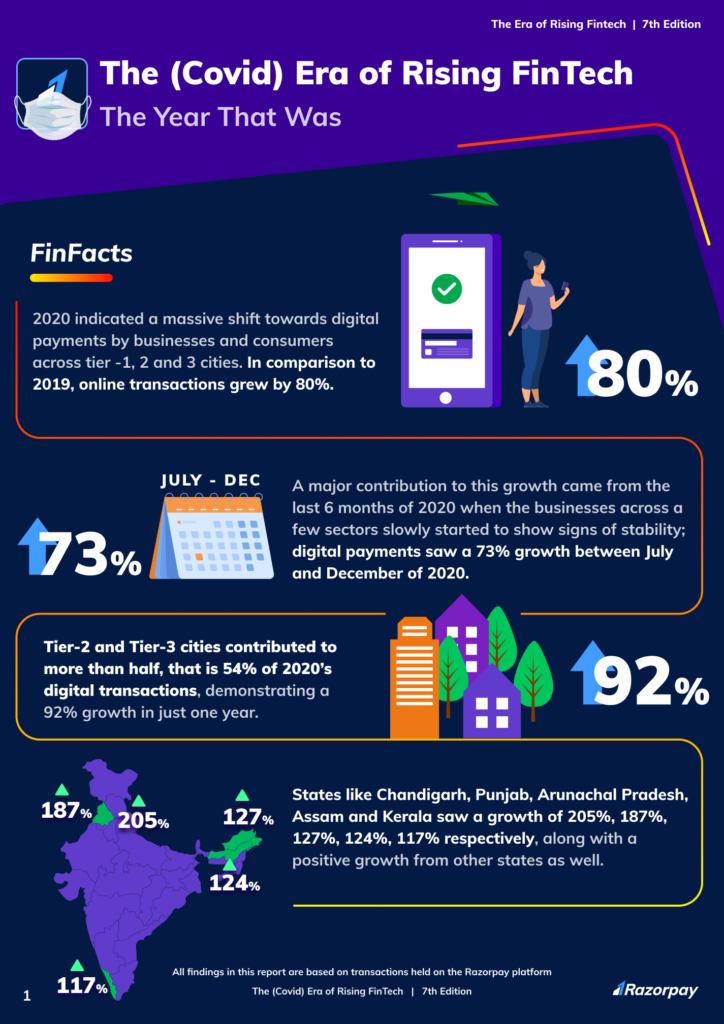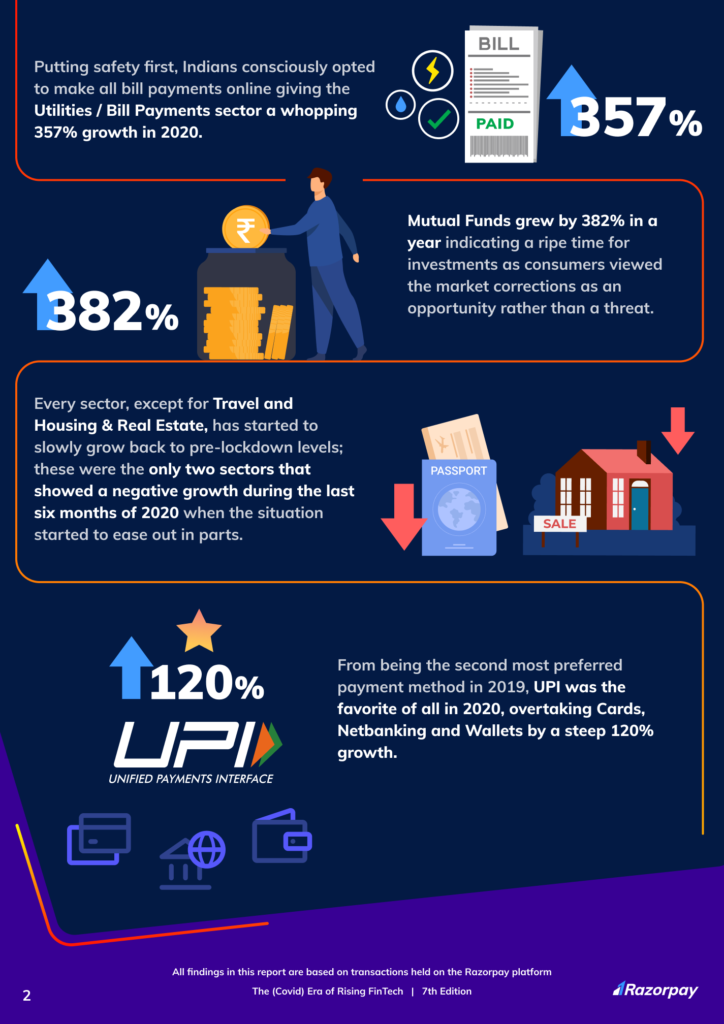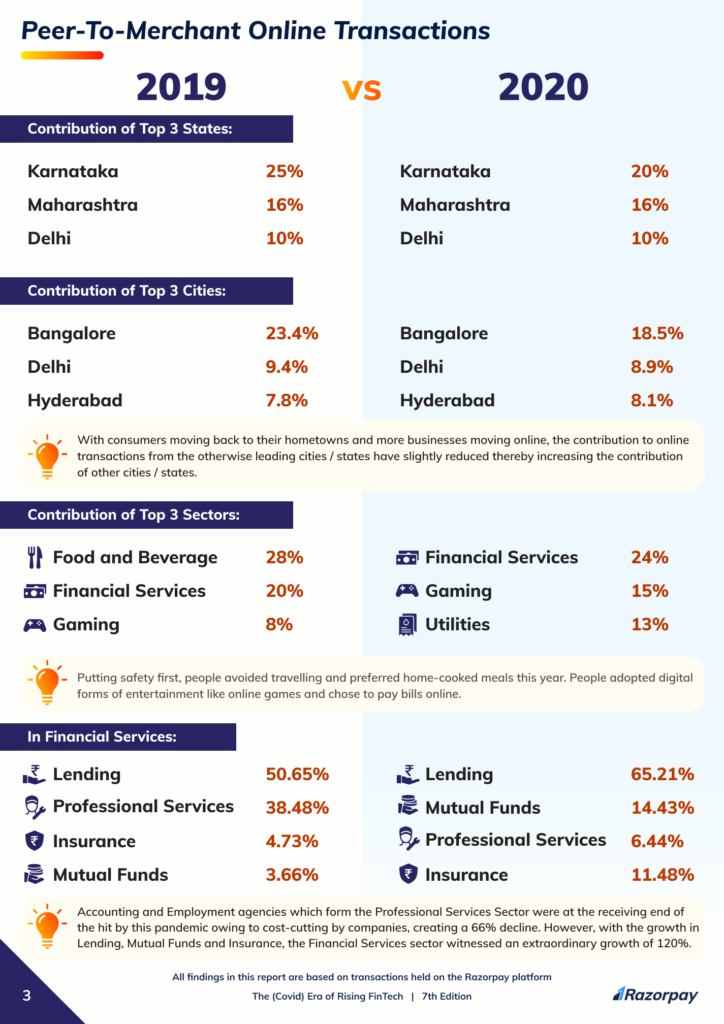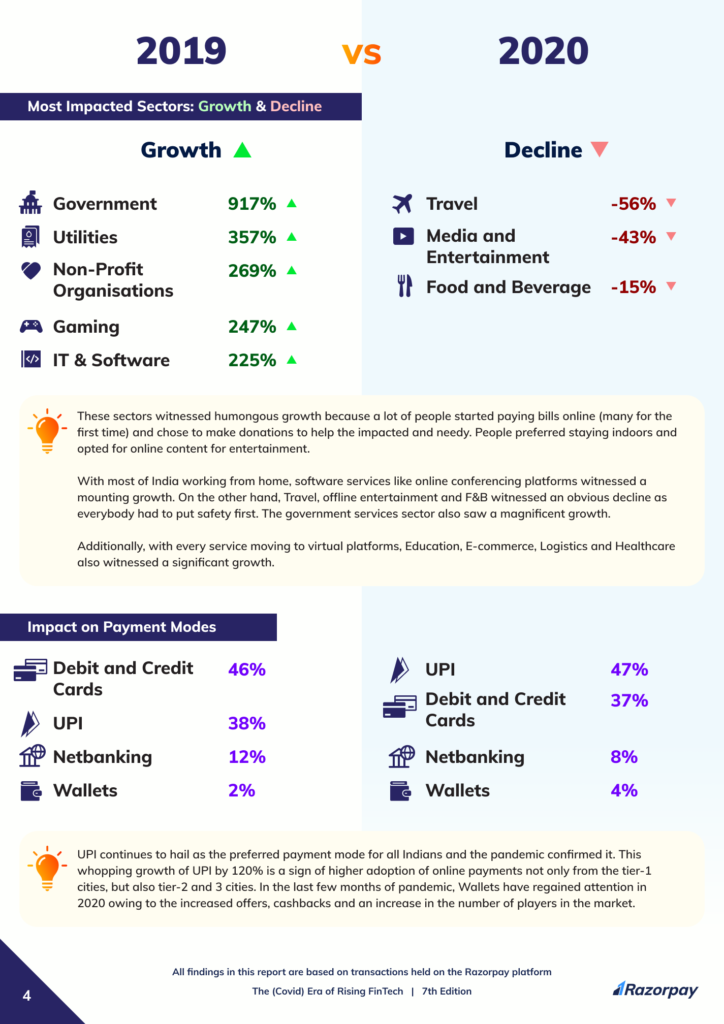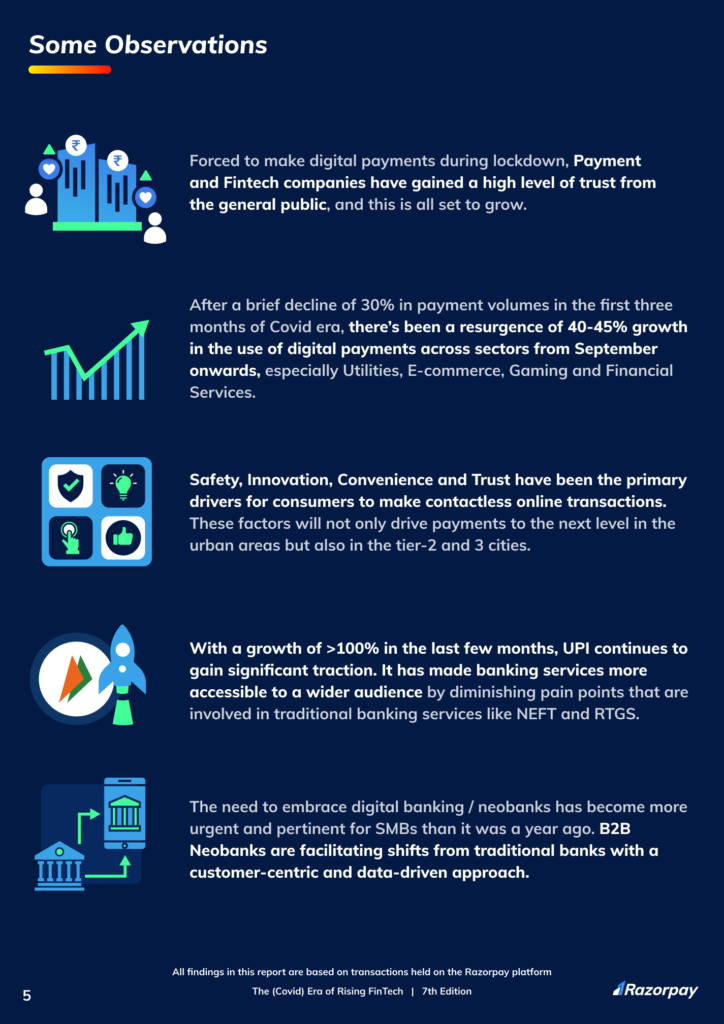 The way forward
While digital payments saw a slump during the beginning of the lockdown, they are now seeing steady growth. Razorpay believes that the digital payments sector is expected to grow by 40 to 45% in 2021 and go beyond the $5 trillion Digital India dream by 2025.
Having witnessed the enormous adoption of digital payments by tier 2 & 3 cities, we believe that this trend will gain momentum this year, with consumers embracing digital payments, beyond utility and bill payments. 
Among the innovations, Book Now Pay Later (BNPL) may gain a lot of traction. Since the present situation has pushed e-commerce businesses to accommodate consumer-friendly payments, the demand for BNPL may result in businesses rethinking their payment strategies.
We also foresee deeper collaborations between banks and fintech companies to innovate tailor-made solutions for SMEs. 
Contrary to how unprecedented the circumstances have been, it's been a year of great innovation, new opportunities, and the win of a much-awaited trust in digital payments. Businesses are beginning to stabilise and some of them are even back to pre-covid levels. And we are excited to see what lied ahead.