Cash on Delivery: Redefining trust and peace of mind in every transaction.
eCommerce has changed the way people have been shopping in India. With easy access to the internet and smart devices, online shopping has become a household activity. 
Despite going digital, when it comes to shopping, one factor that influences buyers to shop online is cash payment. About 80% of shoppers from tier 1 and 2 cities prefer cash on delivery as a payment method. Whereas in metropolitan cities, such as Delhi, Mumbai, and Bangalore, prepaid payment methods are considerably gaining more momentum. 
India's E-commerce is booming, and it is expected to grow by 84% by 2024. And as the E-commerce sector grows, the possibility of COD orders also increases. This brings us to the question of why Indians prefer COD, how beneficial it is for E-commerce businesses, the challenges associated with it, and how to overcome these challenges.
What is Cash on Delivery?
Cash on delivery is a mode of payment where a customer makes the payment after the goods/services are received. The customer pays cash or makes the payment via debit/credit card directly to the delivery person. 
Why Indian Shoppers Prefer Cash on Delivery?
Even if our world is growing technologically, payment options such as credit/debit cards, net banking, and e-wallets contribute to only 30% of online purchases. Some of the reasons why cash is still ruling are: 
eCommerce sites are blossoming every day. Since customers don't know the legitimacy of such online stores, they fear they will be scammed. 

Since time immemorial, customers have been making cash payments, and they are familiar with cash payments. 

Cash payment provides ease of transaction. One simply needs to hand over the amount for the product or service received and be done with it. 

There is lingering post-purchase order stress. For example, refund duration, refund not received, refund not allowed by some merchants, etc. 

In tier 2 and 3 cities, customers are particularly wary about online transactions. Cash payment sets them free from making cards/online payments. 

Some customers choose cash on delivery because they want to be sure about the product received. They like to check the product in front of the delivery person and then decide whether to accept it or not. Cash on delivery allows them to not worry about receiving a wrong/damaged product and ask for a refund. 
To sum up, COD (cash on delivery) provides assurance and confidence to customers to shop online freely. It encourages customers from the nook and corner of this country to shop online and not worry about limited payment methods. 
Take Flipkart, for example. Flipkart had its inception in 2007 and offered the COD payment option in 2010. This step made Flipkart exceptionally popular, and it became a household name for online shopping. 
Suddenly, anyone who didn't have a debit/credit card or a bank account could start ordering products online. It increased the popularity of Flipkart and every other eCommerce business that offered cash on delivery as a payment method. 
Pros of Offering Cash on Delivery 
Cash is the king, and rightly so. Cash is a preferred payment method for most shoppers in India, and eCommerce businesses should think of providing COD to operate a successful online business. 
Gain Customers Trust
Even though we are becoming digitally advanced, there is no end to online scams. COD as a payment method allows customers to trust a brand better. They know they won't pay for a product unless and until they receive it.
Reach More Customers
Cash on delivery allows online businesses to reach out to more customers. The majority of shoppers in India are still apprehensive towards card/online payments, typically in Tier 2 and Tier 3 cities. Online businesses can tap on these sectors better by offering cash on delivery. 
Increases Impulse Buying
COD payment method allows customers to buy products quickly. It encourages customers to do impulse shopping since they know they don't need to prepay, meaning there's no need to fill in payment details (additional steps to take care of). This leads to faster checkout and more impulse shopping. 
Cons of Offering Cash on Delivery 
Although COD is convenient for shoppers since they get to experience the joy of ordering something online without paying for it, this payment method is inconvenient for eCommerce businesses. 
Extra Cost
As per a study, delivery partners charge extra fees on COD orders. Since the delivery partner has to handle the operational cost for returned orders to send back the item to the seller, they levy additional charges on such orders. Not just this, the seller has to pay the expenses of both forward and reverse logistics. One, when the seller ships the item, and two, when the item gets shipped back to them. 
Restricted Cash Flow
Unlike digital payment, which gets transferred to online sellers' accounts almost immediately, cash on delivery payments reach pretty late. This restricts cash flow, and maintaining daily operations becomes a hindrance too. And if there's a return/refund, things become a lot more complicated. 
High Returns 
In the case of COD, buyers have nothing to lose. A study stated that COD is the chosen payment method for a whopping 65% of orders placed on leading e-retail platforms in India. But the real struggle with COD orders is high RTO (Return to Origin). 
There is no obligation to accept an order and no fear of prepayment. Since the buyer has not invested himself in the transaction, it's the online business that has to incur the loss if the customer declines the order.  
Refund Issues
The refund policy for COD is different from prepayments. And it brings along a few challenges of its own. When a COD order is accepted and returned for any reason, the online store sends out a refund form to the customer's registered email address. 
The customer fills in that form and provides their bank account details. Even though the customer has paid by cash, the refund is only sent to the customer's bank account. 
Once the form is received, these details are shared with the team that processes payouts for the refund. The team in charge then makes a one-off payout. They upload the account details on the bank's portal. Alternatively, they make a bulk payout if there are multiple refunds to be processed. 
This is an error-prone, time-consuming, and manual process. Moreover, it takes 5-7 business days for the refund to get completed.
Read Also: What is Cart Abandonment & Why Customers Abandon Their Carts? 
Offer COD Confidently With Magic Checkout
Even though COD has its advantages, it definitely has some drawbacks too. E-commerce stores can never be sure if the customer buying from them is genuine. What if a bad actor places a dummy order, the customer has provided incomplete/invalid address details, etc.? 
COD as a payment method can help online businesses reach out to more customers, but it may not be the best payment method for everyone! And to help eCommerce businesses identify risky orders and save them from COD refunds/returns, Razorpay is here with Magic Checkout. 
Disable COD for Risky & Fraud Orders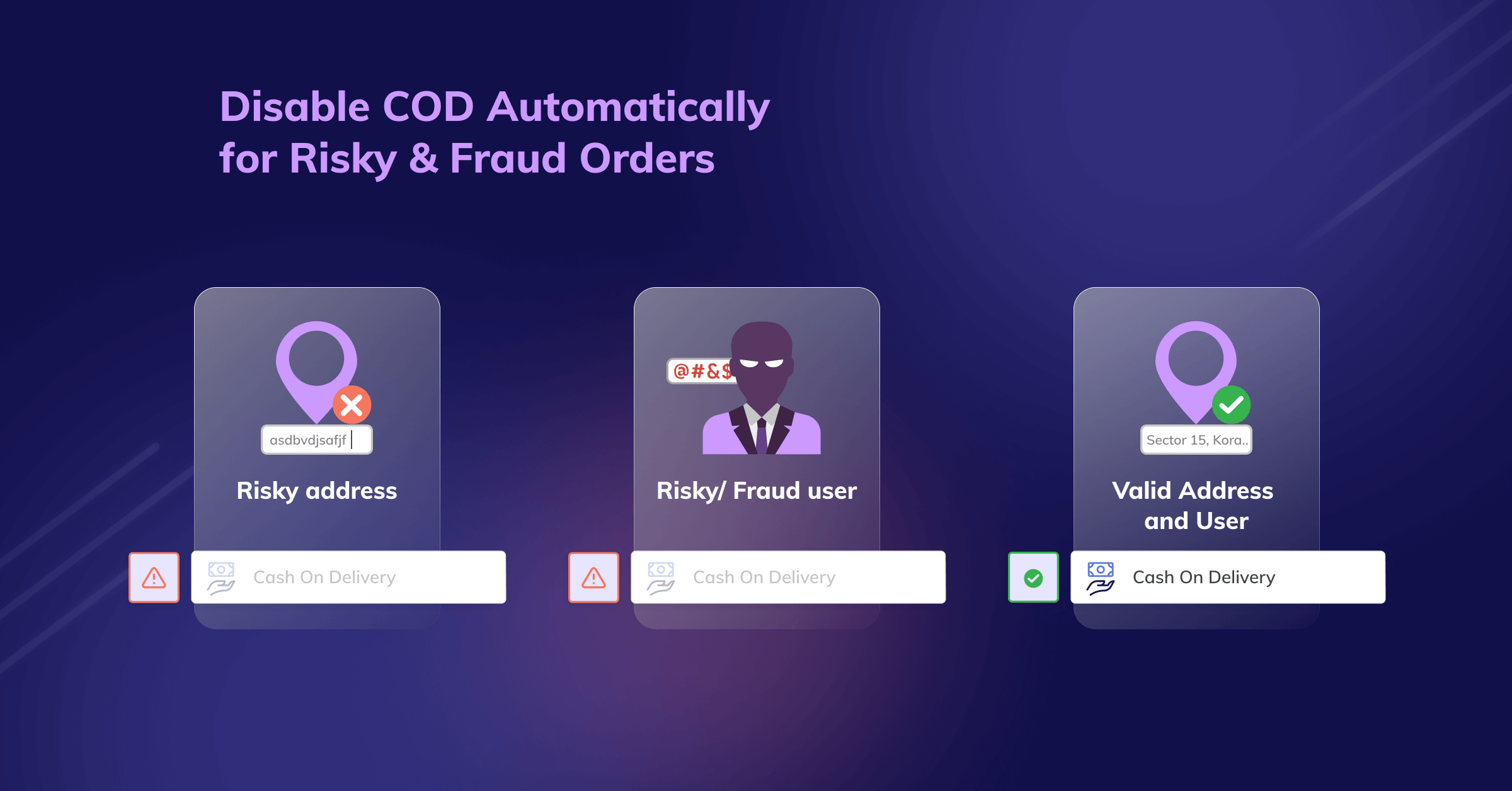 Magic Checkout gives online stores the flexibility to disable the COD payment option in real-time for high-risk orders, encouraging customers to prepay. Magic Checkout analyses each order and red flags the high propensity to RTO orders based on customers' historic RTO patterns across multiple brands in the Magic Checkout network. 
Typically, companies call customers who place COD orders. This is done to check a few things, such as whether the customer is genuine, the order isn't placed mistakenly, and the delivery details are correct. But with Magic checkout, companies no longer have to go through additional operational hassles.
Magic Checkout does address validation for eCommerce stores, so they don't have to. It checks whether the address details have been entered correctly or not, does gibberish detection, and finally finishes with address completeness checks before red-flagging an order as high risk and disabling COD for the same. 
RTO Protection
Razorpay provides eCommerces stores with RTO protection on all Magic Checkout fulfilled orders. Magic Checkout wants eCommerce businesses to incur less loss, and that's why Magic Checkout is here to absorb the RTO costs. It can help eCommerce businesses overcome RTO losses and boost growth! 
Multiple Payment Options
Gone are the days when customers used to choose between COD and online payments separately. Earlier, COD and online payments used to be two different payment categories. Cards/UPI/net banking used to be listed under the online payments category. 
But with Magic Checkout, all payment methods, including cash on delivery, are shown in a single listing view. This allows customers to choose their preferred payment method faster and place an order without hassle. 
Wrapping Up
Cash will continue to rule, but finding a way to deal with cash on delivery order challenges will save E-commerce businesses from losing profits and revenue. So, rather than pondering whether one should enable COD or not, try Magic Checkout and see the magic happening when your customers reach doubles and RTOs get covered!
Offer Cash on Delivery confidently on every order with Magic Checkout!
---