If you resonate with the tweets below, do yourself a favour and don't miss this 2 min read.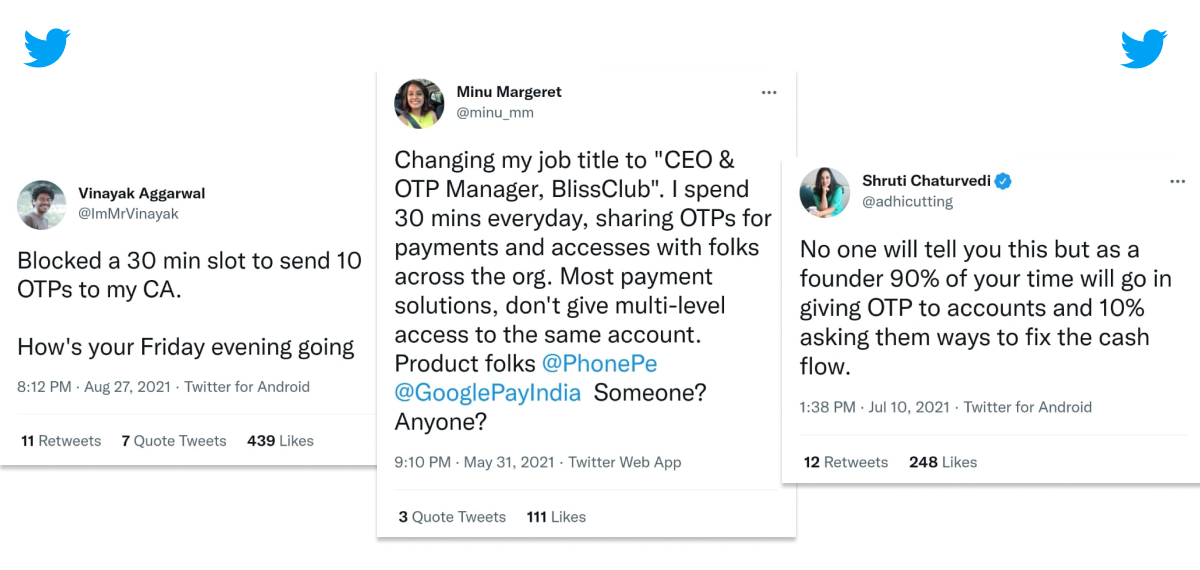 You and I both know that you didn't start your business to be a slave to OTPs and to deal with never-ending vendor, salary and compliance payments.
Then, why are you? *Ouch*

I bet your answer would be – of course, I never thought my main job as a founder would be sharing OTPs 20 times a week. But, they are the only way my employees can get salaries, vendors get paid on time and my business stays compliant. 
So, even if it means sharing 10,000 OTPs to my CA and finance team while internally screaming, I'll have to do deal with it, right?

To that I say – Absolutely not! You can free yourself from the constant OTP pings & the chinese whisper of sharing OTPs over call, messages, email, post its, letterheads, screaming across meeting rooms……. before they EXPIRE.

Yes, you really can!
OTP OTP OTP: The time to OTP is never again
So, imagine this –

Your CA creates 20 salary payouts & 5 TDS payments and saves them as a draft. (Saves payout as a draft – what does that even mean?)

Stay with me.

You just got done with a meeting and are about to jump onto another one. (Nothing different from your regular day!)
1️⃣ You check your phone – there's a notification asking your approval for those 20 salary payouts and 5 TDS payments
2️⃣ You open the notification, verify all the payment details.
3️⃣ And, approve all 25 payments in a single tap.
✅ Your employees are paid on time. TDS payments sorted. In less than a minute.
You're back to that meeting. Doing what you love and focussing on things that matter for your business.

I know it's very hard for you to believe me right now.

How could payments be so simple? Was I struggling for so long for nothing? All that takes to ensure my compliance payments are done on time is a single tap?! 😧

There there, startup founder.

You know where to find us if you want this for yourself!