Get paid instantly with
Payment Links
Share payment link via an email, SMS, messenger, chatbot etc. and get paid immediately. Accepting payments from customers is now just a link away.
The all new powerful Payment Links with Reminders.Know more.
Collect faster payments on UPI Payment Links with up to 50% lower fees.Know more.
3 Simple Steps To Accept Payment Via Payment Links
STEP 1
Generate Your Payment Link
via API or Dashboard with free Reminders
STEP 2
Enter Customer Contact Details
Share link via SMS, Whatsapp, Email and more
STEP 3
Accept Payments
Receive notifications in real time
Create a Payment Link
Amount
₹ 1.00
Now create and track Payment Links on the all new Razorpay Mobile App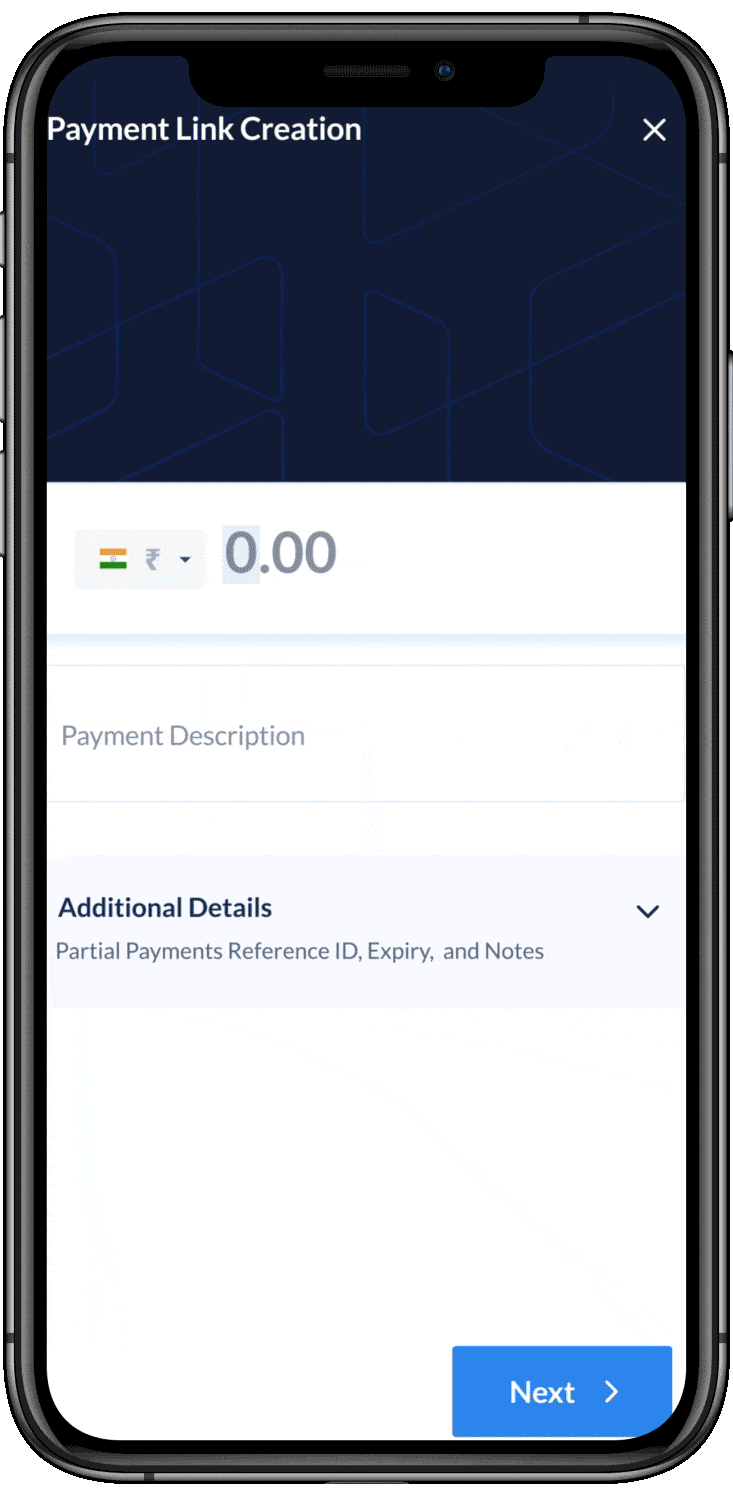 Now create and track Payment Links on the all new Razorpay Mobile App
Create unlimited links for free from anywhere, anytime.
Create and share payment links instantly

Issue refunds with a single click
Download the app now!
Accept payments instantly using Razorpay Payment Links!
Accepting payments is now easier than ever with Payment Links. Just share payment links to your customer through WhatsApp, SMS, email, chat or any medium and get paid instantly!
Payment Links for Your Business Use Case
Razorpay Payment Links directly integrates into your ecosystem giving the best experience for your business model.
No matter how specific your use case, we can help. Sign Up to get started.
Businesses Without Website
Don't have a an app or website for selling? Now let your customers pay online with Payment Links
Alternative Payment Option
Payment Links can be an easy substitute for cash-on-delivery and point-of-sale payment methods in your business.
Chatbot Integration
Integrate Payment Links with Chatbots for users to enjoy a seamless buying experience on your platform.
Social Media Sharing
Share the payment link over social media platforms like Facebook, Instagram, WhatsApp etc. giving your customers a quick checkout option.
The smarter way to collect payments
While Razorpay Payment Links are simple to use, they are very versatile and powerful too.
Use our robust Payment Gateway to accept payments from your customers without any integration.
Google Chrome Extension
Razorpay's free browser extension helps you create and share Payment Links via email, Whatsapp, Facebook Messenger and other online channels with ease.
Batch Upload
Create and share payment links for hundreds of your customers in one go by uploading a .csv or .xlsx file with customer and payment details. Save time and effort in issuing payment links with reduced manual errors.
How it works
Partial Payments
Provide your customers with the flexibility to make payments in parts against large orders, as an upfront token amount or an advance payment instead of making the entire payment at once.
How it works

Personalise
Customise the look and feel of the payment request page from your Dashboard to make it extend your brand.
API Driven
Automate the generation and collection of payments through powerful APIs for all aspects of payment links.
Webhooks Notification
Keep your systems in sync with automated webhook based notifications each time a link is paid.
Dashboard Reports
Take business decisions using insights from the real time data and reports available on the dashboard.
From which country do you want to accept payments?
Accept payments from countries across the world. International payments on Razorpay supports nearly 100 major currencies from all over the globe. Currency conversion is not required to be done by you, we do it automatically in real-time.
Currencies We Support
United Arab Emirates Dirham
Trinidad and Tobago Dollar
Don't have a registered business? We got you covered!
Whether you're a freelancer, teacher, boutique owner, homemaker or a professional. Razorpay makes it easy to accept payments for everyone.
And There's a Webhook For That
With each state change available as a webhook event, easily keep your systems in sync with automated notification of events through webhooks on Razorpay Payment Links. Setup webhooks through dashboard with different URLs for test and live mode.
Learn More
Get notified when a full payment is made against the link.
Get notified when a partial payment is made against the link.
Get notified when the payment link gets expired.
No Extra Charges Applicable
Create and customise your payment links for free, and get charged only for successful transactions!
Standard Plan
Razorpay platform fee
Get access to Flash Checkout, Dashboard, Reports & much more
*GST applicable. Instruments like Diners and Amex Cards, International Cards, EMI (Credit Card, Debit Card & Cardless) & Corporate (Business) Credit Cards will be charged at 3%
One-Time Setup Fee
₹ 0.00
No setup fee
Annual Maintenance Fee
₹ 0.00
No maintenance fee
Customized Plan
Sign up now to learn more about the Razorpay payments suite and explore our powerful dashboard.
Sign Up
Explore Payment Links for accepting online payments with Razorpay
Frequently Asked Questions
Use Payment Links Seamlessly with Our Other Products
Start doing more with Razorpay Payment Button
Sign up now to experience the future of payments and offer your customers the best checkout experience.