"Cart abandonment: Unlocking the secrets behind lost sales and recovering revenue."
In the realm of e-commerce, cart abandonment poses a formidable hurdle for businesses. Just imagine a potential customer browsing through your online store, carefully selecting products, and adding them to their shopping cart. But then, they leave without completing the purchase. It's like witnessing a missed opportunity slip through your fingers. 
Cart abandonment can have a significant impact on the sales funnel of an e-commerce business. Many online retailers can attest to its negative effects on their business. In fact, statistics on cart abandonment rates paint a bleak picture.
Given the time and resources invested in setting up an e-commerce website or app and marketing products, cart abandonment is a serious concern. Despite advancements in technology, challenges related to cart abandonment continue to be a pressing issue.
What is Cart Abandonment?
Cart abandonment refers to a scenario where a potential customer visits an online store, adds items to their cart, but leaves without making a purchase. It's similar to when a shopper visits a physical store, fills up their cart, but leaves without checking out. 
Cart abandonment occurs for various reasons, such as unexpected costs, complicated checkout processes, lack of trust, distractions, or simply a change of mind. It represents lost opportunities for businesses and signifies a gap between intent to purchase and actual conversion.
Read Also: How Can Checkout Make or Break Your Online Business? 
Cart Abandonment- Reasons
Cart abandonment is an important aspect to monitor because it is correlated to revenue generation and customer conversion. Even though cart abandonment doesn't affect branding, it is a pivotal metric to figure out the customer conversion rate, and that's why it is crucial.
Avoid Unnecessary Account Creation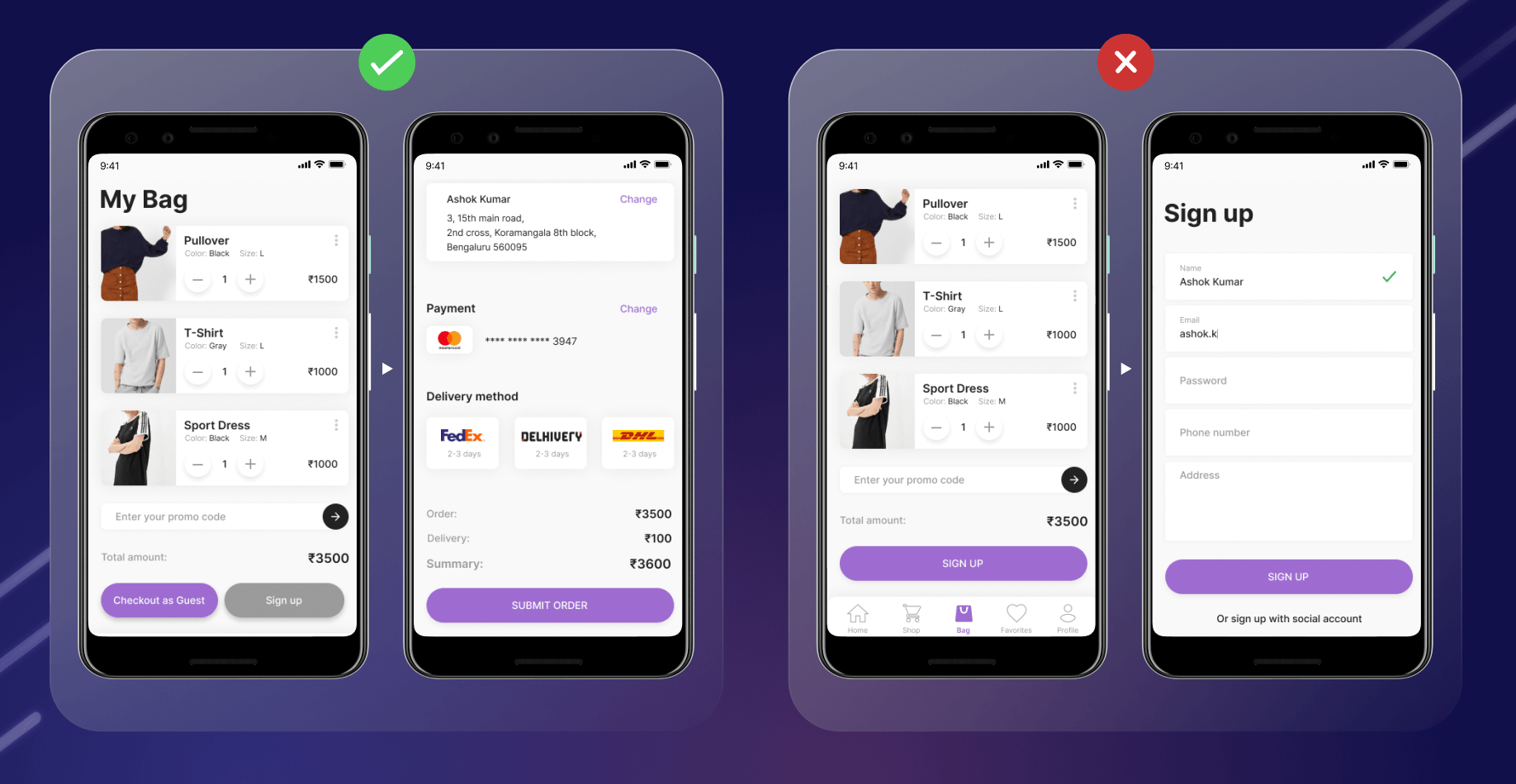 According to studies, at least 24% of customers abandon their carts because they are asked to create an account. To minimize the effort for customers, offer a guest checkout option instead of forcing them to create an account every time they shop. Razorpay's Magic Checkout can be a good solution to streamline the checkout process.
Fix Mobile-Friendly UI
More than 50% of customers shop online using their mobile devices. If your eCommerce website is not mobile optimized, you are losing out on half of your potential customers. Ensure your website has a mobile-friendly layout so customers don't have to zoom in and out of the screen to view your products.
Minimize Steps to Complete Purchases
Complicated checkout processes result in 18% of customers abandoning their carts. To prevent this, minimize the steps to complete the checkout process. Checkout providers like Razorpay can help you simplify the process and reduce the effort and time it takes for customers to pay for their items.
Use a Clean Design and Add a Progress Bar
Customers prefer clean designs that are easy to navigate. Adding a progress bar that informs customers about the steps they have completed and the next ones they need to follow can help keep them well-informed and less likely to abandon their carts. Include tabs, such as summary, address, and payment.
Use Trust Badges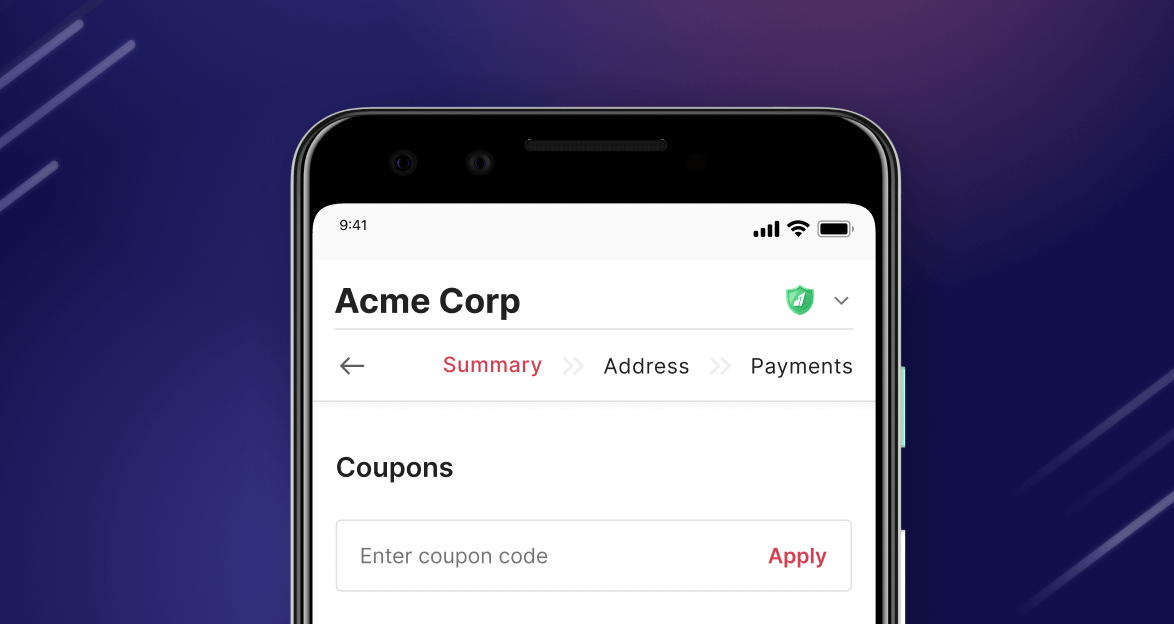 Building a trustworthy brand is a significant challenge for online businesses. Customers prefer offline stores because they see real people running them. Including a trust badge like Razorpay's can help build trust among customers and give them confidence that their money is safe.
Address and Information Validation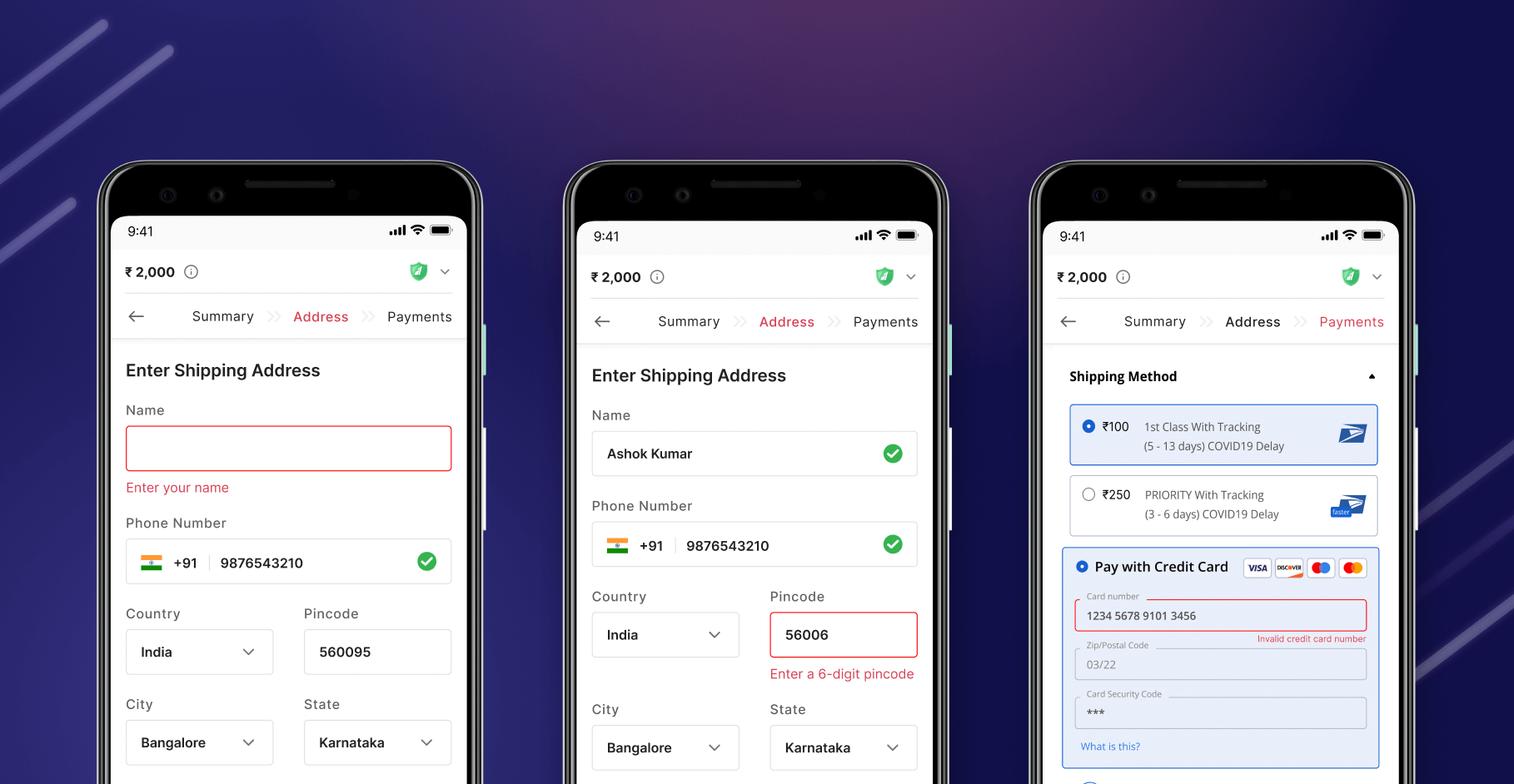 Real-time form field validation can help alert customers when they miss out on a few fields or enter information your store cannot accept. This ensures that customers enter the correct information and that online businesses have the correct data.
Use Incentives Carefully
Incentives like discounts and coupons are attractive to customers. Make it easier for them to find and add coupons themselves. However, be careful not to overdo it, as it could lead to customers constantly expecting discounts.
Personalize Shopping Experience
Customers love personalized shopping experiences. Offer personalized recommendations and make it easy for customers to find items they have previously explored. Send a thank-you email after they purchase, along with their purchase details, and suggest similar items when they click on a particular product. This not only benefits customers but also leads to recurring business.
Read Also: Return to Origin- Why it Happens, Its Impact, and How to Solve it? 
Reduce Cart Abandonment Rate with Razorpay Magic Checkout, a One-Click Checkout Solution
Creating a seamless, speedy, and user-friendly checkout process can be a daunting task, but Razorpay's Magic Checkout makes it simple. With our one-click checkout solution, you can eliminate the stress of creating your own checkout process and boost your sales.
Magic Authentication:

Magic Checkout streamlines the checkout process by eliminating the need for customers to create accounts or enter multiple OTPs. Customers can make purchases with just one-time OTP authentication, and our system remembers their details and recognizes them across different businesses.

Magic UI:

With Magic Checkout, you can offer a faster checkout experience by prefilling customer delivery details and information from previous purchases. This allows customers to complete their transactions 5X faster, making them more likely to complete their purchases.

Magic Trust

: Razorpay is a trusted partner for millions of businesses across India, and our interface is familiar to many customers. Additionally, businesses with the

Razorpay Trusted Business badge

can display it throughout the checkout process, providing added reassurance to customers.

Magic Rewards:

Customers can easily apply coupon and discount codes with Magic Checkout, allowing them to save money and encourage repeat purchases.
Reducing shopping cart abandonment is a challenge, but with Razorpay's Magic Checkout, it's a challenge you can overcome. Our one-click solution simplifies the checkout process, increases customer satisfaction, and ultimately drives more sales to your business.
Read Also: Fire-Boltt Increased its Order Conversion Rate by 50%