WooCommerce is one of the biggest platforms in the world for setting up an online store and rightfully so, owing to its seamless functionalities and ease of use. Thirdwatch from Razorpay is a plugin designed to detect fraudulent orders and reduce RTO for e-commerce businesses. If you haven't been aware of Razorpay's entry into the e-commerce industry, allow us to explain to you what we've been up to and how to install Razorpay Thirdwatch in 4 simple steps.

What is Razorpay Thirdwatch?
Razorpay Thirdwatch is a first-of-its-kind solution for fraud prevention for e-commerce businesses. Thirdwatch is an AI-powered platform that enables online sellers to prevent Return-To-Origin (RTO) orders and reduce losses up to 30 percent. Thirdwatch's AI engine evaluates every order in real-time and provides actionable results to weed out orders likely to result in RTO. 

One of the small, yet significant components of Thirdwatch is Buyer Action, a feature that automates confirmation from customers. This can significantly reduce manual intervention while keeping fraud at bay. Read more about Buyer Action and how it impacts business here.
How does Thirdwatch's AI-engine work?
Once integrated, the solution captures 200+ parameters from your online store analytics. It leverages an ensemble of AI algorithms and graph algorithms to flag an order with a high risk of RTO and enables the seller to either cancel or take corrective actions.
What happens to the processed orders?
The processed orders transition into the following two states –
Red: If the order is marked red, then the seller can either decline the order or take corrective actions like updating the address or getting a confirmation from the customer on order quantity, etc
Green: If the order is flagged green, then the sellers can go ahead with the usual flow and ship the order
What is the basis of screening orders?
There are a variety of parameters used to judge whether an order is risky or not. Following are the key parameters that play a critical role in screening the orders:
Shipping Address Profile

Device Fingerprint

IP Address Profile

Buyer's History

Buyer's Navigation Behaviour

Network Effects
Are there any customization options available?
Razorpay Thirdwatch comes with a horde of options for easy customization. You can also customise the Thirdwatch plugin at the time of integration by accessing the open-source project, available here. 
What are the steps to install Razorpay Thirdwatch for WooCommerce?
To make it easier than ever for merchants to install Thirdwatch, we've made a step-by-step guide to make your installation process quick, easy and hassle-free. Let's get started!
Type 1: Direct Installation
Step 1: Download WooCommerce plugin from WordPress store using this link.
Step 2: On your WordPress dashboard, click on "Plugins" on the left tab, and search for "Thirdwatch" on the search bar on the right side.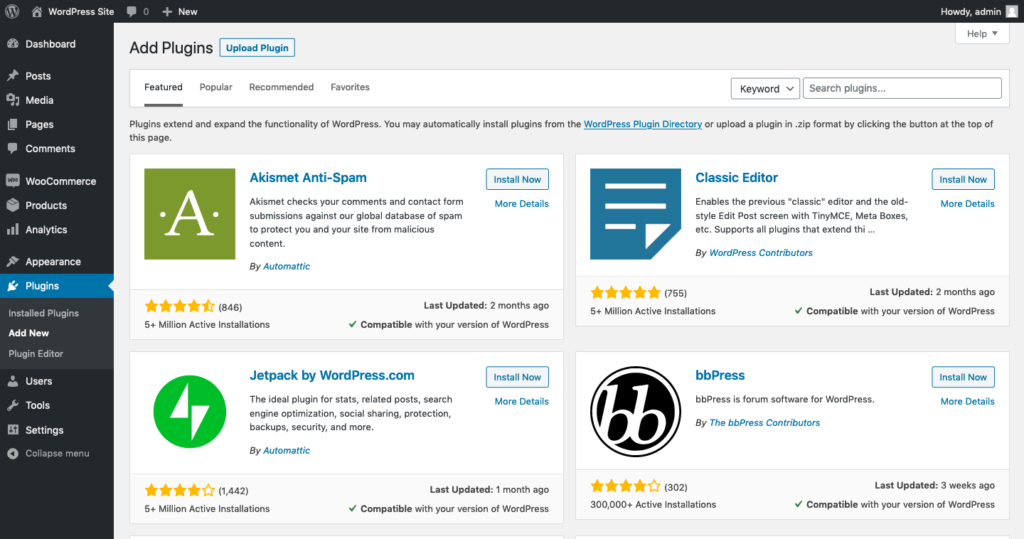 Step 3: Step 3: Install the Thirdwatch plugin and click on "Activate". Once you've activated, register your business account on Thirdwatch Dashboard from here. If you've already created an account on Thirdwatch, log in to your account using your email address and password from here .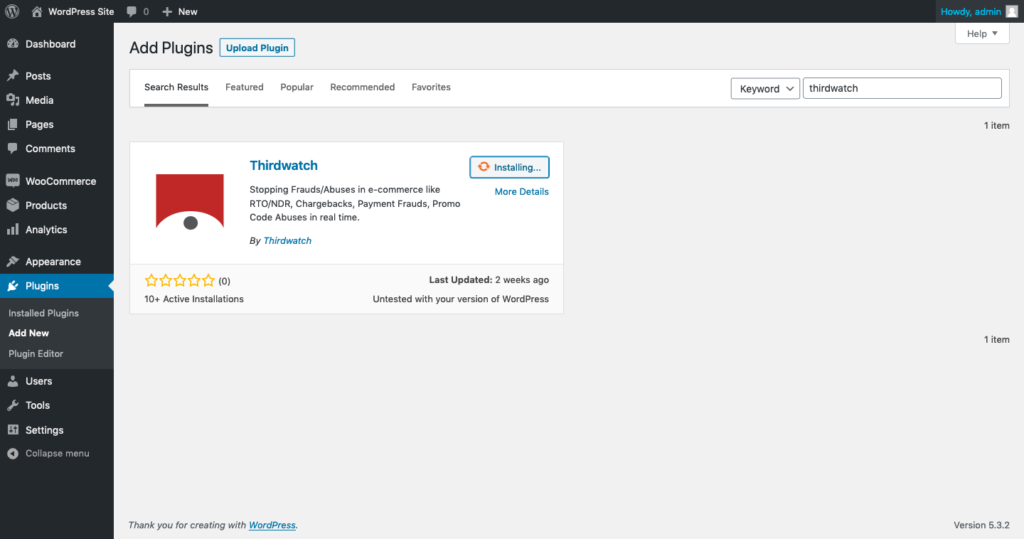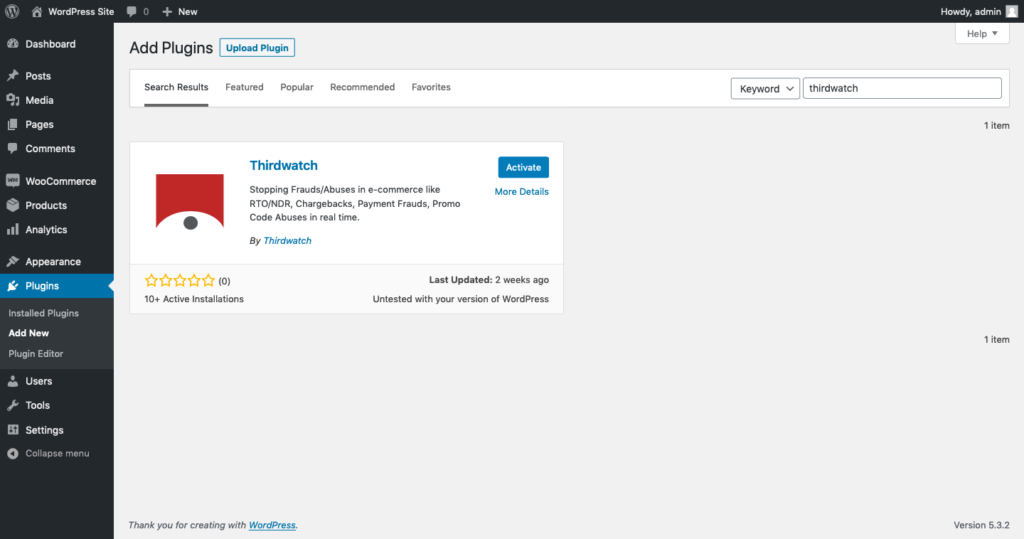 Step 4: On the Thirdwatch dashboard, click on "Settings" to get your API Key. To generate an API key, enter your online store's URL.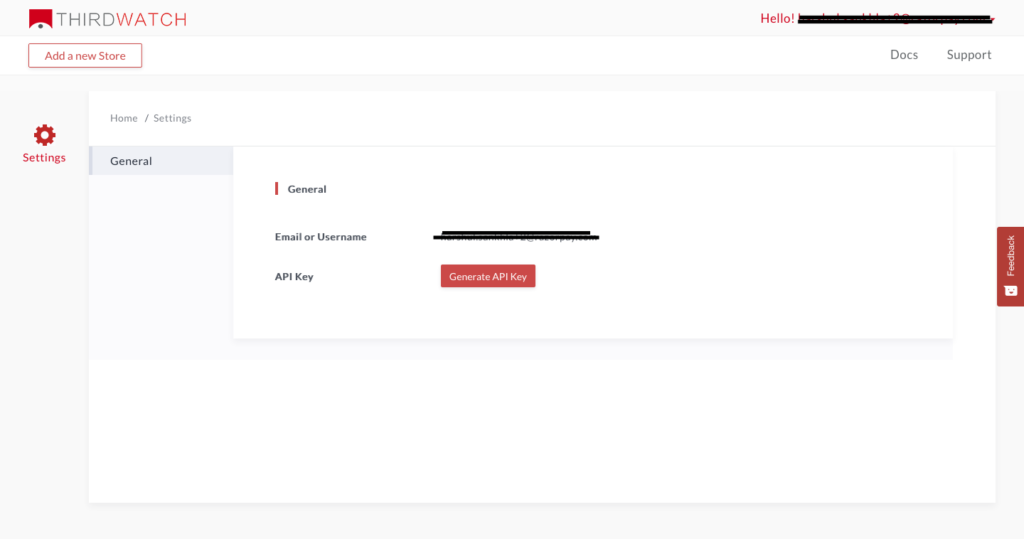 Step 5: Head over to WordPress dashboard–>Thirdwatch and enter your API key–> Check "Enable Thirdwatch Validation"–> Click on "save changes" (details of API key given below as well)
Type 2: Custom Installation
Step 1: Download the Razorpay Thirdwatch plugin from the WordPress Store, unzip the package and place the folder in the wp-content/plugins
Step 2: Now, click on the Plug-ins option in the left-hand bar on the WordPress dashboard. Under the Thirdwatch tab, click on activate.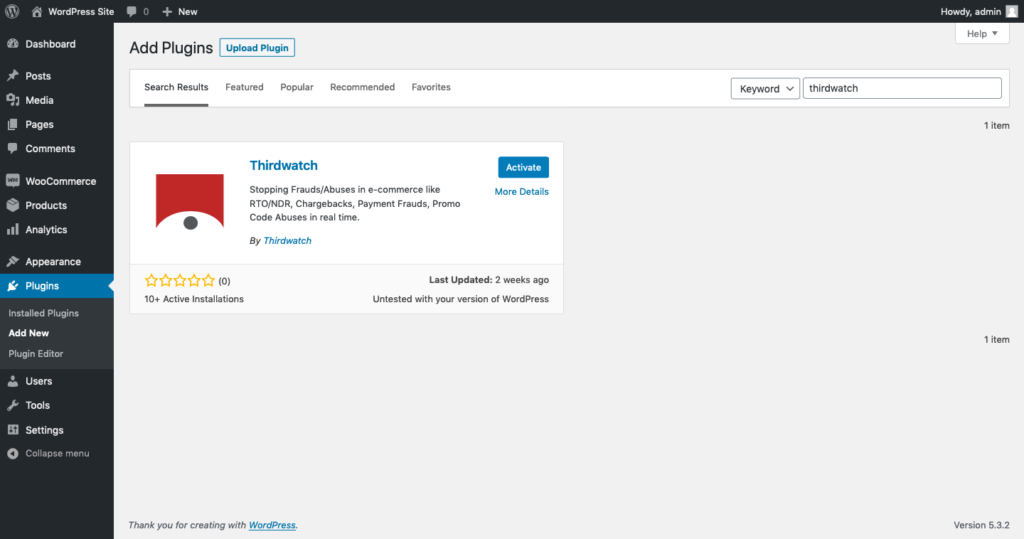 Step 3: After successful installation of the plugin, click on the Settings button and check on Enable Thirdwatch Validation.
Step 4: To enter your API Key, you can sign up on the Thirdwatch dashboard for free. Upon signing up, you can find the API key in the Settings tab. Here's a guide to fill the following details:
🏁 Approve Status (Change order status when an order has been

approved

by Thirdwatch)

🚩 Review Status (Change order status when an order is

flagged

by Thirdwatch)

⛔️ Reject Status (Change order status when an order is

rejected

by Thirdwatch)

💬 Fraud Message (Choose a custom message to be sent to the customer if their order has failed validation)
Step 5:  Head back to the WordPress dashboard–>Thirdwatch. Click on save changes, and you're good to go!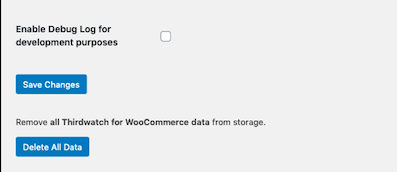 Yes, it's that easy to install Razorpay Thirdwatch! With all-new features like Buyer Action on Thirdwatch, it's easier than ever to keep a check on fraud and the losses that come with it. 
Install Thirdwatch for WooCommerce today and supercharge your business like never before Start saving money by optimizing your e-commerce operations with Thirdwatch. If you have any questions, make sure to get in touch with us here, and we'll be happy to help you with them.