Updated on 8th Sept, 2023
Product return is a commonly heard term in the online business world. When a product returns to an online store because of a failed delivery, such products are given the status of RTO (Return to Origin). 
When a customer places an order, the online store has to check its quality, pack it properly, and ship it to the correct address. But what if the same product returns back to the origin, meaning the product returns back to the E-commerce store? 
Return to Origin (RTO) has always been one of the biggest challenges for E-commerce companies because it directly impacts revenue and profit.
India's E-commerce is booming, and it is expected to grow by 84% by 2024. But as E-commerce starts to grow, the possibility of RTO increases. That's why finding ways to reduce RTO becomes crucial. 
What is Return to Origin (RTO)?
"Return to Origin" is a term used when a product fails to reach the customer or undergoes unsuccessful delivery due to various reasons, such as the customer not being available or the customer denying the order at the doorstep. When a product fails to be delivered, it is sent back to the original destination, which is the seller. Once the product is returned, it is shipped back to the seller's location, often to their warehouse.
How Does RTO Impact Online Businesses?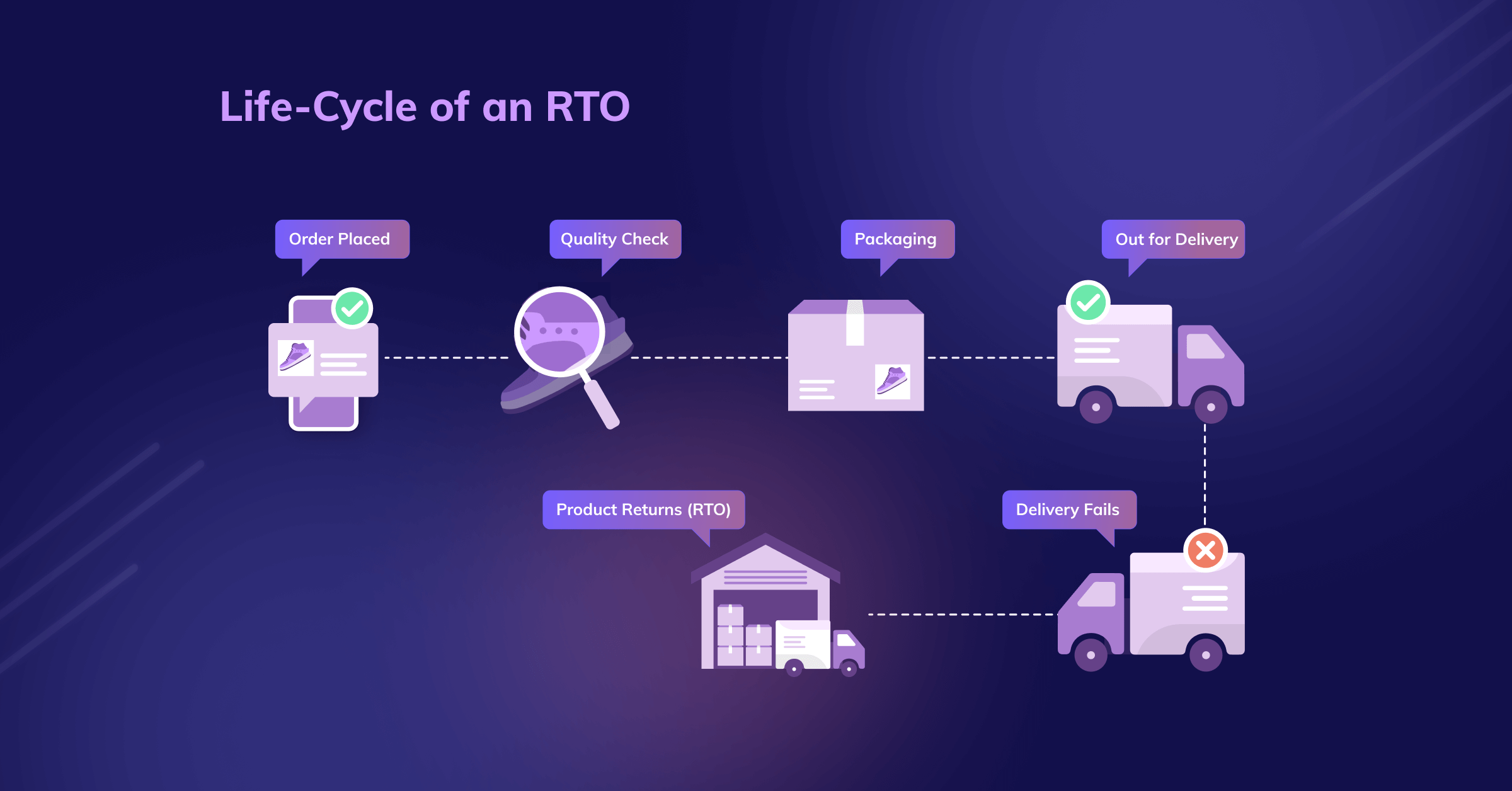 A growing business has to incur the cost of logistics and order processing fees; however, what impacts them the most is when a product is returned back to them because it adds additional costs. 
Here is how RTOs can bleed a business dry: 
Forward & Reverse Logistics cost:

The seller has to bear the expenses of both forward and reverse logistics. One, when the seller ships the item, and two, when the item gets shipped back to them. 

Blocked/Stuck Inventory:

Whenever a customer places an online order for a product, that particular item gets blocked. And from the moment a product is ordered to the time it comes back to the inventory, it stays blocked.

Moreover, even after returning to the inventory, if no one places an order for the same product, it remains stuck in the inventory. 

Operational Cost in Order Processing:

For any order placed, an online business has to incur operating costs, such as packaging cost, quality test cost, employee cost, etc.  

Repackaging & Quality Checks:

When an RTO product is ordered again, the online store has to repeat the whole order processing process, such as repacking it, doing quality checks, getting in touch with logistics, etc. 

Increased Probability of Damage:

If the returned item stays in the inventory or warehouse for a long time, it increases the probability of damage since its lifespan decreases. 
Top 5 Reasons why Return to Origin Happens 
Identifying the root cause of RTO is critical for any E-commerce business. There will be returns, but finding the reasons for RTO can save online businesses from losing revenue and profits. 
Invalid User 
When customers place an order, they add an address and contact details to receive their order. However, in some cases, some customers may add invalid or incorrect contact details, such as email ID and phone number. When the delivery person tries to reach the customer, they are not reachable. In such a case, the product is returned back to the seller, and the customer is marked as an invalid user. 
Incorrect/Invalid Delivery Address
A customer needs to fill in address details and other information. This information goes to the logistics company to locate the customer's address. However, some customers may enter incorrect information in the address field. And wrong addresses are one of the main reasons for RTO, leading to business loss. 
Now, an address can be considered faulty/incorrect for a multitude of reasons:
A customer provides unnecessary information. For example, 26 Mahatma Gandhi Road (on weekdays), Raheja Towers (on weekends), Dhule, Maharashtra, India. Here, the customer has added two components to one address. One is 26 Mahatma Gandhi Road, and the second is Raheja Towers. Instead, the customer can have two different addresses and select one according to their availability & convenience.
The address contains ambiguous information, meaning the address has doubtful information and is difficult to understand. For example, Sarjapur road, Bangalore, ask the tea shop for XYZ, and they will tell you the direction.
Spelling errors are pretty common. If the delivery address has spelling errors, it can confuse the delivery partner while attempting a delivery, leading to an RTO. For example, Mr. Rajesh Kumar, House no. 22, Mauue Biar 1(should have been Mayur Vihar 1), Delhi.
A customer provides a delivery address but forgets to provide essential details. The address lacks crucial details, such as street name, house or flat number, missing or incorrect pin code, etc. In this case, locating the customer's address becomes challenging for the delivery partner. 
An address needs to have complete information. If it misses crucial details, it's considered to be incomplete. For example, Mr. Rahul Sharma, Lodhi Road, Delhi. This is an insufficient address because it lacks a street name, contact details, pin code, etc. 
Watch our video to understand more about RTO. 
Customer Not Available at the Doorstep
On the day of the delivery of an order, the customer is supposed to be available to receive the product. If not, someone else needs to be there at the provided address. But in case of non-availability both physically and via phone, the delivery person returns the product and marks it "customer not available," resulting in an RTO. 
Customer Intent 
It is always important to know why customers decline or reject orders. An E-commerce store's success or failure largely depends on how customers react to their products. And customers may reject/return orders at the doorstep for the following reasons:
Customers change their minds at the last minute.

Customers have ordered the identical product from another brand that delivered it sooner and at a lower price. They accept the older product delivered by another company and reject the new one at the doorstep. 

Customers don't require the product anymore after ordering and don't cancel the order because they find it tedious or are unaware of the cancellation process. 

Customers reject orders when they see shabby or scruffy packaging and feel the product inside could be damaged or of low quality, leading to RTO. 
Fraudulent Order 
E-commerce fraud can take many forms. However, not every fraudulent order will lead to RTO but will definitely cause business loss. Some of the instances of fraudulent orders that can lead to RTO are: 
A fraud person uses another person's debit/credit card to order an item, and the actual cardholder requests a chargeback by contacting their bank. In this case, if the product is shipped, it returns back to the seller, and the refund is processed. Another scenario can be when a customer is unhappy with the product received or the delivery is late and asks for a chargeback. Yet again, the product is rejected or declined, leading to RTO. 

When competitors or bad actors place dummy orders to block the inventory of an online store, the order gets placed and shipped, and since it is a dummy order, the fraud person rejects/declines it. This leads to RTO and a loss of monetary cost since the online sellers pay extra for reverse logistics.
Effortlessly Minimize Return to Origins with Razorpay Magic Checkout 

RTO is a crucial challenge for E-commerce businesses, and unless they find an optimum solution to deal with it, they will continue to incur a loss because of RTO. Knowing how important it is for every E-commerce business to have a lower RTO rate, Razorpay is here with Magic Checkout. Magic Checkout enables online sellers to detect orders with a higher RTO probability. 
Smart COD 
A study stated that COD is the chosen payment method for a whopping 66% of orders placed on all leading e-retail platforms in India. Out of which, 33% of them are not delivered.
In the case of COD, customers have nothing to lose. There is no obligation to accept an order and no fear of prepayment. Since the customer has not invested themselves in the transaction, it's the online business that has to incur the loss in the event the customer declines the order.  
Magic Checkout has the provision to disable the COD payment option in real-time for high-risk orders and encourages customers to prepay. It analyzes each order and red flags high-risk orders where the propensity to RTO is high based on customers' historic RTO patterns across hundreds of brands in the Magic Checkout network. 
Address Validation 
Entering the correct address details is vital for the delivery of a product. And it is a known fact that the majority of RTO happens because of incorrect, incomplete, and invalid addresses. To mitigate this challenge, Magic Checkout identifies invalid/incomplete/non-deliverable addresses in real-time. Here's how:
Magic Checkout checks if an address has been entered correctly and in a structured manner to make it easier for online sellers and logistics partners to deliver the products. 

Magic Checkout detects monkey typing, otherwise known as gibberish detection. This helps Magic Checkout in highlighting risky orders. 

Finally, Magic Checkout does address completeness checks. It assesses the completeness of addresses based on a machine learning model. 
Apt Error Message 
Whenever a pin code or similar details are entered incorrectly, Magic Checkout shares an apt error message that helps the customer understand where they are going wrong. This happens in real-time and allows customers to know about the error then and there. 
For example, if a customer enters a five-digit pin code instead of six, the system alerts the customer immediately. An apt error message prompts customers to enter the correct information.
Easy Address Addition
Another feature that Magic Checkout provides is easy address addition. The system offers autosuggest and autofill addresses to ensure that the addresses provided are correct and entered in a structured manner. 
Magic Checkout shows only valid addresses as suggestions reducing the chances of invalid addresses. Moreover, the suggested addresses are automatically broken down into structured components, saving customers' time. Also, this ensures that an address is complete and detailed. 
RTO Protection by Magic Checkout 
Magic Checkout understands the ordeal an online business has to go through when a product is returned. And this is the reason why Magic Checkout provides RTO Protection on all Magic Checkout orders. We want you to incur less loss, and that's why we are here to absorb your RTO costs. 
Magic Checkout can help you overcome RTO losses and boost business growth! With the help of our algorithm, we flag fraudulent and risky orders in milliseconds and stop RTO and potential order cancellations. 
Want to know more about RTO protection and how Magic Checkout can help? Feel free to contact us and learn more about it. 
Worry less about RTO with Magic Checkout RTO protection!