Anxiety. Loneliness. Fear.
These are not mere words. They are what humans have been feeling ever since the outbreak of the COVID-19 pandemic in 2020. The first wave introduced some radical changes in our lifestyles, and the second wave did more damage than visible.
A survey conducted by UNICEF and Gallup in early 2021 with 20,000 children and adults in 21 countries revealed that more than 1 in 7 adolescents aged 10–19 is estimated to live with a diagnosed mental disorder globally.
The survey also found that only 41 per cent of young people between 15 -24 years of age in India feel that it is good to get support for mental health problems, compared to an average of 83 per cent for 21 countries.
Manastha Health, co-founded by two psychologists Ankit Deswal and Vikrant Yadav, is working towards 'reclaiming the belief in our mental possibilities' by making mental health help services accessible to all, providing a holistic change rather than just a systematic one.
Breaking the mental health stigmas
Manastha was founded with the vision to provide mental health help to people in mental and emotional distress.
"We started the journey with just two psychologists, but today we have 50+ working professionals and many corporates associated with us. The idea was to challenge the stigmas related to mental health in India and make mental health help accessible to those who need it the most," says co-founder Ankit Deswal.
The second wave of the COVID-19 pandemic was catastrophic in many ways. It robbed people of their loved ones, made them witness what was never imagined, and exposed them to a constant state of anxiety. The team at Manastha stepped up and worked on helping those in need.
"During the pandemic, we provided more than 50,000 counselling sessions to people going through stress, anxiety, depression, relationship issues etc.," adds Ankit.
How did Manastha make mental health accessible with Razorpay Payment pages?
Not only have the youth of our country suffered mentally, but the elderly have also been impacted by the COVID-19 crisis. Agewell Foundation, an India-based NGO working for elderly people, states that "there has been an increase of over 50% among senior citizens when it comes to mental health disorders, which includes anxiety, sleeplessness, nightmares, depression as well as weakness and fatigue." Manastha is helping the elderly like the young, and the help is needed now, more than ever.
Manastha has been using Razorpay to collect online payments since its inception and has been a constant in their exceptional journey to make a difference. "We wanted a payment solution which required no-coding and could make the experience smooth and easy for our customers.
"We loved Razorpay ever since we started using Payment Pages to collect payments. Payment Pages allow us to collect payments seamlessly, not only in India but internationally as well. We have a long term vision to expand globally, and Razorpay Payment Pages is going to be our reliable partner in the journey," explains Ankit.
"What we really appreciate about the Payment Pages is that our customers are happy! We wanted to create a stress-free system for our customers to make payments, and that has worked really well, given the easy-to-understand process," adds Ankit.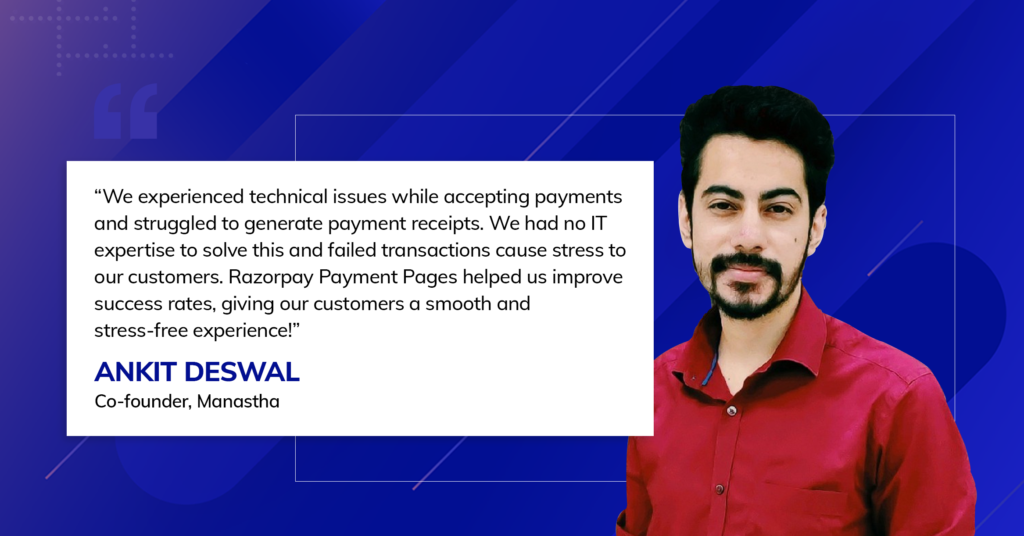 Payment Pages also allow Manastha to collect information about their customers, which helps serve them better.
The long-term vision
Ankit envisions Manastha as a global leader in the field of online therapy and mental health. "Providing the best and affordable mental health services to millions suffering from depression, anxiety, relationship issues, and other forms of mental or emotional stress is our goal," says Ankit.
Want to grow your business too? Start your journey with Razorpay today! Take your business online with zero integrations and tech efforts. Customise your payment pages to reflect your brand colours for a seamless customer experience.