Streamlining vendor payments is crucial for every business. To run your business smoothly, you need to automate your accounts payable, speed up invoice processing, and ensure vendors get paid accurately and on-time.
Unfortunately, businesses still struggle with it. Like every other business banking operation. *sigh*
But the thing is, you don't have to if you just use the right tools.
Join hundreds of businesses on RazorpayX who have reduced up to 75% time by automating their accounts payable with the recently launched Vendor Payments on RazorpayX.
Businesses can now automate their invoice to pay cycle, end to end. Say goodbye to maintaining spreadsheets for storing and tracking invoices, and calculating TDS manually.
And now, we've gone just a step further to make sure RazorpayX is the one-stop solution for everything you'd need for error-free seamless vendor payments.
Read on to know how.
Pay multiple invoices in one click
On average, a business makes at least 25 to 30 vendor payments every month. Usually, these payments follow a regular payment cycle – weekly, bi-weekly, or at the end of the month. 
We realised that the current system in place of selecting and making the payment against every single invoice is inefficient and time-taking. Businesses can save time for the work that matters if they can speed up the process of paying multiple vendors or suppliers in one go. 
With our newest feature on Vendor Payments, you can apply multiple filters including contact name, due/overdue invoices, and pay up to 10 invoices with a single click. 
Store your invoices in one place (Even the ones you pay via cash or cheque)
Organising your invoices from the get-go is essential to keep track of your accounts payable. To stay on top of your cash-flow, budgeting and to make informed business decisions, you need to know who is owed what. For this, you need to have a bird's eye view on every invoice. And let's face it, invoice management done manually via spreadsheets is time-consuming & prone to manual error.  
With the 'Mark as Paid' feature on RazorpayX, businesses can store & track all invoices (even the ones paid by cash) accurately for future accounting purposes. 
We get that sometimes it makes sense to make certain business payments via cash or cheque. Earlier, you might have ended up storing these invoices as physical copies or on a spreadsheet, but now, you don't have to. 
All you've got to do is upload the invoice on RazorpayX dashboard. The invoice details will be automatically populated with our intelligent OCR. Now, mark these invoices paid as cash, cheque, or bank transfer & they'll be stored on the dashboard, forever. 
No need to hunt for old invoices on your email inbox, ever again. You can have a clear view of all your vendor payments, paid via any payment mode in one place. 
Not only this, you can also subscribe to auto TDS payment while paying your vendors. Once you do that, TDS for invoices paid through cash/ cheque or any other means will be automatically categorized and paid to the Government at the end of the month.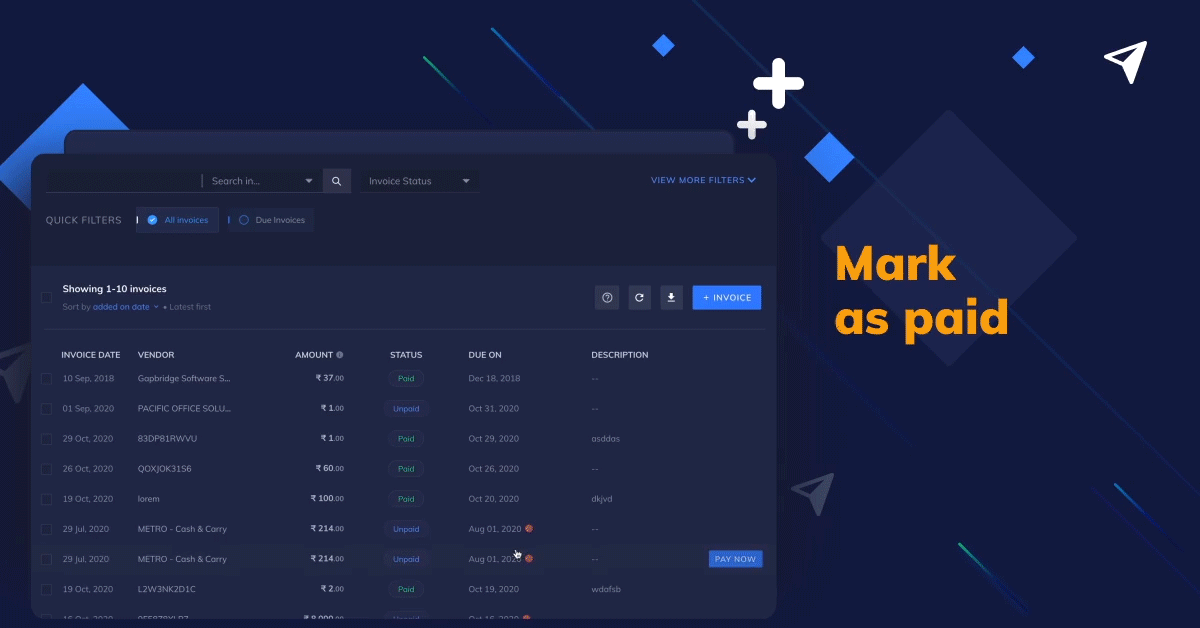 Plus, access your entire Invoice report with RazorpayX anytime, anywhere. 
All you need to do is click the 'Download Report' button & it will be ready for you to send it to your team or accountant. 
 This is one of the most loved features on RazorpayX as it allows businesses to analyse the spend month over month & manage further expenses accordingly. 
Secure healthy vendor relationships and a future supply chain
As a business owner, follow-up calls from vendors confirming payments might be your least favourite task. 
More often than not, it so happens that even when you have made the payment, your vendors or suppliers keep following up to know about the invoice number, UTR number, etc. 
You can now send a detailed email to your vendor, including the invoice number, TDS deduction, the amount paid, and UTR, every time you pay an invoice with RazorpayX. 
Keeping your vendors up to date with this information is vital to maintain a great relationship & minimise unnecessary hassles. 
So, what are you waiting for? 
Sign in to your RazorpayX dashboard to explore the newest features or sign up to experience seamless business banking.