Knitroot India Private Limited is a children's clothing brand started by two entrepreneurs, Ms. Mitali Somaiya and Mr. Sagar Sangani. The company had its humble beginning in 2016-17 with a vision to bring innovation, improvement, and development in textile products for children. 
Knitroot processes all its clothes in-house. From fabric sourcing, production, and packaging to dispatching, the company ensures to take care of every process in their in-house facilities. 
The brainchild behind Knitroot, Ms. Mitali Somaiya and Mr. Sagar Sangani, said they want to promote Indian culture worldwide, which is why their clothes are inspired by Indian culture and festivals, such as Holi, Diwali, Pongal, Lohri, Eid, etc. 
Knitroot's decision to go digital made them think of ways to provide the most frictionless shopping experience to their customers. A shopping experience that will bring joy to Knitroot's customers' lives. 
Although Knitroot faced some challenges in the beginning, the company soon touched the 100% order conversion milestone. 
Want to know how Knitroot's dream of increasing the order conversion rate by 100% became possible? Keep reading this Knitroot case study. 
The Initial Challenges 
As said, Knitroot decided to go online, and all the company wanted was to provide a seamless shopping experience to their customers that would allow them to come back for more. But when they started their business, Knitroot encountered a few challenges. 
High Cart Abandonment & Drop-Offs 
Knitroot faced a high cart abandonment rate despite the advancement in eCommerce. The average drop-off is approximately 70% for most eCommerce companies, and the cart abandonment rate was equally high for Knitroot.  
Along with that, Knitroot's customers had to fill out a lengthy account creation form by adding their contact and shipping details to complete a purchase. This was consuming time, leading to high drop-offs.
Lack of Seamless Checkout experience
With the rapid rise of mobile commerce users, Knitroot understood that its checkout experience wasn't mobile-friendly. The contact details form, for example, had multiple fields to be filled, which was lengthy and increased drop-offs. 
Knitroot was looking for a seamless and frictionless checkout experience that would encourage their customers to stay with them and complete their purchase process. 
The Solutions 
After facing some hurdles, Knitroot decided to go with a checkout partner that would take care of all their pain points. This was when Razorpay Magic Checkout came into the picture. 
With Razorpay Magic Checkout, Knitroot's conversion rate doubled in one month, and consequently, the cart abandonment rate was reduced by 100%!
Here's how Razorpay Magic Checkout made it possible:
Razorpay Magic checkout offers a frictionless, familiar, secure checkout to every eCommerce business. Customers who shop from Magic Checkout network stores never have to worry about filling out lengthy account creation forms. Everything gets automatically and magically prefilled, allowing customers visiting Knitroot for the first time to enjoy a repeat-like shopping experience.

Magic checkout's UI (user interface) is mobile optimized and super-seamless, making it easier for shoppers to complete their purchases. Since mCommerce is booming, Magic Checkout allows customers to have a mobile-friendly checkout experience every time they shop from Magic Checkout network stores. This allows customers to checkout 50% faster, saving their precious time. 
The Impact
It didn't take long for Knitroot to see results after becoming a part of Razorpay Magic Checkout. The team integrated Magic Checkout with one click, and the results are as follows:
Reduced Cart Abandonment 
Magic Checkout has successfully lowered the cart abandonment rate for Knitroot and improved the conversion rate by 100%, leading to a massive bump in their revenue!
5X Faster Checkout
Since Magic Checkout prefills customer shipping and personal details magically when shopping via Magic network stores, Knitroot's customers are able to complete their checkout 5X faster!  
Few Words By Knitroot's Founders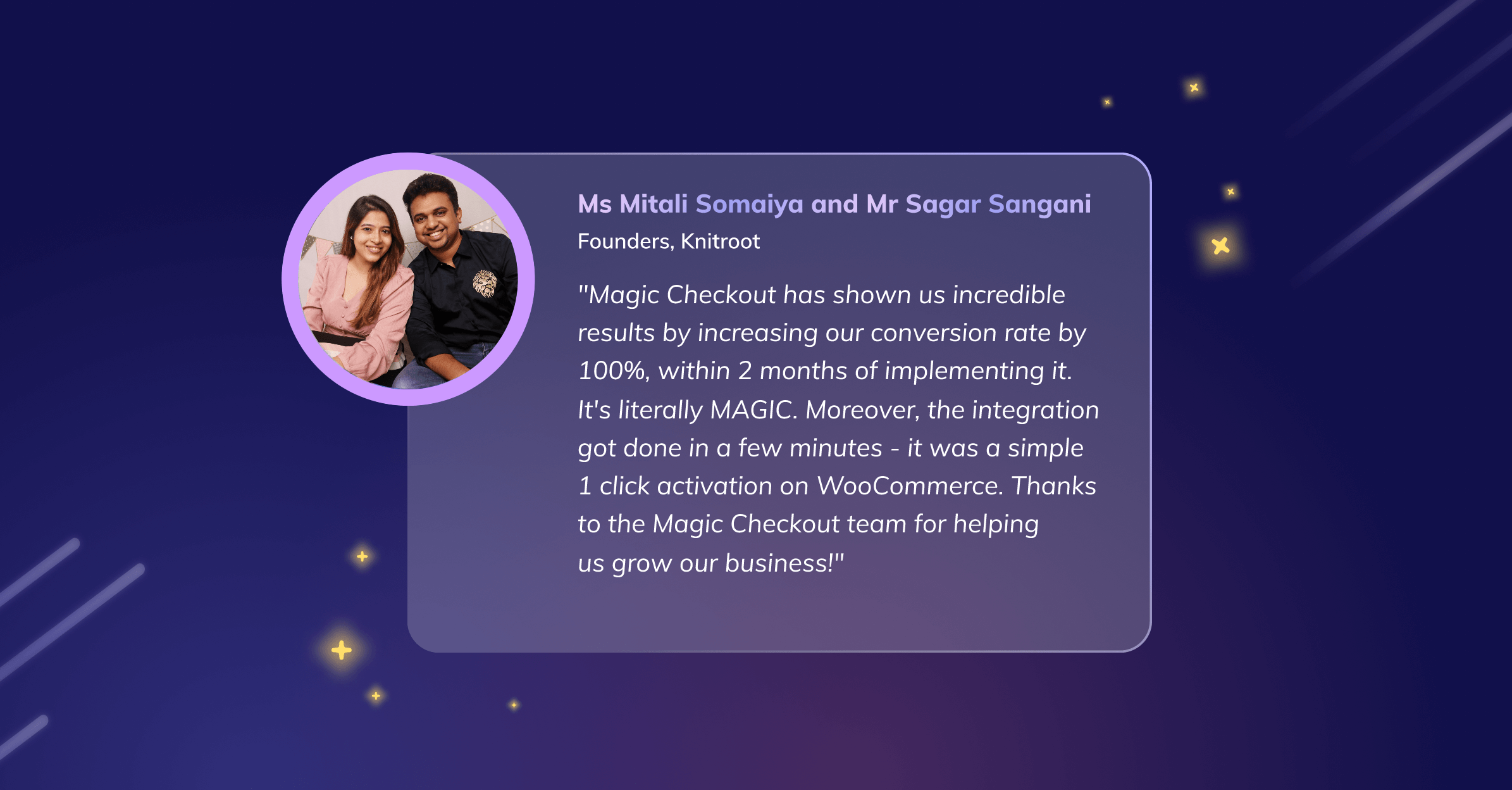 We Can Help You Boost Your Conversions Too!
Knitroot's ambition to increase their sales and revenue, coupled with a little help from Magic Checkout, made them reach the 100% conversion milestone. Just like Knitroot, we are helping hundreds of other eCommerce businesses provide the best checkout experience to their customers. Come be a part of Magic Checkout and unlock growth for your eCommerce business. Knitroot's success story can be yours too! 
For more details on Razorpay Magic Checkout:
Email: magic-checkout@razorpay.com
Website: https://razorpay.com/magic